---
Elogio de la Guitarra, Krzysztof Meisinger plays works by Castelnuovo-Tedesco, Llobet, Piazzolla & Rodrigo Krzysztof Meisinger
Album info
Album including Album cover Booklet (PDF)
Joaquin Rodrigo (1901 - 1999):

1

Rodrigo: Invocación y danza

11:30

Joaquin Rodrigo: Elogio de la guitarra:

2

Rodrigo: Elogio de la guitarra: I. Allegro

05:29

3

Rodrigo: Elogio de la guitarra: II. Andantino

06:37

4

Rodrigo: Elogio de la guitarra: III. Allegro

05:43

Miguel Llobet Solés (1878 - 1938): Variaciones sobre un Tema de Sor, Op. 15:

5

Solés: Variaciones sobre un Tema de Sor, Op. 15: Tema

00:38

6

Solés: Variaciones sobre un Tema de Sor, Op. 15: Variación 1

00:34

7

Solés: Variaciones sobre un Tema de Sor, Op. 15: Variación 2

00:38

8

Solés: Variaciones sobre un Tema de Sor, Op. 15: Variación 3

00:32

9

Solés: Variaciones sobre un Tema de Sor, Op. 15: Variación 4

00:46

10

Solés: Variaciones sobre un Tema de Sor, Op. 15: Variación 5

00:33

11

Solés: Variaciones sobre un Tema de Sor, Op. 15: Variación 6

00:37

12

Solés: Variaciones sobre un Tema de Sor, Op. 15: Intermezzo

01:44

13

Solés: Variaciones sobre un Tema de Sor, Op. 15: Variación 7

00:57

14

Solés: Variaciones sobre un Tema de Sor, Op. 15: Variación 8

00:59

15

Solés: Variaciones sobre un Tema de Sor, Op. 15: Variación 9

00:52

16

Solés: Variaciones sobre un Tema de Sor, Op. 15: Variación 10

01:07

Mario Castelnuovo-Tedesco (1895 - 1968):

17

Castelnuovo-Tedesco: Capriccio diabolico, Op. 85

12:14

Astor Piazzolla (1921 - 1992): Cinco Piezas:

18

Piazzolla: Cinco Piezas: I. Campero

05:56

19

Piazzolla: Cinco Piezas: II. Romántico

06:56

20

Piazzolla: Cinco Piezas: III. Acentuado

03:42

21

Piazzolla: Cinco Piezas: IV. Tristón

06:48

22

Piazzolla: Cinco Piezas: V. Compadre

03:49

Total Runtime

01:18:41
Info for Elogio de la Guitarra, Krzysztof Meisinger plays works by Castelnuovo-Tedesco, Llobet, Piazzolla & Rodrigo

For this, Krzysztof Meisinger's Chandos debut, he has selected a diverse programme of Spanish, Italian, and Argentine works that demonstrate both his technical mastery and his innate musicianship. Rodrigo's Invocación y danza and Elogio de la guitarra were composed a decade apart, and written for the guitarists Regino Sainz de la Maza and Angelo Gilardino, respectively. Miguel Llobet Solés was a pupil of Tárrega and the teacher of Segovia, thus playing an important role in the Spanish guitar tradition. Segovia was the dedicatee of Castelnuovo-Tedesco's Capriccio diabolico, a homage to Paganini. Although much music by Piazzolla has been arranged for guitar, his Cinco Piezas, published in 1981, are the only works he wrote specifically for the instrument. Krzysztof Meisinger plays a copy of a guitar by Ignacio Fleta Pescador (1897-1977), built by Anders Sterner and equipped with Knobloch strings.
Krzysztof Meisinger, classical guitar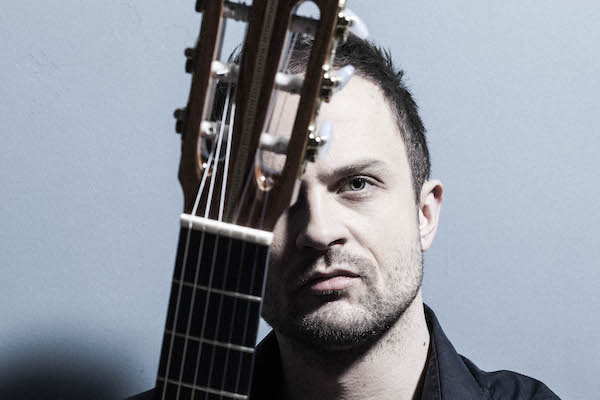 Krzysztof Meisinger
He has performed all over the world – from Tokyo to Los Angeles and Buenos Aires in such halls as the Berliner Philharmonie, the Wigmore Hall, the Théâtre du Châtelet in Paris, the Ryutopia Concert Hall in Niigata, the Tokyo International Forum, the National Philharmonic Concert Hall in Warsaw, the Lutosławski Polish Radio Concert Studio in Warsaw, the National Opera House in Warsaw, the Theatre du Palais Royal in Paris, the Raitt Recital Hall in Malibu, the Grossmunster in Zurich, or the Hatch Recital Hall in Rochester. His Berliner Philharmonie debut in 2014 ended with a long standing ovation.
Krzysztof has performed at many festivals, e.g. the "Music in Old Krakow" Festival, the National Philharmonic Festival in Warsaw, the La Folle Journee de Varsovie, the "Toruń: Music and Architecture" Festival, the Polish Music Festival in Krakow, or the Music Competition Winners' Festival in Bydgoszcz. He has also cooperated with the PWM Publishing House in Krakow.
He has giving concerts with such orchestras as e.g. the Academy of St Martin in the Fields, the PKF-Prague Philharmonia, the Sinfonia Varsovia, the Bilkent Symphony Orchestra, the Sinfonietta Cracovia, the Philharmonia Quartet Berlin, the "Amadeus" Chamber Orchestra, the National Philharmonic Chamber Orchestra in Warsaw, the "Leopoldinum" Chamber Orchestra and many others under the baton of Łukasz Borowicz, Agnieszka Duczmal, Wojciech Michniewski, Krzysztof Urbański or Michał Klauza.
Krzysztof has been co-working with internationally acclaimed musicians such as one of those greatest sopranos in the world – Sumi Jo. Krzysztof has inspired a number of composers to write new guitar compositions – e.g. Dimitiy Varelas "Concerti Grossi".
In January 2014 he was the artistic director in a very successful production of Astor Piazzolla's tango operita "Maria de Buenos Aires" with Sandra Rumolino as Maria in Polish Theatre in Szczecin (Poland).
His recordings received many awards and critical acclaim. Among his 10 albums recorded for Orfeus Music are: recorded in famous Abbey Road Studio in London with the Academy of St Martin in the Fields (Melodia Sentimental), with Sumi Jo, PKF – Prague Philharmonia and Philharmonia Quartett Berlin (Meisinger), with Sinfonia Varsovia (Astor and Astor – live at the Opera) or album recorded with his own baroque orchestra "Poland baROCK" (Vivaldissimo). In May 2020 he signed an exclusive contract with Chandos.
Krzysztof Meisinger is the artistic director of the MEISINGER Music Festival – the annual music festival whose first edition took place in September 2017 in Szczecin. The artists who took part at the MMF were: Ivo Pogorelich, Mariza, Piotr Anderszewski, Daniel Stabrawa, L'Arpeggiata to name a few.
Krzysztof Meisinger plays on the copy of Ignacio Fleta's guitar created by Anders Sterner and the Knobloch strings.

Booklet for Elogio de la Guitarra, Krzysztof Meisinger plays works by Castelnuovo-Tedesco, Llobet, Piazzolla & Rodrigo