---
Album info
Album including Album cover
I`m sorry!
Dear HIGHRESAUDIO Visitor,
due to territorial constraints and also different releases dates in each country you currently can`t purchase this album. We are updating our release dates twice a week. So, please feel free to check from time-to-time, if the album is available for your country.
We suggest, that you bookmark the album and use our Short List function.
Thank you for your understanding and patience.
Yours sincerely, HIGHRESAUDIO
1

Righteous

04:01

2

Nu Som

05:28

3

Jones Street

07:28

4

Motor City

04:04

5

Big Town

05:05

6

Slow Change

08:38

7

Tell Me

05:27

8

Ha Ha Hotel

05:12

9

Rhumba Pagan

04:09

10

Runner

04:24

Total Runtime

53:56
Info for Eleven

GRAMMY Award-winning keyboardist/composer/producer Jeff Lorber recalls seeing guitarist Mike Stern during his much-ballyhooed tenure with Miles Davis in the early '80s. "I've been a fan of his for a long time," said the keyboardist, who was touring hard in support of his hit records Wizard Island and It's a Fact in those analog days. "Jeff Lorber Fusion and Miles Davis were playing some of the same festivals back then, so I got to hear him play." For his part, Stern offered, "To be honest, I was aware of him, and had heard a bunch of good things, but I had never really checked him out. We were just in different orbits, me and Jeff."
In subsequent years, each staked out his respective musical territory — Lorber, the electric maestro from Los Angeles, pioneering the post-fusion sound of contemporary jazz with his radio-friendly, groove-oriented instrumental music; Stern, the esteemed six-stringer from New York, lending his considerable chops to bands led by Jaco Pastorius, Michael Brecker and Joe Henderson as well as groups like Steps Ahead, Vital Information and the Brecker Brothers while also leading his own band and cutting 18 recordings under his own name.
Credit bassist-producer Jimmy Haslip, a charter member of Yellowjackets, with bringing these two seemingly disparate musical forces from opposite sides of the country together. And rather than being a musical Odd Couple, it turns out that Lorber and Stern fit hand-in-glove on the ten scintillating tracks that comprise Eleven, set for release on September 27, 2019 via Concord Jazz. (The title is a joking reference to This Is Spinal Tap's Nigel Tufnel, who proudly demonstrates in the 1984 movie how his amplifier has a volume knob that goes to eleven… "for when you need that extra push over the cliff.")
Haslip was already well acquainted with Stern's playing, having recruited him for the Yellowjacket's 2008 album, Lifecycle, and follow up two-year tour. The bassist had also cultivated a longstanding musical relationship with Lorber, having played on and co-produced six of the keyboardist's previous albums — 2010's Now Is the Time, 2011's Galaxy, 2013's Hacienda, 2015's Step It Up, 2017's Grammy-winning Prototype and 2018's Impact. Sensing a natural blend between the two, Haslip proposed the collaboration. "Jeff and Mike both admired each other's musicianship and talent," he said. "As far as my conception for this collaboration, I thought working together would create something new and different, which was compelling to me."
"I was definitely very enthusiastic about it because I knew it would be something different and challenging," added Lorber. "And I liked the idea that it would take me away from what some people call 'smooth jazz,' which is a moniker that I don't really love. Because Mike is not that at all. He's a lot jazzier in terms of his phrasing. He's just a bebop wizard, he's got an incredible jazz feeling. And by the same token, he's got the rock and blues thing covered too. He's on both sides of the musical spectrum. So when I heard he was up for it, I was delighted to have a chance to work with him in the studio on this project. And I think we really hit it off musically as well as personally."
Said Stern of his main collaborator on Eleven, "When the idea was floated for this project, I asked a bunch of cats who worked with Jeff, like Randy Brecker, Dave Weckl and Bob Franceschini, and they all said, 'He's cool, he throws down, he can really get it going.' And they're right. Jeff's got a strong rhythmic groove and he comps and plays beautifully on acoustic piano, Fender Rhodes, and organ. He's got an especially beautiful touch on the acoustic piano, and I know that he studied with Madame Charloff, an amazingly great teacher in Boston. And I feel like his music really comes more from soul music than smooth jazz. That Philly soul thing is definitely in some of his tunes on this record."
As for the stigma attached to so-called 'smooth jazz', Lorber believes that was more a marketing term than a musical category. "I was doing my music way before there was the term 'smooth jazz." he said. "I guess the Venn diagram of my music intersects with some of those characteristics of smooth jazz, but my music has always been melodic, it's always been funky and I definitely try to keep an attention to soloing. It represents something more ambitious, more jazzy and more compelling, I hope."
While Stern and Lorber may differ in their approaches in the studio, they found common ground on Eleven. "I like the raw, rough edges of recording live in the studio," the guitarist maintained. "Jeff does it a different way, and he does it really well. He's kind of amazing at the kind of more produced, almost pop approach to making a record. There's a certain kind of clarity to that process that I admire. It's just a different way of conceptualizing it." Added the prolific composer-producer, "Mike just loves to play live and his thing builds around that, so we just picked some of his favorite tunes to play live. I wanted to kind of reinvent them and reimagine them, so hopefully we were able to step up and do that. What we did was try to add a modern touch by doing more layering, like with some of the overdubbed horn arrangements that David Mann provided on several tunes. And I think Mike was pretty happy with how they turned out."
The result is an extremely copacetic session that is a far cry from smooth jazz. There's too much harmonic meat and aggressive soloing from track to track to fit comfortably in that marketing category. Instead, both Lorber and Stern throw down with a vengeance on Eleven. From the melodic and catchy opener, "Righteous," powered by Gary Novak's crisp backbeat, Lorber's signature Fender Rhodes playing and Dave Mann's tight, East Coast/Brecker Brothers-ish horn arrangement, to Stern's lyrical, African flavored "Nu Som" and his tender ballad "Tell Me," to nasty, blues-drenched jams like "Jones Street" and "Slow Change," this summit meeting percolates with insistent grooves and pulsates with energy and ideas. Stern's runaway romp "Ha Ha Hotel," fueled by drummer Dave Weckl's muscular backbeat and punctuated by Mann's crisp horn pads, has the guitarist unleashing his fabled 'chops of doom' before Lorber erupts on a killing organ solo. Lorber's ultra-funky "Motor City" and "Big Town" add a swagger to the proceedings. The driving Lorber-Haslip number "Rhumba Pagan," fueled by drummer Vinnie Colaiuta, features a choir of wordless vocals from Stern, Haslip and Chelsea Maull while Lorber's intricate 6/8 closer "Runner," has the keyboardist soloing tastefully on piano and the guitarist cranking his axe to Eleven.
"This project was a joy to work on for many reasons, but I most enjoyed the collaborative effort in this work with Jeff and Mike," said Haslip. "For me, as a co-producer, it was the kind of creative and experimental experience I look forward to. We did try to shake it up, and I think we really succeeded."
Meanwhile, both Stern and Lorber and looking forward to opening up this material on their upcoming tour together. "The way I'm conceiving this is we're going to stretch a lot live with much longer solos," said Stern. "Hell, we'll probably play two tunes the whole set." Prior to their European tour, Lorber and Stern will commence their swing through the States in late Fall, beginning with a run at Blues Alley in Washington D.C. Sept. 26-29, then Jazz Alley in Seattle Dec. 3-4, Catalina Jazz Club in Los Angeles Dec. 5-8, Yoshi's in Oakland Dec. 9-10, the Dosey Doe in The Woodlands, TX on Dec. 14, One World Theater in Austin, TX on Dec. 15 and culminating in a run at Iridium in New York Dec. 16-19.
Mike Stern, guitar
Jeff Lorber, piano, keyboards
Jimmy Haslip, bass
Vinnie Colaiuta, drums
Dave Weckl, drums
Gary Novak, drums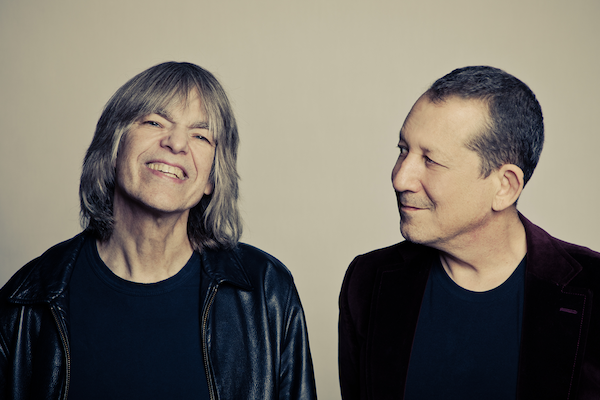 Mike Stern
Six-time GRAMMY nominee Mike Stern has established himself as one of the premier jazz (and jazz-fusion) guitarists and composers of his generation. His acclaimed 1993 release, Standards (And Other Songs), earned him the pick of Best Jazz Guitarist of the Year by the readers and critics of Guitar Player magazine. In 1997, he recorded Give And Take which helped Stern earn the Orville W. Gibson Award for Best Jazz Guitarist that year. At the Festival International de Jazz de Montréal in June 2007, Stern was honored with the Miles Davis Award. To celebrate DownBeat's 75th anniversary, Stern was named to the venerable jazz magazine's list of 75 all time great jazz, blues and beyond guitarists. On January 21, 2012, Stern was awarded Guitar Player magazine's Certified Legend Award. All Over the Place is Stern's latest recording on Heads Up International.
In a career that spans three decades and a discography that includes more than a dozen eclectic and innovative recordings, six-time GRAMMY nominee Mike Stern has established himself as one of the premier jazz and jazz-fusion guitarists and composers of his generation.
Born in Boston in January 1953, Stern grew up in Washington, DC, then returned to Boston to study at the Berklee College of Music. After college, he got his start as a guitar player with Blood, Sweat & Tears at age 22. Following a brief stint with Billy Cobham's powerhouse fusion band from 1979 to 1980, he moved to New York City, where he was recruited by Miles Davis to play a key role in Miles' celebrated comeback band of 1981 (which also included bassist Marcus Miller, drummer Al Foster, percussionist Mino Cinelu and saxophonist Bill Evans). During his three-year period with Miles, Stern appeared on three recordings with the jazz maestro – Man with the Horn, Star People and the live We Want Miles. He toured with Jaco Pastorius' Word of Mouth Band from 1983 through 1985 and returned to Miles' lineup for a second tour of duty that lasted close to a year.
In 1985, Stern recorded Neesh, his first recording as a leader, for the Japan-based Trio label. A year later, he made his debut on Atlantic with Upside Downside, featuring such celebrated colleagues as David Sanborn, Jaco Pastorius, saxophonist Bob Berg, bassists Mark Egan and Jeff Andrews, keyboardist Mitch Forman and drummers Dave Weckl and Steve Jordan. Over the next two years, Stern was a member of Michael Brecker's potent quintet, appearing on Don't Try This At Home.
In the summer of 1986, Stern took to the road with David Sanborn and later joined an electrified edition of Steps Ahead, which featured Mike Mainieri on midi vibes, Michael Brecker on the Electronic Wind Instrument (EWI), Darryl Jones on electric bass and Steve Smith on drums.
Stern's second Atlantic album, Time In Place (1988), delivered on the promise of his debut. He followed with Jigsaw (1989)and Odds Or Evens (1991), both of which ably showcased his legendary guitar prowess and musicality. During this period he also formed a touring group with Bob Berg that included drummer Dennis Chambers and bassist Lincoln Goines. They remained a working unit from 1989 to 1992, at which point Stern joined Michael and Randy Brecker in a reunited Brecker Brothers Band, appearing on Return of the Brecker Brothers, released in 1992. Other notable sideman credits include work with the late tenor saxophonist Joe Henderson and the live recording 4 Generations of Miles, in which he joins other Miles Davis alumni George Coleman on tenor sax, Jimmy Cobb on drums and Ron Carter on bass.
The '90s proved to be a prolific and critically successful period for Stern. His acclaimed 1993 release, Standards (And Other Songs), earned him the pick of Best Jazz Guitarist of the Year by the readers and critics of Guitar Player magazine. He followed that up with two hard hitting offerings – Is What It Is in 1994 and Between The Lines in 1996 – both of which scored GRAMMY nominations. In 1997, he recorded Give And Take with bassist John Patitucci, drummer Jack DeJohnette, percussionist Don Alias and special guests Michael Brecker and David Sanborn. Their freewheeling covers of Sonny Rollins' "Oleo," John Coltrane's "Giant Steps," Cole Porter's "I Love You" and Jimi Hendrix's "Who Knows" helped Stern earn the Orville W. Gibson Award for Best Jazz Guitarist that year. Stern's ninth release for Atlantic was a six-string summit with colleagues Bill Frisell and John Scofield that was appropriately titled Play. His Voices (2001) release, his first foray into vocal music, was also another GRAMMY nominee.
After 15 years with Atlantic, Stern shifted to ESC for the 2004 release of These Times, an eclectic set that included guest appearances by some high-profile session players – bassist Richard Bona, saxophonist Kenny Garrett and banjoist Bela Fleck.
Stern joined Heads Up International, a division of Concord Music Group, with the August 2006 release of Who Let the Cats Out? Regardless of who let them out, the cats are indeed loose on this album, and making a serious noise. Included on the guest roster are bassists Richard Bona (who handles vocals on two tracks), Anthony Jackson, Meshell Ndegeocello, Chris Minh Doky and Victor Wooten, trumpeter Roy Hargrove, saxophonists Bob Franceschini and Bob Malach, drummers Dave Weckl and Kim Thompson, harmonica player Gregoire Maret, and keyboardist/producer Jim Beard. Stern received his 4th GRAMMY nomination for Who Let The Cats Out?.
At the Festival International de Jazz de Montréal in June 2007, Stern was honored with the Miles Davis Award, which was created to recognize internationally acclaimed jazz artists whose body of work has contributed significantly to the renewal of the genre. Previous recipients include Keith Jarrett, Michael Brecker and Charlie Haden. Stern was also the artist in residence.
During that same festival, Stern joined the renowned Yellowjackets for some electrifying live performances. The dates served as the catalyst for Lifecycle, a Yellowjackets/Stern studio collaboration considered by many to be one of the most innovative and memorable jazz albums of 2008. The first Yellowjackets recording in 15 years to feature a guitar player, Lifecycle illustrates the kind of energy and creative brilliance that results when five talented players pool their individual skills as songwriters and musicians and merge into an entity that's far greater than the sum of its parts. Lifecycle was later nominated for a GRAMMY for Best Contemporary Jazz Album.
A frequent world traveler, Stern took his group to Europe, Asia and elsewhere throughout much of 2008 – an ambitious itinerary that included a memorable one-nighter at the New Morning, the longstanding and highly celebrated club in Paris, France. This electrifying show in front of a capacity-plus crowd in May 2008 was captured on film for posterity and presented in New Morning: The Paris Concert, a live DVD released in March 2009. Backing Stern on this gig is the expert crew of saxophonist Bob Franceschini, bassist Tom Kennedy and drummer Dave Weckl (who also mixed the DVD).
In February 2009, in the first in a series of articles to celebrate DownBeat's 75th anniversary, Stern was named to the venerable jazz magazine's list of 75 Great Guitarists. The list spotlights many all-time great jazz, blues and beyond guitarists and shows the wide-ranging influence that the guitar has had on music since it made its way into jazz in the 1920s.
In August 2009, Stern released Big Neighborhood. Aiding him in this latest chapter in his never-ending quest for the new and better groove is a long list of talented guests: guitarists Steve Vai and Eric Johnson; bassist-vocalists Esperanza Spalding and Richard Bona; jamband godfathers Medeski Martin & Wood; drummers Dave Weckl, Terri Lyne Carrington, Cindy Blackman Santana and Lionel Cordew; bassists Chris Minh Doky and Lincoln Goines, saxophonists Bob Franceschini and Bob Malach, trumpeter Randy Brecker and keyboardist/producer Jim Beard. Big Neighborhood was also nominated for a GRAMMY for Best Contemporary Jazz Album.
Stern was presented with Guitar Player magazine's Certified Legend Award on January 21, 2012. This was given to him at the Muriel Anderson's All-Star Guitar night where he performed with Lee Ritenour. Past GP Legends include Les Paul, Duane Eddy, Dick Dale, Larry Carlton, and Tommy Emmanuel.
Set for release on June 19, 2012, All Over the Place is Stern's latest recording. The 11-song set aligns the characteristically diverse and adventurous guitarist with a cadre of brilliant guests, including keyboardist/producer Jim Beard; trumpeter Randy Brecker; rhythm guitarist Leni Stern (Mike's wife); saxophonists Kenny Garrett, Chris Potter, Bob Franceschini and Bob Malach; and drummers Dave Weckl, Keith Carlock, Lionel Cordew, Al Foster, Kim Thompson and percussionist Tim Keiper. Also on hand is a delegation of high-caliber electric and acoustic bass players: Esperanza Spalding, Richard Bona, Victor Wooten, Anthony Jackson, Dave Holland, Tom Kennedy, Will Lee and Victor Bailey.
Jeff Lorber
By the late 1970s, trailblazing keyboardist/composer/producer Jeff Lorber had become a prominent figure in the new movement known as jazz fusion – a marriage of traditional jazz with elements of rock, R&B, funk and other electrified sounds. Lorber and his band, the Jeff Lorber Fusion, first honed their craft in the Portland, Oregon, club scene and rapidly expanded their reach to a national and international audience via a combination of complex harmonies, unconventional time signatures and compelling rhythms.
In subsequent years, Lorber dropped the term "fusion" from his billing as the movement evolved into what is currently known as contemporary jazz. Still, he continued to explore the innovative, improvisational potential of grafting other musical forms to the jazz idiom.
More than three decades after his earliest recordings, Lorber has come full circle. His new recording, "Galaxy", set for release January 31, 2012, on Heads Up International, a division of Concord Music Group, revisits a sound he helped pioneer. The album takes the experiment that he started with his last GRAMMY®-nominated CD, "Now is the Time", up a notch with 11 exciting and energetic new compositions performed by some of the biggest names in jazz today.
Lorber's music reaches a new level by crystallizing jazz, funk, and Latin rhythms with some killer melodies that will certainly translate to live performance. The first track, "Live Wire," blends a blistering house beat with extended solos by Lorber and Koonse and some amazing drum fills from Colaiuta. "Big Brother" moves into hip hop territory, similar to Jeff's grooving "Rain Dance," which became a huge hit for Notorious Big and Lil' Kim as "Crush on You." "Montserrat" sounds like a mixture of Sly Stone and Tower of Power, with super funky horn arrangements by Dave Mann. Obviously, a year spent touring together has made Lorber, Haslip and Marienthal into a tight unit, which is evident from this recording.
Stretching the envelope has been Lorber's strategy from the very beginning. Born in Philadelphia in 1952, Lorber began playing piano when he was just four years old. By his teen years, he had hooked up with several local R&B bands, but his tastes trended more toward jazz when he studied at Berklee College of Music.
After college, he relocated to Portland, Oregon, where he formed the Jeff Lorber Fusion. The group released their self-titled debut album in 1977, and quickly became one of the most popular acts in the jazz fusion scene, due in large part to relentless touring and a string of artistically daring and commercially successful recordings.
The entity formerly known as the Jeff Lorber Fusion became Lorber's solo career with the release of "It's a Fact" in 1982. After a brief but prolific stretch culminating with the highly successful "Private Passion" in 1986, Lorber took a break from recording his own material, opting instead to do session work and produce other artists. He resumed his solo career in 1991 with "Worth Waiting For", although he continued to produce for the remainder of the decade.
Lorber has been just as prolific and innovative in the new century as he was in the last, with recordings on Narada ("Philly Style", "Flip Side"), Blue Note ("He Had a Hat"), and most recently Peak ("Heard That").

This album contains no booklet.