---
Album info
Album including Album cover
I`m sorry!
Dear HIGHRESAUDIO Visitor,
due to territorial constraints and also different releases dates in each country you currently can`t purchase this album. We are updating our release dates twice a week. So, please feel free to check from time-to-time, if the album is available for your country.
We suggest, that you bookmark the album and use our Short List function.
Thank you for your understanding and patience.
Yours sincerely, HIGHRESAUDIO
1

Front Toward Enemy

03:44

2

I'm Already Gone

03:50

3

Seasons

04:26

4

Sevens

02:05

5

Tourniquet

05:45

6

Anchor's Lament

01:39

7

Throw Me an Anchor

04:00

8

I'd Do Anything

04:10

9

Blankets of Ash

01:04

10

Emmett - Radiating Light

04:12

11

Cold-Blooded Angels

05:38

12

Crooked Mile

00:41

13

Broken Halo

04:24

14

Can Oscura

02:01

15

Borderlines

06:16

16

Assault on East Falls

02:19

17

Pale Sun

04:14

Total Runtime

01:00:28
Info for Gold & Grey

Baroness will release their eagerly-awaited new album "Gold & Grey" on June 14th via Abraxan Hymns. While "Gold & Grey" found the band once again working with Purple producer Dave Fridmann (The Flaming Lips, Mogwai), sequestering themselves at Fridmann's remote upstate New York Tarbox Road Studio.
The 17-track album ushered in two significant changes: a decidedly different recording process and guitar player Gina Gleason's debut on a Baroness recording. The band, who tracked portions of the vocals, guitars and overdubs in Baizley's home-basement studio, another first for them, eschewed their normal routine of entering the studio with meticulously detailed plans and instead opted for a looser, more improvisational approach that resulted in their most collaborative and emotionally evocative release to date. Featuring John Baizley (vocals/guitar), Gina Gleason (guitar), Nick Jost (bass) and Sebastian Thomson (drums), Baroness received a GRAMMY Award nomination for Best Metal Performance for "Shock Me" from the 2015 album "Purple".
Baroness:
John Baizley, guitar, vocals
Gina Gleason, guitar, vocals
Sebastian Thomson, drums
Nick Jost, bass, keyboard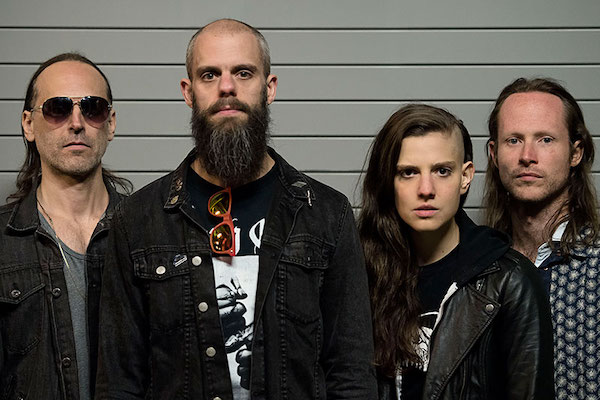 Baroness
Grammy-nominated exploratory rock band Baroness return with their most ambitious work to date, fifth album Gold & Grey. Set for release on the band's own Abraxan Hymns, Gold & Grey spills triumphantly past genre barriers, their anthemic alt-metal hooks ricocheting between the circuitous twists of prog and jazz, the moody swirls of space-rock and noise, and the hypnotic pulses of trip-hop and 20th Century minimalism.
"This is the most clear representation of the artistic vision I have for the band that we've ever done," says Baroness vocalist, guitarist and founder John Baizley. "I'm surprised that we got as far with it as we did."
Baizley sees the diverse, adventurous album as a "lateral step" from the streamlined, immediate guitar-rock of the band's last release, Purple, championed by Rolling Stone, Pitchfork and L.A. Weekly as one of the best metal albums of 2015. Gold & Grey works like a melodic puzzle, melodies and harmonic ideas borrowed, repurposed and reinterpreted across three sides of vinyl. Lyrics are full of sonic Easter eggs; unorthodox prog is hidden inside the most accessible songs; tunes emerge from swirling chaos and dense layers of sound. The album is given color by strings, glockenspiel, tubular bells, piano, synthesizers and even field recordings of the chaos after a transformer blew up outside of the recording studio.
"The term I kept using was that I wanted to create something that was more kaleidoscopic than our former records," says Baizley, who embraced the wide lens and limitless journeying of artists like Pink Floyd, Neurosis, Massive Attack and Scott Walker. "We were trying to say something new with our instruments, with our sound intact, with the spirit of the band intact, but not applying the typical conventions when possible."
For the first time ever, there's a spotlight on Baroness' powerhouse rhythm section – driving-and-spilling drummer Sebastian Thomson (Trans Am, Publicist) and jazz-honed bassist Nick Jost. Bustling with rhythmic complexity, the band occasionally swerves into highways of math rock, post-rock, krautrock and various strains of electronic music. In addition, the band has absorbed Gina Gleason, a gifted guitarist whose résumé includes playing with Cirque du Soleil in Las Vegas and jamming with both Smashing Pumpkins and Carlos Santana. Gleason's voice harmonizes with Baizley and Jost, bringing new tone to the band.
"It's great for me to have such a full-bodied trust in the other musicians in the band because they play at such a high level," says Baizley. "I never, ever in a million years thought I'd play with musicians of that caliber and now I'm surrounded by them."
Like Purple, the band recorded with prismatic, Grammy-winning producer Dave Fridmann (Flaming Lips, MGMT, Mercury Rev) at his Tarbox Studios. "There were so many split second decisions and just weird ideas that got used," says Baizley. "I credit Dave for a lot of this because he was never one to say 'No, that's insane.' It was like almost the more out there the idea, the more likely he was to encourage it to be developed and grown."
"We went outside, in front of Dave's studio, on one of his off days, we miked up a wooden post and hammered a nail into it," says Baizley. "There's so much hidden in there. There's also some audio samples of some of my friends. I literally did the Pink Floyd thing. I set up a little booth in my basement. I said, go down there, you got five minutes, tell me the toughest thing you want to tell me. And boy, it was tough to listen to. I pulled those quotes, effected them and they popped into one of the tracks."
Lyrically, Gold & Grey plumbs similar depths of emotion. On previous albums, Baizley has sung boldly and openly about his mental health and the recovery process from the traumatic bus accident the band and their crew suffered in 2012.
"Where Purple was me lyrically trying to work out how to adjust to a new normal, I think Gold & Grey is a more grown-up and more subtle collection of words that reflect how I am trying to deal with the longer term effects of having experienced so many terrible things," says Baizley. "There's a mental component. There's a physical component. I choose to use the band as a place where I can take all of this stress, pain, anxiety, all these realities, and make them something good."
Nearly 15 years since releasing their first EP, Baroness are finding a way forward by reveling in chaos.
"We'd listen to playback and there was a general sense of confusion," says Baizley of the Gold & Grey sessions. I couldn't figure out how Gina was making that sound. I didn't understand how the rhythm that Nick and Sebastian were playing worked with what I was doing – but it did. It was a really exciting to feel like we were maybe on the edge of just falling apart. We didn't want to know what was going on. We wanted to be always a little bit surprised by ourselves."

This album contains no booklet.