---
Album info
Album including Album cover
I`m sorry!
Dear HIGHRESAUDIO Visitor,
due to territorial constraints and also different releases dates in each country you currently can`t purchase this album. We are updating our release dates twice a week. So, please feel free to check from time-to-time, if the album is available for your country.
We suggest, that you bookmark the album and use our Short List function.
Thank you for your understanding and patience.
Yours sincerely, HIGHRESAUDIO
1

My Baby Done Changed the Lock on the Door

04:15

2

The Midnight Special

03:26

3

Hooray Hooray

04:19

4

Deep Sea Diver

05:17

5

Pick a Bale of Cotton

03:02

6

Drinkin' Wine Spo-Dee-O-Dee

03:15

7

What a Beautiful City

04:11

8

Pawn Shop Blues

05:51

9

Cornbread, Peas, Black Molasses

03:43

10

Packing Up Getting Ready to Go

02:49

11

I Shall Not Be Moved

04:19

Total Runtime

44:27
Info for GET ON BOARD

Nearly sixty years after they first played together, Ry Cooder and Taj Mahal, longtime friends and collaborators, reunite with an album of music from two Piedmont blues masters who have inspired them all their lives: GET ON BOARD: THE SONGS OF SONNY TERRY & BROWNIE MCGHEE, out April 22, 2022 on Nonesuch Records.
With Taj Mahal on vocals, harmonica, guitar, and piano and Cooder on vocals, guitar, mandolin, and banjo—joined by Joachim Cooder on drums and bass—the duo recorded eleven songs drawn from recordings and live performances by Terry and McGhee, who they both first heard as teenagers in California.
Explaining where Terry and McGhee took him musically, Cooder says, "Down the road, away from Santa Monica. Where everything was good. 'I have got to get out of here,' was all I could think. What do you do, fourteen, eighteen years old? I was trapped. But that first record, Get on Board, the 10" on Folkways, was so wonderful, I could understand the guitar playing."
Taj Mahal adds, "I started hearing them when I was about nineteen, and I wanted to go to these coffee houses, 'cause I heard that these old guys were playing. I knew that there was a river out there somewhere that I could get into, and once I got in it, I'd be all right. They brought the whole package for me."
Taj Mahal and Ry Cooder originally joined forces in 1965, forming The Rising Sons when Cooder was just seventeen. The band was signed to Columbia Records but an album was not released and the group disbanded a year later. The 1960s recording sessions, widely bootlegged, were finally issued officially in 1992. Get On Board is Taj Mahal and Ry Cooder's first recording together since then.
"They were so solid. They meant what they said, they did what they did … here's two guys, a guitar player and a harmonica player, and they could make it sound like a whole orchestra." — Taj Mahal
"It was perfect. What else can you say?" — Ry Cooder
Taj Mahal, vocals, harmonica, guitar, piano
Ry Cooder, vocals, guitar, mandolin, banjo
Joachim Cooder, drums, bass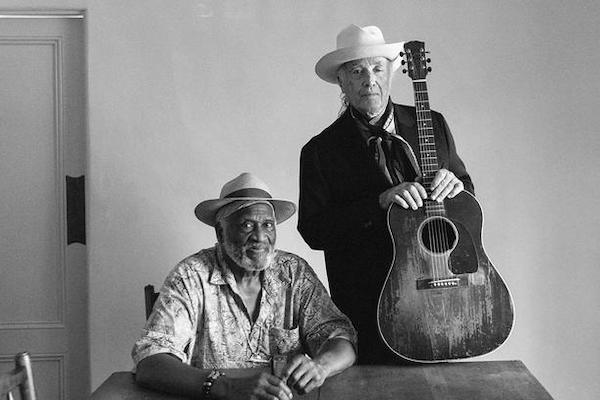 Taj Mahal
(born Henry Saint Claire Fredericks on May 17, 1942) is an American blues musician, singer-songwriter, multi-instrumentalist, actor, and film composer. He plays the guitar, piano, banjo, harmonica, and many other instruments, often incorporating elements of world music into his work. Mahal has done much to reshape the definition and scope of blues music over the course of his more than 50-year career by fusing it with nontraditional forms, including sounds from the Caribbean, Africa, India, Hawaii, and the South Pacific.
Taj Mahal doesn't wait for permission. If a sound intrigues him, he sets out to make it. If origins mystify him, he moves to trace them. If rules get in his way, he unapologetically breaks them. To Taj, convention means nothing, but traditions are holy. He has pushed music and culture forward, all while looking lovingly back.
"I just want to be able to make the music that I'm hearing come to me––and that's what I did," Taj says. The 76-year-old is home in Berkeley, reflecting on six decades of music making. "When I say, 'I did,' I'm not coming from the ego. The music comes from somewhere. You're just the conduit it comes through. You're there to receive the gift."
Taj is a towering musical figure––a legend who transcended the blues not by leaving them behind, but by revealing their magnificent scope to the world. "The blues is bigger than most people think," he says. "You could hear Mozart play the blues. It might be more like a lament. It might be more melancholy. But I'm going to tell you: the blues is in there."
If anyone knows where to find the blues, it's Taj. A brilliant artist with a musicologist's mind, he has pursued and elevated the roots of beloved sounds with boundless devotion and skill. Then, as he traced origins to the American South, the Caribbean, Africa, and elsewhere, he created entirely new sounds, over and over again. As a result, he's not only a god to rock-and-roll icons such as Eric Clapton and the Rolling Stones, but also a hero to ambitious artists toiling in obscurity who are determined to combine sounds that have heretofore been ostracized from one another. No one is as simultaneously traditional and avant-garde.
"What inspires me most about my career is that I've been able to make a living playing the music that I always loved and wanted to play since the early 50s," Mahal says. "And the fact that I still am involved in enjoying an exciting career at this point in time is truly priceless. I'm doing this the old fashioned way and it ain't easy.." Quantifying Taj's significance is impossible, but people try anyway. A 2017 Grammy win for TajMo, his collaboration with Keb' Mo', brought his Grammy tally to three wins and 14 nominations, and underscored his undiminished relevance more than 50 years after his solo debut. Blues Hall of Fame membership, a Lifetime Achievement Award from the Americana Music Association, and other honors punctuate his résumé. He appreciates the accolades, but his motivation lies elsewhere. "It's not a hunger, not a lust or even a thirst," Taj says of what drives him. "It's just more knowledge of self––to realize that almost everything is right here. We're so used to looking outside of ourselves for things, and it's right here."
Taj's exploration of music began as an exploration of self. He was born in 1942 in Harlem to musical parents––his father was a jazz pianist with Caribbean roots; mother was a gospel-singing schoolteacher from South Carolina––who cultivated an appreciation for both personal history and the arts in their son. "I was raised really conscious of my African roots," Taj says. "So I was trying to find out: where does what we do here connect to what we left there?" In the early 1950s, his family moved to Springfield, Massachusetts––a microcosmic melting pot for immigrants from across the globe: the Caribbean, the American South, Europe, the Mediterranean, Syria, Lebanon. "Music was everywhere," he says. "Things were different in those days. There weren't a lot of places that African Americans had to go out to entertain themselves. So people did a lot of entertaining in their homes. Friday or Saturday night, you'd move the furniture, mop and wax the floor, and set things up so people could pop over and hear all the music.
From the beginning, Taj found the blues magnetic, even as most artists around him in the Northeast were exploring other sounds. "I could hear little strains of the blues coming through––you could feel that energy in the music that was being played," he says. "I could also feel that energy of the blues inside myself." Piano lessons didn't stick––"I'd already heard what I wanted to play"––so when a blues guitarist from North Carolina moved in next door, Taj found an early mentor and was off. ...
Ryland Peter Cooder
(born March 15, 1947) is an American musician, songwriter, film score composer and record producer. He is a multi-instrumentalist but is best known for his slide guitar work, his interest in roots music from the United States, and his collaborations with traditional musicians from many countries.
Cooder's solo work draws upon many genres. He has played with John Lee Hooker, Captain Beefheart, Gordon Lightfoot, Ali Farka Tour , Eric Clapton, The Rolling Stones, Van Morrison, Neil Young, Randy Newman, Linda Ronstadt, Vishwa Mohan Bhatt, David Lindley, The Chieftains, The Doobie Brothers, and Carla Olson & the Textones (on record and film). He formed the band Little Village. He also produced the Buena Vista Social Club album (1997), which became a worldwide hit. Wim Wenders directed the documentary film of the same name (1999), which was nominated for an Academy Award in 2000.
Cooder was ranked eighth on Rolling Stone magazine's 2003 list of "The 100 Greatest Guitarists of All Time" (David Fricke's Picks). A 2010 ranking by Gibson placed him at number 32.
His wide-ranging discography includes over 20 classic albums, such as Boomer's Story (1972), Chicken Skin Music (1976), Bop till You Drop (1979), Get Rhythm (1987), Borderline (1980), My Name is Buddy (2007), Election Special (2012), and Live in San Francisco (2013), which was recorded during a two night stint at the famous Great American Music Hall and featured Joachim Cooder, Arnold McCuller, and Flaco Jimenez.
His collaborations with fellow musicians over the years have produced quintessential albums such as Little Village (1992), The Long Black Veil with The Chieftains (1995), Mambo Sinuendo with Manuel Galban (2003), and the aforementioned award winning Buena Vista Social Club, which saw the reunion of some of the greatest surviving musicians of the 20th century Cuban music scene.
Growing up in Santa Monica during the 1960's filled Cooder with a profound appreciation for the deep roots of his community, reflected in his work through albums such as 2005's GRAMMY nominated album Chavez Ravine, a tribute to the former Los Angeles Latino enclave of the same name as well as his 2008 album I, Flathead, based on the drag racing culture of the early 1960's in the desert salt flats of Southern California.
Cooder's skill as a musician and composer has translated into his scoring multiple film soundtracks for films such as Paris, Texas, The Long Riders, Southern Comfort, Streets of Fire, Last Man Standing, and Crossroads. An in-demand session musician, over the years Cooder has performed on albums by The Rolling Stones, Van Morrison, Nancy Sinatra, Kim Carnes, Randy Newman, John Hiatt, James Taylor, Warren Zevon, The Beach Boys, and Mavis Staples.
As a touring artist, Cooder has toured with performers such as Nick Lowe, Ricky Skaggs, and Sharon White and has toured all over the world, visiting countries such as Japan, New Zealand, Australia, Italy, the Netherlands, and the United Kingdom. The summer of 2018 saw Ry back on tour with his own band (featuring his son Joachim on drums), for the first time since 2009, visiting multiple cities in Canada and the United States in support of his Fantasy Records album, The Prodigal Son, released worldwide May 11, 2018.
In 2019 Ry Cooder will be touring with Rosanne Cash with Cash and Cooder on Cash featuring the music of Johnny Cash at select theatres throughout the U.S..

This album contains no booklet.