---
Biography Angela Gheorghiu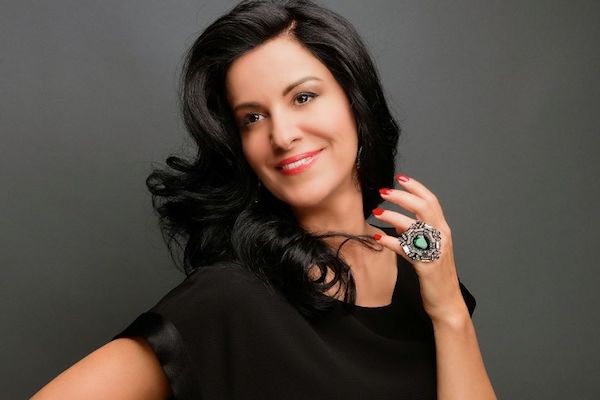 Angela Gheorghiu
the most glamorous and gifted opera singer of our time, was born in the small Romanian town Adjud. From early childhood it was obvious that she will become a singer, her destiny was the music. She attended the Music School in Bucharest and graduated from the Bucharest Music Academy, where she studied with the remarkable music teacher Mia Barbu. Ms. Gheorghiu's magnificent voice and dazzling stage presence have established her as a unique international opera superstar.
Angela Gheorghiu was born in Romania. In 1992, she made her international debut at the Royal Opera House Covent Garden, followed the same year by debuts at the Metropolitan Opera and the Wiener Staatsoper. Since then, she has graced the stages of the world's opera houses and concert halls, excelling both vocally and dramatically. Today, at the height of her career - and looking as glamorous as ever - she is widely recognised by critics and opera lovers as one of the great sopranos of all time.
In 1998, Gheorghiu signed an exclusive contract with EMI Classics for whom she has recorded Puccini's Madama Butterfly, Tosca and Il trittico, Massenet's Manon and Werther, Gounod's Roméo et Juliette, Bizet's Carmen and Verdi's Il trovatore, several duet albums with Roberto Alagna and concerts with orchestra or choir and orchestra including Verdi's Requiem, Live from La Scala, Live from Covent Garden, Casta Diva, My Puccini, and Diva.
All her CDs have received widespread critical acclaim and have been awarded many prizes such as Gramophone Awards, Diapason d'Or Awards, Choc du Monde de la Musique in France, Cecilia Prize in Belgium, Deutsche Schallplattenkritik-Preis in Germany, the Echo Award, the Italian Musica e dischi Foreign Lyric Production Award, the USA Critics' Award etc. Mrs Gheorghiu won the title of "Female Artist of the Year" at the Classical Brit Awards in 2001 and 2010.
Last year she made her much-acclaimed debut in Cilea's Adriana Lecouvreur, a new production of the Royal Opera House Covent Garden. The Observer wrote: "It's hard to imagine anyone bettering Angela Gheorghiu in this part. Her voice, feather-light and creamy yet with a core of steel, matches the liquid way she moves on stage. She's a natural actress and made the improbable death scene heartbreakingly believable and her signature aria "Poveri fiori" simply unforgettable."
After Angela Gheorghiu's July 2011, performances as Tosca with Jonas Kaufmann and Bryn Terfel at The Royal Opera House under the baton of Antonio Pappano, The Independent wrote, "Gheorghiu, like Tosca, is a born diva." The Guardian added, "Her bloodcurdling outburst at the realisation that (Mario) is dead, not merely pretending, reminded us why this Romanian diva draws the crowds." This production will be screened in cinemas around the world in the autumn.
Angela Gheorghiu's 2011-2012 season includes performances in Gounod's Faust at London's Royal Opera House, in Puccini's La Bohème at the Gran Teatre del Liceu, Barcelona, the Staatsoper Hamburg, the Nationaltheater, Munich and La Scala, Milan, a concert performance of Cilea's Adriana Lecouvreur at New York's Carnegie Hall and song recitals in Tokyo, Essen, Washington, D.C. and Paris.
Angela Gheorghiu's latest project on EMI Classics is 'Homage to Maria Callas', a collection of beloved French and Italian operatic masterpieces. The programme is inspired by the career and recordings of Maria Callas, the greatest diva of the last century. The arias are shared favourites of both Callas and Gheorghiu, and Angela's new recording demonstrates once again her extraordinary vocal and emotional range.
Recorded at London's iconic Abbey Road Studios and in New York, the repertoire of Gheorghiu's first studio recital in six years (during which time she recorded several complete operas, including a multi-award-winning Madama Butterfly), shows her versatility in lyric, spinto and mezzo roles, with each of which she feels a strong emotional connection
In January 2006 she triumphed with La Traviata at the MET in New York. Three months later, in April, she made her debut in Teatro alla Scala in Milano with a recital, in May she opened the Film Festival in Cannes. In June 2006 she made her stage debut in Tosca at the ROH Covent Garden in London. Then she returned to the Vienna Staatsoper for performances of La Bohème (November 2007) and to the MET for a series of Simon Boccanegra and a gala performance of La Traviata (March 2007).
It was again La Traviata that she performed in Rome and in Teatro alla Scala in Milano in 2007. She also had some much-acclaimed concerts in Paris (Salle Pleyel and Palais Garnier) and in Los Angeles. In September last year she performed in Marseille the title role in the world premiere of the opera Marius et Fanny of the composer Vladimir Cosma. In November she sang a series of much-praised performances of La Rondine in San Francisco. When Ms. Gheorghiu sang lately La Bohème at the MET in New York, the performance was transmitted in cinemas to an audience of over one million and five hundred thousand people. Also her performances of La Traviata in Milan and in Rome and La Rondine in San Francisco and New York were transmitted in cinemas.
All these performances and recitals have confirmed Ms. Gheorghiu's status as one of the most beloved stars of opera. For more than ten years she has been married to the French-Italian tenor Roberto Alagna. The wedding ceremony took place on the stage of the Metropolitan Opera New York, during a performance of La Bohème, in 1996 and was celebrated by the Mayor of New York, Mr. Rudolph Giuliani. Angela Gheorghiu and Roberto Alagna have immediately been considered the Golden Couple of Opera. They have sung plenty of performances together and recorded various CDs together. On the 20th of June this year they sung together a much praised open-air concert in the Prospect Park in New York.
Angela Gheorghiu has collaborated with the most prestigious opera directors and conductors of our time and has sung with the most important opera singers.
Future engagements include various concerts, as well as performances of L'Elisir d'Amore at the Met in New York and performances of La Traviata in Berlin and Munich.
In future, she will also appear in Lucia di Lammermoor, Adriana Lecouvreur, Manon Lescaut, Tosca, Lucrezia Borgia, Alceste, Don Carlos, Don Giovanni and in The Ghosts of Versailles.
Ms. Gheorghiu was honoured with "La Medaille Vermeille de la Ville de Paris", and she was appointed an "Officier de l'Ordre des Arts et Lettres" and a "Chevalier de l'Ordre des Arts et Lettres" by the French Ministry of Culture and by her native country Romania.