---
Album info
Album including Album cover
Johann Sebastian Bach (1685 - 1750): French Suite No. 4 in E-Flat Major, BWV 815:

1

French Suite No. 4 in E-Flat Major, BWV 815: I. Allemande

03:09

2

French Suite No. 4 in E-Flat Major, BWV 815: II. Courante

02:04

3

French Suite No.4 in E-Flat Major, BWV 815: III. Sarabande

03:38

4

French Suite No. 4 in E-Flat Major, BWV 815: IV. Gavotte

01:18

5

French Suite No. 4 in E-Flat Major, BWV 815: V. Menuet

00:51

6

French Suite No. 4 in E-Flat Major, BWV 815: VI. Air

01:46

7

French Suite No. 4 in E-Flat Major, BWV 815: VII. Gigue

02:46

Toccata in D Minor, BWV 913:

8

Toccata in D Minor, BWV 913: I. Introduction

02:21

9

Toccata in D Minor, BWV 913: II. Thema

03:31

10

Toccata in D Minor, BWV 913: III: Adagio

02:07

11

Toccata in D Minor, BWV 913: IV. Allegro

04:07

French Suite No. 5 in G Major, BWV 816:

12

French Suite No. 5 in G Major, BWV 816: I. Allemande

03:50

13

French Suite No. 5 in G Major, BWV 816: II. Courante

02:00

14

French Suite No. 5 in G Major, BWV 816: III. Sarabande

04:08

15

French Suite No. 5 in G Major, BWV 816: IV. Gavotte

01:19

16

French Suite No. 5 in G Major, BWV 816: V. Bourrée

01:30

17

French Suite No. 5 in G Major, BWV 816: VI. Loure

03:18

18

French Suite No. 5 in G Major, BWV 816: VII. Gigue

03:42

Toccata in E Minor, BWV 914:

19

Toccata in E Minor, BWV 914: I. Un poco allegro

02:11

20

Toccata in E Minor, BWV 914: II. Adagio

01:46

21

Toccata in E Minor, BWV 914: III. Fuga

03:10

French Suite No. 6 in E Major, BWV 817:

22

French Suite No. 6 in E Major, BWV 817: I. Allemande

03:45

23

French Suite No. 6 in E Major, BWV 817: II. Courante

01:57

24

French Suite No. 6 in E Major, BWV 817: III. Sarabande

03:33

25

French Suite No. 6 in E Major, BWV 817: IV. Gavotte

01:13

26

French Suite No. 6 in E Major, BWV 817: V. Polonaise

01:27

27

French Suite No. 6 in E Major, BWV 817: VI. Menuet

01:28

28

French Suite No. 6 in E Major, BWV 817: VII. Bourrée

01:46

29

French Suite No. 6 in E Major, BWV 817: VIII: Gigue

02:43

Total Runtime

01:12:24
Info for Bach Toccatas / French Suites IV- VI

Lorenzo Ghielmi took more than six years before presenting the second installment of his recording of the French Suites, but it was worth the wait. In Suites No. 4-6, he juxtaposes two of Bach's most exceptional harpsichord toccatas. Ghielmi once again proves to be one of the most interesting and knowledgeable Bach interpreters of our time. The Italian organist and harpsichordist, Lorenzo Ghielmi, is organist on the Ahrend organ (1991) at the Basilica di San Simpliciano in Milan, where he performed from 1992 to 1994 the complete organ works of J.S. Bach. He gives concerts throughout Europe, Japan and the USA as an organist and harpsichordist. He has made many radio and album recordings. He plays with his instrumental ensemble La Divina Armonia and in duet with his younger brother Vittorio Ghielmi (viola da gamba and harpsichord). In France, he received the Diapason d'Or for his recordings of Bruhns and Bach. He also played organ & harpsichord in the first recordings of Il Giardino Armonico.
Lorenzo Ghielmi, harpsichord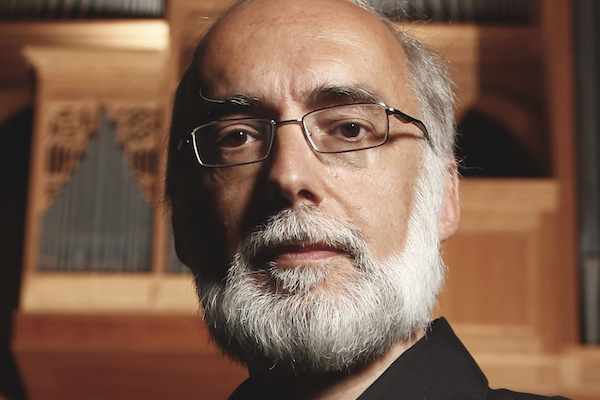 Lorenzo Ghielmi
has dedicated may years of his career to the study and performance of Renaissance and Baroque music. As one of the leading specialists for Baroque keyboard instruments of our times worldwide he has performed all over Europe, in Japan, Canada and the United States, and has made numerous solo-recordings for broadcast and CD.
Starting his international career as founder member of the famous group Il Gardino Armonica he in 2005 decided to dedicate more time to his solo playing and own projects, and founded his ensemble La Divina Armonia, with which in the meanwhile he realised numerous recordings, for instance organ concertos by Handel (two parts, both distinguished with the diapason d'or in France, part II even with de Diapason d'année) and Haydn, the Passion after St. John by Francesco Feo as well as music by Bach.
The ensemble was invited to many of the most important festivals and stages for Early Music in Europa, amongst others the Festival Oude Muziek Utrecht (where they were Artist in Residence in 2017), Osterfestival Hall in Tirol, Salzburger Bachfest, Bozart Brussels, as well as to Oslo or Bruges.
Ghielmi teaches organ, harpsichord and chamber music at the Accademia Internazionale della Musica in Milan. From 2006 until 2015 he also held the chair of organ professor at the Schola Cantorum Basiliensis. Furthermore he is the organist of the Basilica of San Simpliciano in Milan.
Besides he published a book on Nicolaus Bruhns, and several essays on organ building in the 16th and 17th centuriers and on performing Bach's music.

This album contains no booklet.