---
Biography Maarten Engeltjes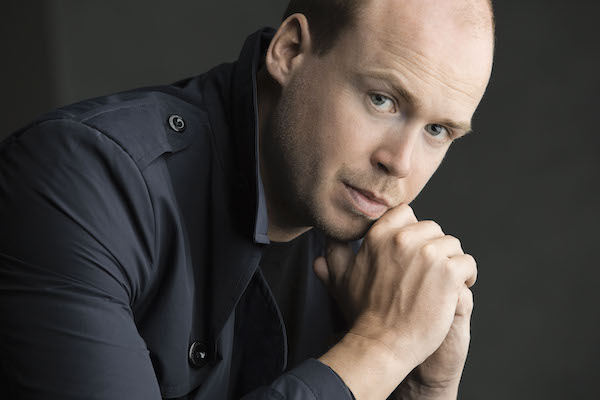 Maarten Engeltjes
The Young Dutch Countertenor Maarten Engeltjes (1984) started singing at the age of 4 as a boy soprano. In 1995 Sir David Wilcocks recognized his special talent and selected Maarten as soloist for the Coronation Anthems (Händel) at the Boys Choir Festival in Haarlem, The Netherlands. He also participated as a boy soprano soloist on several CD recordings in the Dom Cathedral in Riga, Latvia, including Allegri's Miserere.
Maarten Engeltjes had his countertenor debut at the age of 16, singing the alto-arias in the Bach St. Matthew's Passion. Numerous national and international performances quickly followed including J.S. Bach's masterpieces: the St. Matthew's Passion, St. John's Passion, the B minor Mass, the Weihnachts Oratorio and numerous cantatas, as well as all major Händel's oratorios etc.
In 2003, Michael Chance selected Maarten out of 20 talented young countertenors and invited him to participate in a master class, which was also broadcast on Dutch national television. A joint orchestra recital with Michael Chance followed in 2004, where the artists performed duets by Purcell and Blow, including "An ode on the Death of Mr. Henry Purcell". Maarten Engeltjes already had the pleasure to work with conductors such as Gustav Leonhardt, Vladimir Jurowski, William Christie, Ton Koopman, Phillipe Pierlot, Peter Dijkstra, Daniel Reuss, Markus Stenz, Bruno Weil, Diego Fasolis, Reinbert de Leeuw, Jos van Veldhoven and Federico Sardelli.
Recent engagements include a recording followed by perfomances of Händel's Dixit Dominus and Bach's Magnificat with Peter Dijkstra and the Choir of the Bayerischen Rundfunk, The War in Heaven by English composer Gavin Bryars at the Muziekgebouw aan t'IJ, Bach's Magnificat with the Bergen Philharmonic with Juanjo Mena conducting, the role of Mago Christiano in Händel's Rinaldo at the Opéra de Lausanne, a major European tour performing J.S. Bach's Johannes Passion with Ton Koopman and his Amsterdam Baroque Soloists, Bach's B-minor Mass with Akademie für Alte Musik Berlin conducted by Daniel Reuss, the role of Jesus in the Judas Passion, a new composition by Dutch composer Egon Kracht, the role of The Angel at a world premiere of Rob Zuidam's opera Adam in Ballingschap at De Nederlandse Opera in Amsterdam, Polinesso in Händel's Ariodante conducted by Federico Sardelli at the Festival de l'Opéra Baroque de Beaune, 9 solo recitals with the Ancient Music network of the Utrecht Festival, Dixit Dominus with the Nederlands Kamerkoor and conductor Peter Dijkstra, Cantatas from Bach conducted by Ton Koopman with the prestigious NPS Matinee series at the Concertgebouw, Bach's Weihnachts Oratorio in Tokyo and Osaka and a world tour with William Christie and Les Arts Florissants in the young artists program "Le Jardin des Voix ", as well as a tour through Belgium with Flemish baroque orchestra B'Rock performing Vivaldi's Nisi Dominus and Hasse's Salve Regina. On October 27, 2009 Maarten Engeltjes sang - with B'Rock - in the Royal Palace in Brussels, at the invitation of King Albert.
His future engagements include the mainrole in the worldpremière of Lera Auerbach's Requiem in Dresden's Frauenkirche and SemperOper, this with the Dresdner StaatsKapelle conducted by Vladimir Jurowski. The role of Bertarido in Händel's Rodelinda at the Via Stellea Festival in Santiago, the Role of Tolomeo in Händel's Giulio Cesare with Capella Craviensis conducted by Jan Thomasz Adamus, the role of Henze's L'Upapa in the prestigious Zaterdagmatinee in Amsterdam conducted by Markus Stenz, Bach's St. Matthew's Passion with the Nederlandse Bachvereniging and conductor Jos van Veldhoven, Händel's Dixit Dominus with Flemish Radio Choir conducted by Jos van Veldhoven, Pergolesi's Stabat Mater with soprano Johannette Zomer and Concerto Köln, recitals- performing Vivaldi in Paris and Froville with Concerto Köln, Bach's Weihnachtsoratorio with Residentie Orkest conducted by Bruno Weil, A European tour performing Vivaldi & Händel with Swedish Radio Choir conducted by Peter Dijkstra, Bach's B-minor Mass with Peter Dijkstra in Copenhagen and Stockholm, Bach Cantata's with Lars Ulrik Mortensen, Vivaldi's Nisi Dominus with Arion Ensemble Montréal and their conductor Alexander Weimann. 3 Solo recitals at Sydney Festival with Apollo ensemble. The role of Adolfo in Händel's Faramondo in the Händel Festspiele Göttingen under Lawrence Cummings. The role of Eustazio in Händel's Rinaldo with Il pommo d'oro and Ricardo Minassi. The role of Apollo in Mozart's Apollo & Hyacinthus with Les Folies Francaises, Bach Cantata's with the Bergen Philharmonic, Bach's St. Matthew Passion and St. John's Passion with the München Philharmonic and Tonhalle Orchestra conducted by Ton Koopman and several European Tours perfoming Telemann's Donnerode, Bach's Weihnachtsoratorio, B-minor Mass and Händel's Messiah with Amsterdam Baroque Orchestra & Choir conducted by Ton Koopman.
In May 2007 his debut solo CD of songs by Purcell, Dowland and Byrd, was presented during a recital at the Concertgebouw in Amsterdam. The CD was on the top-10 list of best selling classical CD's in The Netherlands for many months and enjoyed unanimous critical acclaim. In the meantime he also recorded Bach's Johannes Passion, Bach Solo Cantatas for Alto, Cavalli's Artemisa, Bach's Magnificat and Händel's Dixit Dominus.
Maarten Engeltjes graduated cum laude and with distinction from the Royal Conservatory of The Hague in September 2007. He was coached by Maria Acda, Manon Heijne, Michael Chance and Andreas Scholl.