---
Album info
Album including Album cover Booklet (PDF)
I`m sorry!
Dear HIGHRESAUDIO Visitor,
due to territorial constraints and also different releases dates in each country you currently can`t purchase this album. We are updating our release dates twice a week. So, please feel free to check from time-to-time, if the album is available for your country.
We suggest, that you bookmark the album and use our Short List function.
Thank you for your understanding and patience.
Yours sincerely, HIGHRESAUDIO
Traditional:

1

Mina getter

00:31

2

Mikaelidagen

02:30

Nikolaus Newerkla (b. 1974):

3

Maggie's Secret

03:43

4

Pleasant Month of May

04:05

Traditional:

5

Poslka från Hälleforsnäs

01:41

6

Reel efter Ritäkt Jerk

02:19

7

Vi elsker vort land

02:37

Richard Robinson, Traditional:

8

Tonight My Sleep Will be Restless / The Last of the Light

03:00

Georg Riedel (b. 1934):

9

Idas sommarvisa

02:49

Nikolaus Newerkla:

10

Beautiful Leaves

02:51

Traditional:

11

Uti vår hage

02:25

Nikolaus Newerkla:

12

The Midsummer's Carol

03:33

Traditional:

13

Sovay, Sovay

02:41

14

The Lark in the Blue Summer Sky

01:46

15

Den blogida sonen

05:31

16

Puirt a beul

02:28

17

As I Walked Out

03:31

Nikolaus Newerkla:

18

Draherin O'Machree

03:25

19

Midsummer's Eve

02:26

Traditional:

20

First Month of Summer (Reel)

01:04

21

Green Meadow (Jig)

01:57

22

Loch Lomond

03:59

Total Runtime

01:00:52
Info for Midsummer

"On A Cold Winter's Day", das erste dhm-Album des Quadriga Consort, wurde ein Bestseller, und auch die weiteren Alben des Ensembles wurden für ihr besonderes Repertoire und die gelungene Interpretation überall gelobt: "Manche Lieder rühren zu Tränen, andere laden fast zum Tanzen. (...) Zeitlos schön." (WAZ) Das österreichische Ensemble hat jetzt die passende Musik zum Sommer: Auf dem neuen Album sind Lieder und Instrumentalstücke aus Skandinavien und von den Britischen Inseln zum Thema Mittsommer zu hören. Die Mittsommernacht hat für die Menschen im Hohen Norden seit jeher eine besondere Bedeutung und wird mit lang überlieferten Bräuchen und stimmungsvollen Festen gefeiert. Das Quadriga Consort hat rund 20 traditionelle Lieder und Melodien aus Schweden, Dänemark, England, Irland und Schottland gefunden, teilweise wiederentdeckt, die auf diese ausgelassenen Feste und den nordischen Sommer Bezug nehmen. Eines davon ist "Idas sommarvisa", ein bis heute in den schwedischen und deutschen Schulen äußerst beliebtes Lied, dessen Text von Astrid Lindgren stammt. Die meisten Stücke auf dem Album sind vom Leiter des Ensembles und Cembalisten Nikolaus Newerkla für eine sechsstimmige Besetzung aus Blockflöten, Viola da Gambe, Perkussion und Cembalo und natürlich Gesang (Sophie Eder) arrangiert. Viele der ausgewählten instrumentalen Tänze tragen schon im Titel das Sommer-Thema wie der Reel "First Month of Summer" oder die Jigs "Green Meadows" und "The Lark in the Blue Summer Sky". Mit "Uti vår hage" (In unserem Garten) erklingt auch ein altes schwedisches Volkslied, das durch den 1923 geschriebenen Chorsatz von Hugo Alfvén weltweite Berühmtheit erlangte. Der Text schildert den üppigen Pflanzenreichtum und das blühende Leben. "Vi elsker vort land" (Wir lieben unser Land), das 1885 von Holger Drachmann geschaffene Lied, gilt in Dänemark längst als das Volkslied zum Sonnenwendefest. Auch mit "Midsummer" gelingt Quadriga Consort ein stimmungsvolles, abwechslungsreiches und spannend instrumentiertes Album, welches den Hörer nicht nur im Sommer von langen Nächten träumen lässt.
Quadriga Consort:
Sophie Eder, Gesang
Angelika Huemer, Blockflöten, Viola da Gamba
Karin Silldorff, Blockflöten
Dominika Teufel, Viola da Gamba
Philipp Comploi, Basse de Violon
Tobias Steinberger, Perkussion
Nikolaus Newerkla, Cembalo, Vibrandoneon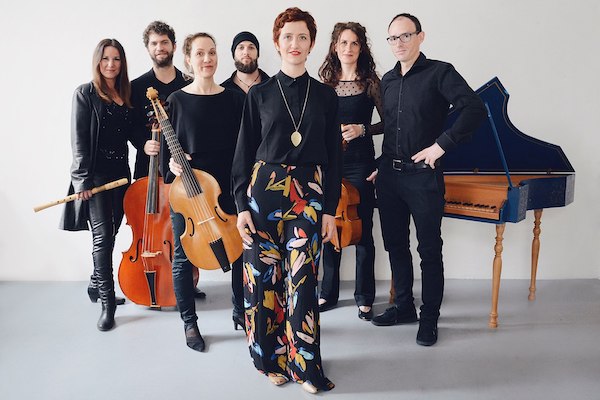 Quadriga
is one of Austria's most successful ensembles, known worldwide for their SONY-released bestseller albums "On a Cold Winter's Day", "Crime and Mystery", and "Winter's Delights".
Ever since the Austrian ensemble Quadriga Consort was founded by harpsichordist arranger and composer Nikolaus Newerkla in 2001, it has made a name for itself, playing early music which defies being pigeonholed as either "early music", "classical" or"pop". With its first programme and CD "Ground" (HARP), the musicians already surprised audiences with uncompromising interpretations and unsuspected folk and pop groove in their performances creating new early music beyond any categorization.


Later on the "Early Music Band" would become famous for freshly arranged songs and tunes from the British Ilses, performed on period instruments. ​
Altogether the Consort from Austria has released ten - some of them prize-winning - CDs such as "Ships Ahoy!" (ALPHA), "Songs from the British Isles - Live" (GRAMOLA), "By Yon Bonnie Banks" and "As I Walked Forth" (ORF). Quadriga has had numerous appearances at renowned festivals throughout Europe and the US.

Booklet for Midsummer