---
Album info
Album including Album cover
I`m sorry!
Dear HIGHRESAUDIO Visitor,
due to territorial constraints and also different releases dates in each country you currently can`t purchase this album. We are updating our release dates twice a week. So, please feel free to check from time-to-time, if the album is available for your country.
We suggest, that you bookmark the album and use our Short List function.
Thank you for your understanding and patience.
Yours sincerely, HIGHRESAUDIO
1

the end at the Live Dream

03:39

2

ghost at the Live Dream

03:21

3

whywhywhy at the Live Dream

04:02

4

alone at the Live Dream

03:41

5

stories at the Live Dream

03:40

6

valentine's day at the Live Dream

05:10

7

over the rainbow at the Live Dream

03:21

8

it's my turn at the Live Dream

03:59

9

find my way home at the Live Dream

02:48

10

7-2 at the Live Dream

03:06

11

rock bottom at the Live Dream

03:23

12

coming up for air at the Live Dream

03:15

13

oxygen at the Live Dream

03:19

14

running in place at the Live Dream

03:24

15

decide to be happy at the Live Dream

03:39

16

love me true at the Live Dream

03:24

17

3 small words at the Live Dream

03:37

18

muse at the Live Dream

03:08

19

Superbloom at the Live Dream

03:55

Total Runtime

01:07:51
Info for SUPERBLOOM at the Live Dream

In December, MisterWives debuted "SUPERBLOOM: The Live Dream," a special performance of the band's latest record SUPERBLOOM in full. Presented on Moment House, "The Live Dream" is a visual, theatrical journey through the album, featuring multiple sets, costumes, and choreography and bringing the band's signature high-energy performances to screens across the globe. "In truth, 'virtual concert' doesn't do 'The Live Dream' justice," MTV exclaimed, while TODAY.com praised the group for "reinventing" virtual performances.
Heralded by singles "rock bottom," "SUPERBLOOM," and "decide to be happy," SUPERBLOOM is an intensely personal reflection on growth in unexpected places. The record has racked up critical praise, with NYLON commending "[SUPERBLOOM] traverses upbeat, vibrant pop and simmering ballads to paint a portrait of a band that's bloomed anew through the cracks of a fissure." PAPER lauded the "bouncy, piano-driven pop" of the record's title track, with DuJour touting "rock bottom" as "glittery... freeing and motivating." The group also performed the record's triumphant title track on Full Frontal With Samantha Bee and were featured as part of the Team Joe Sings concert series spearheaded by Biden for President.
MisterWives began making music together in late 2012. Lee, the powerhouse vocalist, was born and raised in Queens and acts as the band's principal songwriter. She studied songwriting and opera at NYC's only specialized public high school for music and performing arts, laying a foundation for her incredible range and giving her the ability to explore a wide variety of vocal styles. Lee met Hehir through a mutual friend and shortly...
MisterWives is a critically acclaimed American band that has millions of fans around the world and is known for their amazing live performances. Launching their third album, SUPERBLOOM, in the middle of 2020 the band was unable to tour live due to Covid. In order to bring the album to their fans, they decided to create "The Live Dream" experience, which mixed the energy of their live shows with high quality narrative filmmaking that visually told the story of the album and included multiple sets, costumes and choreography.
Mandy Lee, vocals
Etienne Bowler, drums
Will Hehir, bass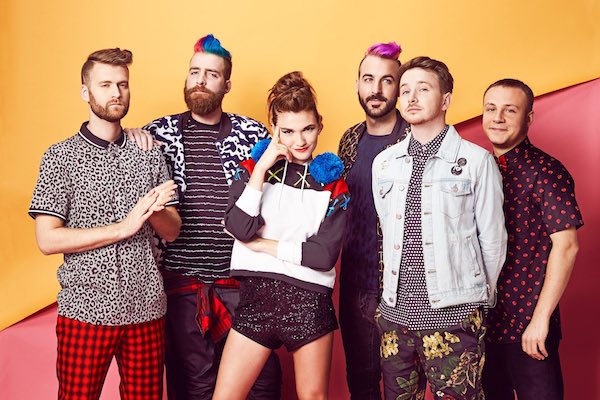 MisterWives
Artists will often retreat somewhere exotic in order to find inspiration, whether it be deep in the countryside or some isolated tropical paradise where undisturbed their creativity can flourish. However, for MisterWives, (Mandy Lee [vocals], Etienne Bowler [drums], William Hehir [bass], Marc Campbell [guitar], and Jesse Blum [keys, trumpet, accordion]), in order to record their debut full length album 'Our Own House' [Photo Finish/Republic Records] all they had to do was take a short trip to Riverdale, NY and start by going back to basics.
"I wrote a lot of the songs in this tree house Etienne built," smiles Mandy. "It's in his parents' backyard, and it's unbelievable. I was in this little house with only the birds chirping outside. It's like I was quarantined. My band mates would hand me food under the door! It's a big part of the album. When I first saw it, I thought the Bronx turned into Narnia."
The tree house not only provided inspiration but acted as a place of continued peace and tranquility as 2014 proved to be a whirlwind breakout year for MisterWives. Their critically acclaimed 'Reflections' EP yielded a hit in the form of the title track, which would go on to exceed a staggering 15 million streams online, sell over 100,000 downloads and clinch the #1 spot on Billboard's Emerging Artist chart. The band also crisscrossed the country multiple times while touring with bands like Bleachers, twenty one pilots and even made their national television debut, performing on "Jimmy Kimmel LIVE!"
All of this served to bring the members of MisterWives even closer together, both personally and creatively. "It's like we found the secret to life," says Will. "You find what you're passionate about and find people you love to do that with."
"The phrase 'Our Own House' is symbolic because we're literally and figuratively creating our own house and movement for music," says Mandy Lee. "This is a declaration of who we are as individuals. We made our own little MisterWives world."
The album reflects a broader horizon for the group and effortlessly combines aspects of indie rock, soul, funk, ska and pop music. The title track "Our Own House", with resounding piano keys and an unshakable chorus punctuated by swooning horns, welcomes listeners into MisterWives' funky danceable world.
Elsewhere on the album, the girl power anthem "Not Your Way" swings and shimmies from style to style, while the song "Best I Can Do" will make you dance with its horn-driven power. "Hurricane" captures the creative swell of a generation tired of waiting their turn to break out and "Queens" is a soulful ode to life, family and the hometown that left an indelible mark on Mandy Lee. Every song on 'Our Own House' does its part to create an album that showcases MisterWives as a band succeeding through the judicious application of their own unique brand of alchemy.
Ultimately, MistwerWives' 'Our Own House' is one that is meant to encourage and inspire all who seek shelter. As Etienne says "we don't have any boundaries on our music."
"All of the songs have good messages," concludes Mandy. "These are real emotions that every human feels at some point in their lives. When someone connects to a song, it's incredible. That's all we want. We hope everyone has a good time and dances their asses off as much as we do."
'Our Own House' was released February 24, 2015. Currently MisterWives are headlining a sold out US tour and have continued to make their mark on national television performing on "Good Morning America," "Late Night with Seth Meyers" and "LIVE with Kelly and Michael" the week 'Our Own House' was officially released.

This album contains no booklet.