---
Greatest Hits 2.0 (Remastered) WAR
I`m sorry!
Dear HIGHRESAUDIO Visitor,
due to territorial constraints and also different releases dates in each country you currently can`t purchase this album. We are updating our release dates twice a week. So, please feel free to check from time-to-time, if the album is available for your country.
We suggest, that you bookmark the album and use our Short List function.
Thank you for your understanding and patience.
Yours sincerely, HIGHRESAUDIO
1

Spill the Wine

04:04

2

Low Rider

03:11

3

Why Can't We Be Friends

03:47

4

The Cisco Kid

03:47

5

The World Is A Ghetto

04:05

6

Slippin' Into Darkness

03:46

7

Me And Baby Brother

03:29

8

Gypsy Man

05:23

9

All Day Music

04:01

10

Summer

04:01

11

Galaxy

05:20

12

Tobacco Road

03:57

13

Outlaw

04:18

14

L.A. Sunshine

03:45

15

You Got The Power

04:03

16

Cinco De Mayo

04:10

17

Get Down

04:25

18

Peace Sign

04:27

19

Good, Good Feelin'

04:16

20

Don't Let No One Get You Down

04:00

21

So

05:01

22

Youngblood (Livin' in the Streets)

04:02

23

Smile Happy

04:21

24

Heartbeat

07:25

Total Runtime

01:43:04
Info for Greatest Hits 2.0 (Remastered)

WAR's Greatest Hits 2.0 is the definitive best of WAR and the perfect expansion of the 1976 Greatest Hits album. Featuring selections from the band's origin backing Eric Burdon to hitmakers on their own, this collection captures highlights from 50 years of the "original street band." The songs showcase the band's versatility and evolution over the years; from early favorites like "Spill The Wine" (inspired by Lonnie Jordan accidentally spilling wine all over the studio's mixing board) and "Slippin Into Darkness" to multi-generational favorites "Gypsy Man" and "The World is a Ghetto" to cultural anthems "Don't Let No One Get You Down" and "So" to smash hits "Low Rider," "Cisco Kid" and "Why Can't We Be Friends," this collection is for everybody.
In the collection's liner notes, Los Angeles Times columnist Gustavo Arellano says GREATEST HITS 2.0 does more than capture WAR at its creative and commercial peaks. He writes: "All the big hits are here, of course, in chronological order from the Eric Burdon days up through cuts from 1982's underrated Outlaw…But what I love about this collection is that it's a symphonic suite for a perfect Southern California Sunday afternoon, the kind the rest of the world wants to experience but can only dream about. You can envision it by playing these albums from start to finish."
WAR (originally called Eric Burdon and War) is an American funk/rock/soul band from Long Beach, California, known for several hit songs (including "Spill the Wine", "The World Is a Ghetto", "The Cisco Kid", "Why Can't We Be Friends?", "Low Rider", and "Summer"). Formed in 1969, War is a musical crossover band that fuses elements of rock, funk, jazz, Latin, rhythm and blues, psychedelia, and reggae. According to music writer Colin Larkin, their "potent fusion of funk, R&B, rock and Latin styles produced a progressive soul sound", while Martin C. Strong calls them "one of the fiercest progressive soul combos of the '70s". ...
WAR
Digitally remastered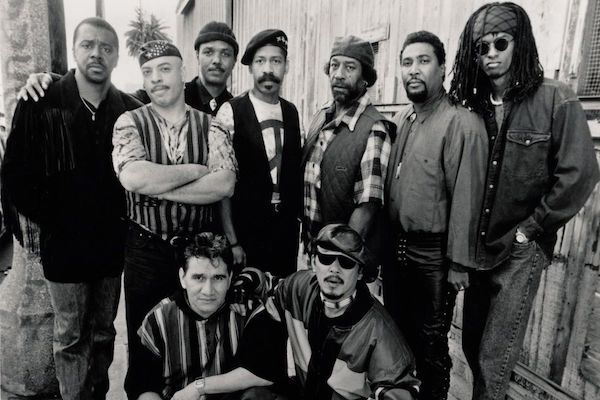 WAR
A revolutionary band that combined elements of soul, rock, funk, jazz and latin influences and knocked down a variety of barriers with its multi-cultural line-up, War established itself over its nearly 40 year existence as one of the most important and influential bands of the rock era.
A street band formed out of the rubble of multiple groups playing around the rough Compton section of Los Angeles, War was discovered by veteran rock producer Jerry Goldstein and Animals leader Eric Burdon while backing L.A. Rams defensive lineman Deacon Jones as he sang at a nightclub. Goldstein and Burdon were blown away by the young group and invited them to serve as Burdon's backing band for a conceptual album called Eric Burdon Declares War. The disc highlighted the band's funky, raw rhythms behind Burdon's psychedelic poetry, resulting in a popular album and a hot single, "Spill The Wine." The group at that time included Lonnie Jordan, European harmonica player Lee Oskar, Charles Miller, B.B. Dickerson, Harold Brown, Papa Dee Allen and Howard Scott.
While still backing Burdon, War also signed a separate recording contract with UA and began a career as a fronting band. As the work with Burdon faded in the early 70s, the band's career blossomed, particularly with the release of its sophomore disc, All Day Music, which went to #1 based on the hit title track and "Slippin Into Darkness." From 1971-77 War was at the top of the music world, with its brand of raw, funky, almost unclassifiable music being the perfect contrast to the increasingly slick sounds of that decade. The group's albums all went Top 5 and they scored on the charts with singles like "Cisco Kid," "Why Can't We Be Friends," "Low Rider" and "The World Is A Ghetto."
Toward the latter 70s, the group displayed increased tendencies for long improvisational jams and seemed a bit lost with the arrival of the disco era even as they continued to churn out albums with great frequency. They landed a small dance hit in 1978 with "Galaxy," but their popularity had faded significantly by the end of the decade.
In the early 80s the group signed with RCA and released Outlaw, its biggest and most accessible album in a half decade. However, the follow-up, Life (Is So Strange) was critically and commercially a step down, despite its excellent title track.
By the mid-80s, War was exclusively a touring band, albeit a nearly tireless one, performing in excess of 150 shows per year. Personnel changes increased over the next two decades, with Jordan being the only constant and with over 30 other players rotating through the band. Oskar, the second most visible member of the group, was gone by the mid 90s and later formed a competing group with former War members Harold Brown, B.B. Dickerson and Howard Scott called the Original Lowrider Band.
Though the band recorded only one more time, 1994's Peace Sign, War's legacy only increased as a new generation of hip-hop performers sampled the band's catalog liberally and fans gained an increased appreciation for the organic, funky sound that War had introduced decades earlier. The band's influence in the 21st century is as strong as it has ever been and the freshness and relevancy of its music three decades after initial release is amazing. (Source: soultracks.com)

This album contains no booklet.