---
Album info
Album including Album cover
I`m sorry!
Dear HIGHRESAUDIO Visitor,
due to territorial constraints and also different releases dates in each country you currently can`t purchase this album. We are updating our release dates twice a week. So, please feel free to check from time-to-time, if the album is available for your country.
We suggest, that you bookmark the album and use our Short List function.
Thank you for your understanding and patience.
Yours sincerely, HIGHRESAUDIO
1

Chase It Down

04:17

2

English Town

04:34

3

Remember We Were Lovers

04:18

4

Your Heart Will Always Be Broken

06:16

5

Stones of Silence

03:30

6

You Don't Know What Love Is

03:41

7

You Can Trust Me Now

04:09

8

Living a Lie

05:14

9

Sunk in Reverie

03:43

Total Runtime

39:42
Info for Utopian Ashes

Primal Scream frontman Bobby Gillespie has teamed up with solo artist and Savages vocalist Jehnny Beth to release the collaborative album Utopian Ashes.
Utopian Ashes explores the loss, miscommunication and emotional inarticulacy that a married couple experience as they realize that their relationship is breaking down. The collection draws on the tradition of country soul classics, such as Gram Parsons and Emmylou Harris's "Grievous Angel" and George Jones and Tammy Wynette's "We Go Together," to deal with the heavy realities of love turning sour. It's an album for people who have dealt with the inevitable sadness that comes with age and acknowledged the realities of life. There is no sweetening of the pill, but it does achieve what should be the goal of all good art: to make us feel less alone. And while it's not autobiographical, it channels heartfelt truth from the songwriters' own experiences.
"When you write a song you marry the personal with the fictional and make art. I was thinking about two people living alone, together but apart, existing and suffering in a psychic malaise, who plough on because of responsibilities and commitments. It's about the impermanence of everything—an existential fact that everyone has to face at some point in their lives."
"This album-long account of failed love is as romantic as any previous Primal Scream album, and much more obviously so than last year's coolly erotic Beth solo album, To Love Is To Live. You could swap that album's title with this, though. George Jones could sing these songs, and the current Stones might struggle to play them as well. They are comedown anthems for your whole life." (Nick Hasted, theartsdesk.com)
Jehnny Beth, vocals
Bobby Gillespie, vocals
Johnny Hostile, bass
Andrew Innes,guitar
Martin Duffy, piano
Darrin Mooney, drums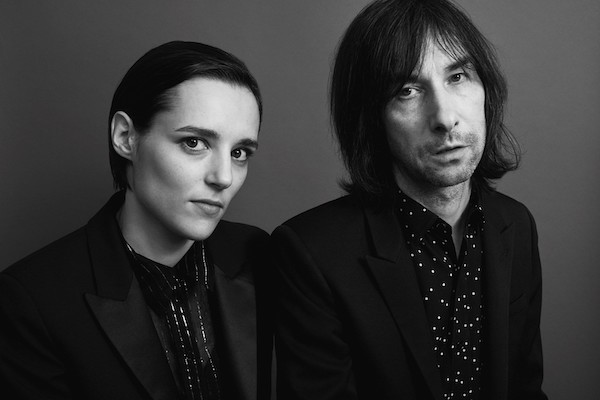 Jehnny Beth
Silence Yourself Whether she's making music, acting, or writing, Jehnny Beth challenges conventions, her audience -- and herself. Her unwavering commitment to pushing boundaries first became widely known during her time with Savages, whose acclaimed albums Silence Yourself (2013) and Adore Life (2016) delivered a jolt of uncompromising feminine energy into post-punk as well as the U.K. rock scene of the 2010s. When that band took a break, Beth's horizons broadened. Her searing, sexually liberated 2020 debut album To Love Is to Live added touches of jazz, industrial music and torch songs to her repertoire, while her film roles and books proved she could be equally provocative and riveting in just about any medium.
Born Camille Berthomier in Poitiers, Vienne, France, Beth's parents were theater directors who encouraged her creativity. She took voice and piano lessons starting at age eight; by the time she was 10, she'd starred in a production of Henrik Ibsen's Peer Gynt. However, the rest of Beth's family was Catholic and traditionally minded, and she felt stifled. After studying dramatic arts at the conservatoire de Poitiers, Beth moved to London in 2006 to pursue music. It was there that she met Johnny Hostile (a.k.a. Nicolas Congé), who became her longtime life and creative partner. Together, they became the lo-fi band John & Jehn, which released 2008's John & Jehn and 2010's Time for the Devil before the project ended in 2011. That year, Beth and Hostile founded the Pop Noire label as a platform for their other artistic endeavors.
Late in 2011, Beth joined forces with guitarist Gemma Thompson (a former John & Jehn member), bassist Ayse Hassan, and drummer Fay Milton as Savages. Led by Beth's commanding presence, the band's electrifying brand of post-punk soon won acclaim: At the end of 2012, Savages were nominated for the BBC Sound of 2013 award, and their debut album, May 2013's Silence Yourself, was nominated for the Mercury Prize.
In 2015, Beth embarked on a few solo projects and performances. That March, she performed at the opening of the David Bowie Is … exhibition at the Philharmonie de Paris; in November, Beth and the Strokes' Julian Casablancas released a cover of the Danish punk band Sort Sol's 1983 collaboration with Lydia Lunch, "Boy-Girl." Savages returned in January 2016 with their second album Adore Life, which, like Silence Yourself, earned a Mercury Prize nomination. Along with touring in support of the album, Beth continued to establish herself as a solo presence by opening for PJ Harvey's June 2016 performance at the Eden Project in Cornwall, England and appearing on Trentemøller's album Fixion.
At the end of 2016, Savages went on hiatus. Beth took the opportunity to recharge creatively, performing with her friend Romy Madley Croft's group the xx and collaborating with Gorillaz and Noel Gallagher on the song "We Got the Power" from the band's 2017 album Humanz. She returned to France, where she settled Paris and bought a studio with Hostile. Beth also returned to acting (prior to her time with Savages, she'd appeared in a few small French films) and earned a César nomination for her performance in Catherine Corsini's 2018 drama An Impossible Love. She and Hostile then collaborated on the music to the Chelsea Manning documentary XY Chelsea, which they issued on Pop Noire in June 2019.
To make her solo debut album, Beth tapped Flood, Atticus Ross and Hostile as producers, and brought on Madley Croft, Idles' Joe Talbot, and actor Cillian Murphy as contributors. Spanning jazz and industrial as well as post-punk, the freewheeling and challenging To Love Is to Live arrived in June 2020. That September saw the publication of Crimes Against Love Memories, a collection of erotic short stories; later in the year, she appeared in Kaamelott – Premier Volet, the movie sequel to director Alexandre Astier's long-running television series about King Arthur and his knights. (Heather Phares, AMG)
Robert Bobby Gillespie
(born 22 June 1962) is a Scottish musician and singer-songwriter. He is the lead singer and founding member of the alternative rock band, Primal Scream. He was also the drummer for The Jesus and Mary Chain in the mid-1980s.
Born and raised in the south side district of Mount Florida in Glasgow, he attended Kings Park Secondary School. His father is Bob Gillespie, a former SOGAT union official and Labour Party candidate in the 1988 Govan by-election, who lost the election to the Scottish National Partys Jim Sillars.Jesus and Mary Chain daysGillespie first became famous playing drums for the influential East Kilbride band The Jesus and Mary Chain. Prior to The Jesus and Mary Chain, he worked as a roadie for Altered Images and played bass in The Wake. Gillespie was a friend of Mary Chain bassist Douglas Hart, who asked Gillespie to join the band after their original drummer had left following the release of their debut single in 1984. Gillespies style of drumming was minimal, with his drum kit consisting only of a snare and a floor tom, which he played standing up, an idea he borrowed from The Velvet Underground drummer Moe Tucker. Gillespie has also said that he played only two drums due to his own lack of ability as a drummer.Gillespie played on the bands debut LP, Psychocandy, which was released in 1985 to wide critical acclaim. By this time Gillespie had already released a single, albeit to little attention, with his own band, Primal Scream. Throughout his days as a drummer Gillespie had continued to work at Primal Scream, the band he started along with guitarist Jim Beattie in 1982. By early 1986, Gillespie had played his last show with the Mary Chain and left to devote his attentions to Primal Scream.Primal ScreamThe band signed to Creation Records in 1985, and over the next year, they released a pair of singles. However, Primal Scream didnt really take off until the middle of 1986, when Gillespie left the Mary Chain and guitarists Andrew Innes and Robert Young joined the band. The B-side Velocity Girl wound up on NMEs C86 cassette compilation, a collection of underground pop groups that defined the UKs mid-80s indie pop scene. After the band rejected the initial version of debut album, Sonic Flower Groove, recorded with Stephen Street, they re-recorded the album with Mayo Thompson, and the record was finally released in 1987 on the Creation subsidiary Elevation. The album was well received in the British indie community, as was its 1989 follow-up, Primal Scream, which demonstrated hard rock influences from The Rolling Stones and New York Dolls to The Stooges and MC5.As the 1980s drew to a close, Britains underground music scene became dominated by the burgeoning acid house scene. Primal Scream became fascinated with the new dance music, and they asked a friend, a DJ named Andrew Weatherall, to remix a track from Primal Scream, Im Losing More Than Ill Ever Have. Weatherall completely reworked the song, adding a heavy bass groove echoing dub, deleting most of the original instrumentation (even the layers of guitars), and interjecting layers of samples, including lines of Peter Fondas dialogue from The Wild Angels. The new mix was retitled Loaded, and it became a sensation. Come Together, the first single from their forthcoming third album, was in much the same vein, and was similarly praised.For their third album, Screamadelica, Primal Scream not only worked with Andrew Weatherall and Hugo Nicolson, the pair who designed the sound of the album, but also The Orb and former Rolling Stones producer Jimmy Miller. The resulting album was a kaleidoscopic, neo-psychedelic fusion of dance, dub, techno, acid house, pop, and rock, and it was greeted with favorable reviews in the UK. Released in the spring of 1991, Screamadelica also marked an important moment in British pop in the 1990s, helping to bring techno and house into the mainstream. The album was a massive success, winning the first Mercury Music Prize in 1992.The fourth album, Give Out But Dont Give Up, marked a departure for the band from its original sound, experimenting instead with Stones-influenced hard rock. The album was eagerly awaited,[citation needed] but was not well received, and it was a relative commercial failure. More importantly, it hurt the groups reputation as innovators, a situation they reacted to with the title track to the hit 1996 film Trainspotting, a return to the dance stylings of Screamadelica. The band continued to work on their next album, entitled Vanishing Point, over the course of 1996, finally releasing it to enthusiastic reviews[citation needed] in the summer of 1997. The ultra-aggressive XTRMNTR followed in the spring of 2000. Two years later Primal Scream released Evil Heat, a guest-laden (even supermodel Kate Moss makes an appearance) album in line with XTRMNTR, and in 2006 Riot City Blues came out. 2008 saw the release of Beautiful Future.In January 2010, Primal Scream started work on their new album, More Light, which was released in May 2013.Personal lifeGillespie married stylist Katy England at St. Margarets Church, Betley on 29 July 2006. It was attended by Kate Moss and village resident Doreen Angell sang in the choir. They have two sons together, Wolf (born in 2002) and Lux (born in 2004).MusicianshipAlthough Gillespie only sings and plays occasional percussion onstage with Primal Scream, throughout his career he has played a number of different instruments, most notably drums with The Jesus and Mary Chain and bass guitar with The Wake. On Primal Screams 2013 album More Light, he is credited with a number of keyboard instruments along with drums and percussion, and he played synthesizer on one of The Wakes singles. Additionally, he is shown playing guitar briefly in the music video for You Trip Me Up by The Jesus and Mary Chain, and twelve-string guitar on Primal Screams single Gentle Tuesday, and, although able to play these instruments, did not play these instruments on either recording.

This album contains no booklet.