---
Album info
Album including Album cover Booklet (PDF)
Johann Sebastian Bach (1685 - 1750): Suite No. 4 for Cello solo in E-Flat Major, BWV 1010:

1

Suite No. 4 for Cello solo in E-Flat Major, BWV 1010: I. Prélude

03:39

2

Suite No. 4 for Cello solo in E-Flat Major, BWV 1010: II. Allemande

04:01

3

Suite No. 4 for Cello solo in E-Flat Major, BWV 1010: III. Courante

03:25

4

Suite No. 4 for Cello solo in E-Flat Major, BWV 1010: IV. Sarabande

03:39

5

Suite No. 4 for Cello solo in E-Flat Major, BWV 1010: V. Bourée I

02:54

6

Suite No. 4 for Cello solo in E-Flat Major, BWV 1010: Bourée II

02:22

7

Suite No. 4 for Cello solo in E-Flat Major, BWV 1010: VI. Gigue

02:55

Thorsten Encke (b. 1966): Cracks for Cello & Tape "Thin on Ice":

8

Cracks for Cello & Tape "Thin on Ice": Vivo - meno mosso, sempre flessibile

04:02

Johann Sebastian Bach: Suite No. 5 for Cello solo in C Minor, BWV 1011:

9

Suite No. 5 for Cello solo in C Minor, BWV 1011: I. Prélude

05:39

10

Suite No. 5 for Cello solo in C Minor, BWV 1011: II. Allemande

04:31

11

Suite No. 5 for Cello solo in C Minor, BWV 1011: III. Courante

02:06

12

Suite No. 5 for Cello solo in C Minor, BWV 1011: IV. Sarabande

02:47

13

Suite No. 5 for Cello solo in C Minor, BWV 1011: V. Gavotte I

02:14

14

Suite No. 5 for Cello solo in C Minor, BWV 1011: Gavotte II

02:34

15

Suite No. 5 for Cello solo in C Minor, BWV 1011: VI. Gigue

02:01

Thorsten Encke: Clouds for Cello solo & Tape "Ice Mirror":

16

Clouds for Cello solo & Tape "Ice Mirror": Leggiero e volando - misterioso, irreale - volando

03:24

Johann Sebastian Bach: Suite No. 6 for Cello solo in D Major, BWV 1012:

17

Suite No. 6 for Cello solo in D Major, BWV 1012: I. Praeludium

04:52

18

Suite No. 6 for Cello solo in D Major, BWV 1012: II. Allemande

06:07

19

Suite No. 6 for Cello solo in D Major, BWV 1012: III. Courante

03:51

20

Suite No. 6 for Cello solo in D Major, BWV 1012: IV. Sarabande

04:22

21

Suite No. 6 for Cello solo in D Major, BWV 1012: V. Gavotte I

01:56

22

Suite No. 6 for Cello solo in D Major, BWV 1012: Gavotte II

02:25

23

Suite No. 6 for Cello solo in D Major, BWV 1012: VI. Gigue

04:04

Total Runtime

01:19:50
Info for Tanja Tetzlaff Plays Bach & Encke

Tanja Tetzlaff in conversation with Friederike E. Westerhaus: On this recording you are pairing three Bach cello suites with two pieces by Thorsten Encke. How does this coupling change the experience for the player and for the listener?
I don't think it changes my way of playing, but certainly our way of listening. We come to hear Bach's works differently because Encke's unfamiliar sonorities startle and disturb us. Inserted between the suites, Encke's pieces open up an entirely different world of sound. After Cracks, we probably feel alarmed, and we thus adopt a different attitude as we approach the 5th Suite, which is quite agitated in itself. Then, after Clouds, which closes with a small thunderstorm, we approach the 6th Suite feeling almost liberated – overjoyed that we have survived a dangerous excursion on thin ice.
With his two pieces, Encke builds bridges among the three suites and refers to them directly in his music. I find that the two works are quite different in character: Cracks is loud and noisy – fragile, as well – whereas Clouds is more melodious at the onset. How have you adapted your playing to the two works in terms of musical character?
Both pieces feature powerful, incredible drama within a small space. Both pieces are threatening, but also gorgeous. While you are out on the thin, dangerous ice, you can survive if you manage to enter into the right sort of vibration. You can go on gliding in that beautiful ice-skating rhythm without falling through. …… (Excerpt from the interview in the album booklet)
Tanja Tetzlaff, cello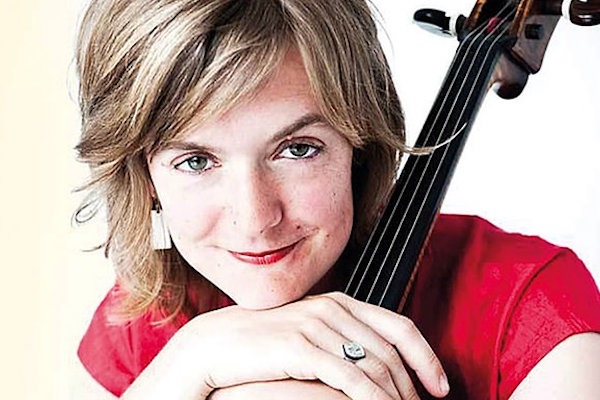 Tanja Tetzlaff
has developed an extensive repertoire including standard works of classical Solo- and chamber music for cello, as well as compositions from the 20th and 21st centuries. In 2011, a recording of cello concertos by Rihm and Toch was released by NEOS. For her performance of the Rihm concerto, she was named "the outstanding soloist".
Tanja Tetzlaff studied with Prof. Bernhard Gmelin in Hamburg and with Prof. Heinrich Schiff at the Mozarteum in Salzburg.
After having successfully participated in many international competitions, Tanja has been performing with world-renowned orchestras, including the Tonhalle-Orchester Zürich, the Bayerische Rundfunk, Orchestra of Konzerthaus Berlin, Royal Flandern Orchestra, Orquesta Nacional de Espana, Deutsche Kammerphilharmonie Bremen, Orchestre Philharmonique de Radio France, Orchestre de Paris and the Cincinnati Symphony Orchestra.
She has collaborated with conductors including Lorin Maazel, Daniel Harding, Philippe Herreweghe, Sir Roger Norrington, Vladimir Ashkenazy, Dimtri Kitajenko, Paavo Järvi, Michael Gielen and Heinz Holliger.
The 2014/2015 season will see Tanja Tetzlaff touring with the Tetzlaff Quartet in Germany, Austria, Great Britain, in addition to making their debut appearances in the Far East (Korea and Japan). She will be performing the Cello Concertos of Haydn, Dvorak, Shostakovich and Tchaikovsky with various orchestras. Additionally, in Korea and Japan she will be performing the Brahms double concerto with her brother, Christian Tetzlaff, with the Deutsche Kammerphilharmonie Bremen under Paavo Järvi.
Chamber music plays a significant part in Tanja´s career. She gives regular recitals in renowned concert series and festivals, such as the Heidelberger Frühling, the Festivals in Bergen and Edinburgh, and is a regular guest at the Heimbach Festival. Her chamber music partners are some of the world´s foremost musicians, including Lars Vogt, Leif Ove Andsnes, Alexander Lonquich, Antje Weithaas, Florian Donderer, Baiba and Lauma Skride and her brother Christian, with whom she founded the Tetzlaff Quartet. Together with Florian Donderer, she organizes a concert series at the Sendesaal Bremen.
The Tetzlaff Quartet's new CD featuring the works of Berg and Mendelssohn has recently been released by CAvi, and the Brahms trios with Christian Tetzlaff and Lars Vogt will be released by Ondine in Spring 2015.
With her duo partner, pianist Gunilla Süssmann, Tanja is a regular guest at prominent concert series in Scandinavia and Germany. The duo have recorded a CD featuring the works of Sibelius, Grieg and Rachmaninov, released by CAvi-music, in addition to a recording of the Brahms Cello Sonatas.
Tanja Tetzlaff plays a cello by Giovanni Baptista Guadagnini, made in 1776.

Booklet for Tanja Tetzlaff Plays Bach & Encke