---
Album info
Album including Album cover Booklet (PDF)
I`m sorry!
Dear HIGHRESAUDIO Visitor,
due to territorial constraints and also different releases dates in each country you currently can`t purchase this album. We are updating our release dates twice a week. So, please feel free to check from time-to-time, if the album is available for your country.
We suggest, that you bookmark the album and use our Short List function.
Thank you for your understanding and patience.
Yours sincerely, HIGHRESAUDIO
Henry Purcell (1659 - 1695): Fantazia:

1

Purcell: Fantazia X, Z. 741

03:29

2

Purcell: Fantazia I, Z. 732

02:43

3

Purcell: Fantazia IV, Z. 735

03:26

4

Purcell: Fantazia V, Z. 736

04:09

5

Purcell: Fantazia VI, Z. 737

03:34

6

Purcell: Fantazia II, Z. 733

03:14

7

Purcell: Fantazia VII, Z. 738

04:19

8

Purcell: Fantazia VIII, Z. 739

03:19

9

Purcell: Fantazia IX, Z. 740

04:23

10

Purcell: Fantazia III, Z. 734

02:29

11

Purcell: Fantazia XI, Z. 742

03:10

12

Purcell: Fantazia XII, Z. 743

03:29

Total Runtime

41:44
Info for Henry Purcell: Fantazias

Henry Purcell's "fantazias" are regarded as some of the finest and most intricately wrought examples of the fantasia, due to their profound embrace of counterpoint and great command of the polyphonal techniques of the time. Composed in the summer of 1680 – a time when the fantasia was already considered old-fashioned and had been replaced by the sonata –, Purcell's "fantazias" turned out to be the very last ensemble fantasias to be published in England. As John Holloway notes in his detailed liner text contextualizing the three- and four-part works, "it is tempting in retrospect to see their brilliant distillation of the very best of Byrd, Lawes, Jenkins and Locke as a personal farewell to a kind of music, which in Purcell's own chamber music would soon be superseded by sonatas".
In this recording John Holloway and his ensemble – violists Monika Baer and Renate Steinmann as well as violoncellist Martin Zeller – excel at bringing to light the emotional nuance and technical complexity of the works in all their transparency and colorfulness, naturally emphasizing Purcell's contrapuntal idiosyncrasies in the process. Holloway's expansive studies of Purcell's life and work are evident in this music, and the violinist discloses his great appreciation of the composer in the accompanying text, saying, "only just out of his teens, Purcell already shows his extraordinary ability, shared by few other composers of any era, to walk the fine line between joy and sorrow, to beautifully express the melancholy which was such a characteristic mood of his times; and all this within the strictest self-imposed disciplines of complex counterpoint."
On the album, recorded at Zürich's Radio Studio, Holloway and his ensemble approach Purcell's fantasias No.1 through 12 with distinct and convincing interpretations that substantiate John Holloway's suggestion that even J.S. Bach "would have been immensely proud to have composed this music, and had he encountered it, would certainly have acknowledged it as equal to his finest achievements in this art."
John Holloway Ensemble:
John Holloway, violin
Monika Baer, viola
Renate Steinmann, viola
Martin Zeller, violoncello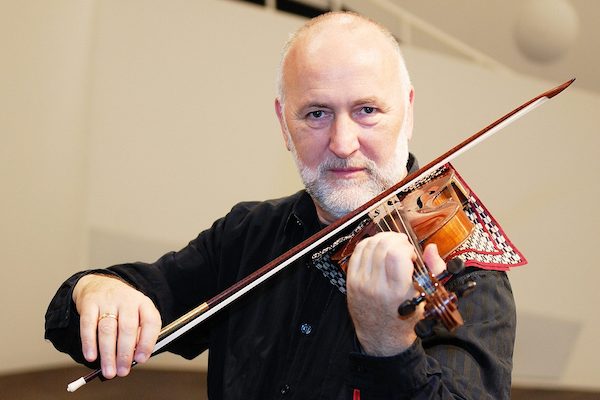 John Holloway
was 8 years old when he played his first public concert, in 1956. From age 9 till 21 he studied with Yfrah Neaman, initially privately, then at the Guildhall School of Music and Drama in London. Here he gained his first experiences as concertmaster (of the Guildhall Orchestra, coached by Paul Beard), and enjoyed 3 years of regular string quartet lessons with William Pleeth. There followed participation in various international competitions, interspersed with projects with the Menuhin Festival Orchestra, including tours to the USA, Australia and New Zealand. Thus were established the three strands which dominated his subsequent performing career: chamber music, chamber orchestras, and concertmastering. There followed his first and only (brief) period as a full-time contracted player, as leader of the 2nd violins in the Bournemouth Sinfonietta. With the other principal string players he founded the Silvestri String Quartet.
Through much of the rest of the 1970s John Holloway was concertmaster and orchestra manager of Kent Opera, Music Director Roger Norrington. Here he experienced the joys of performing repertoire ranging from Monteverdi via Handel, Mozart, Verdi and Tchaikovsky to Benjamin Britten, all performed in relatively small theatres, and played by small orchestras as a kind of expanded chamber music. This being very much a part-time activity, he combined it with appearances with all the prominent chamber orchestras in London, with contemporary music and string quartet projects, and, after encountering Sigiswald Kuijken in 1972, baroque violin. In retrospect this last was a serendipitous moment, as the Early Music movement in England was expanding at high speed from its previous territories in Medieval and Renaissance music into the 17th and 18th centuries. With the support of the BBC and of many record companies, ensembles such as the English Concert and the Academy of Ancient Music emerged, creating a demand for interested and competent players of baroque (subsequently, classical and 19th century) instruments.
John Holloway became a pioneer of this modern Early Music movement in England. In 1975 he founded the baroque ensemble L'Ecole d'Orphée, with whom he presented three seasons of concerts at London's Wigmore Hall and Purcell Room, and went on to make the first complete recording on baroque instruments of Handel's instrumental chamber music. How his chamber music activities developed can be followed, at least in part, via the discography below. As it shows, he performed and recorded with such distinguished colleagues as Emma Kirkby, Marion Verbruggen and Paul Goodwin, Stanley Ritchie and Andrew Manze, Davitt Moroney, Lars Ulrik Mortensen and John Toll, Jaap ter Linden and David Watkin.
His activities as concertmaster/soloist developed in particular with Andrew Parrott's Taverner Players whose concertmaster he was 1977-1991, and with Roger Norrington's London Classical Players 1978-1992. As well as leading groundbreaking performances and recordings by both ensembles of repertoire from the Florentine Intermedii to Brahms 1st Symphony, John Holloway features prominently as soloist on the Taverner Players' recording of Bach's Brandenburg Concertos. He also made one of his two recordings of Vivaldi's Four Seasons with Andrew Parrott. Through these and other projects with such prominent directors as Ivor Bolton, Frans Bruggen, William Christie, Simon Halsey, Christopher Hogwood, Ton Koopman, Gustav Leonhardt, Rudolf Lutz, Jean-Claude Malgoire and Nicholas McGegan he became one of the most experienced concertmasters in the international Early Music scene. In 2001 he became Musical Director of the Indianapolis Baroque Orchestra, directing from the violin repertoire including Bach Motets and Handel's Messiah.
Parallel to all this John Holloway developed a growing international experience and reputation as a teacher. He has been Professor of Baroque Violin at the Guildhall School of Music and Drama in London, Guest Professor at the Schola Cantorum in Basel and at the Early Music Institute of Indiana University in Bloomington USA, and has taught masterclasses for violinists and chamber music groups throughout Europe and North America, and as far afield as Colombia, South Korea and New Zealand. 1999-2014 he was Professor of (modern) Violin and Chamber Music at the University of Music in Dresden, Germany. Here he was invited to set up a chamber orchestra program, conducting concerts for the Dresden Music Festival as well as performances of Britten's "Albert Herring". 2006-2012 he directed "Violin in Dresden", an international violin competition alternating annually with masterclasses taught by distinguished guests who also served on the competition jury. For these juries Holloway introduced the then innovative idea of having equal numbers of violinists and such important personalities as radio producers, festival directors, artist managers, culture journalists.
John Holloway is an enthusiastic and experienced speaker about music. He has given conference speeches to the European String Teachers' Association in Germany (in German) and England, has given countless lecture-recitals, introduced concerts both live and online, and been the lecturer for culture travel groups visiting such events as the Dresden Music Festival. In 2004 he was Regents Lecturer at UC Berkeley, USA. Since retiring from the concert platform and recording studio some 60 years after his first public performances he has continued to teach and conduct, and has been developing a website devoted to the Sonatas and Partitas for solo violin by Bach.

Booklet for Henry Purcell: Fantazias