---
Album info
Album including Album cover
I`m sorry!
Dear HIGHRESAUDIO Visitor,
due to territorial constraints and also different releases dates in each country you currently can`t purchase this album. We are updating our release dates twice a week. So, please feel free to check from time-to-time, if the album is available for your country.
We suggest, that you bookmark the album and use our Short List function.
Thank you for your understanding and patience.
Yours sincerely, HIGHRESAUDIO
1

Artifact/The Turn

02:26

2

Broken Pieces Shine

03:50

3

The Game Is Over

04:22

4

Yeah Right

03:29

5

Feeding the Dark

04:14

6

Wasted On You

04:24

7

Better Without You

04:05

8

Use My Voice

04:01

9

Take Cover

03:14

10

Far From Heaven

04:57

11

Part of Me

03:58

12

Blind Belief

04:14

Total Runtime

47:14
Info for The Bitter Truth

The Bitter Truth is an epic, guitar-driven collection inspired by the (often-bitter) realities of the 21st Century and our world. The band's first original album in ten years, it's a return-to-force - and one hell of a rock album. The already-released songs have received early accolades from Elle, Billboard, SPIN, American Songwriter, and more, and showcase the "ferocious and hymnal" (The New York Times) sound that made Evanescence a household name, as well as the drama and powerhouse vocals that made Amy Lee "one of rock's definitive voices" (Rolling Stone).
As Amy explains, "We were recording this music right up until we couldn't go into the studio anymore, and finished it remotely through file sharing and phone calls. Tweaking mixes, adding background vocals, creating the video and album art all from home has been like water in the desert for me, my light in a dark time. We are still writing and have a lot more work to do on this album, but this time we wanted to release the songs individually, as we create, to live more in the moment with our fans and our music.
"'Wasted On You' wasn't the song we were planning to release first, but when the whole world went into indefinite lockdown and everything changed, so did the feeling and meaning of what we wanted to say right now. I didn't write these lyrics about what we're all now going through, but somehow that's exactly what they are.
"The whole video was shot by the band and our families on our iPhones, in isolation in our homes many miles apart, then edited together by Paul Brown. We can't be together to make a video right now, but we took that and used it to tell the story of our real lives in this moment, and to show that although we are apart, we are all still connected.
"As far as business is concerned, this is considered a terrible time to release. But we believe that people need music now more than ever. We do, and we're not going to wait to share it because who knows what tomorrow brings. Who knows if it even comes? This is who we really are and we're calling out across the world for a connection.
"One thing that has come from this crazy time is it's stripped away the illusion of control- from all of us. Proof that we really don't have any when it comes down to it. A big new theme in the new music so far is disillusionment. Growing up and realizing life can be so hard, nobody's gonna come rescue you, and fairy tales aren't real- BUT, standing up and saying I'll take the truth rather than live in denial. Rising up, through the ashes of death and pain and everything just rising up even though it hurts and taking it to move forward. No more lies. The bitter truth is all that impossibly hard stuff. And I'm taking it. Choosing to live."
Director P.R. Brown adds "It's a time where nothing makes sense and we are all forced to see a reality we don't want to believe exists. It was clear that we all collectively needed to create something, we needed to say something.
"After we started looking at the footage it was clear that the band members were each going through similar things. I started building an edit and seeing those scenarios play out over and over again and linked them together to tell their stories.
"The band inspired me and is helping me through all of the madness around us through their vulnerability and creative grace. The hope is that it helps others get through it as well and see that there is a light at the end, even if it's dark outside."
The Bitter Truth takes its foundation in the epic, signature sound that has earned Evanescence two GRAMMY awards and more than 23 million album sales worldwide beginning with their landmark debut 'Fallen,' and blends it with the thought-provoking lyrics, musical sophistication, and heavy themes that Amy Lee has become known for. Producer Nick Raskulinecz (Foo Fighters, Rush, Deftones) has been tracking with the band in Nashville since late January. In a break from the past, the band will be rolling out a series of songs from the album incrementally, culminating in the release of the full album. Later this year, the band plans to tour through Europe on the rescheduled co-headline tour with Within Temptation originally scheduled for this month. Conditions permitting, the band will also continue to perform shows in other parts of the world, as well.
Evanescence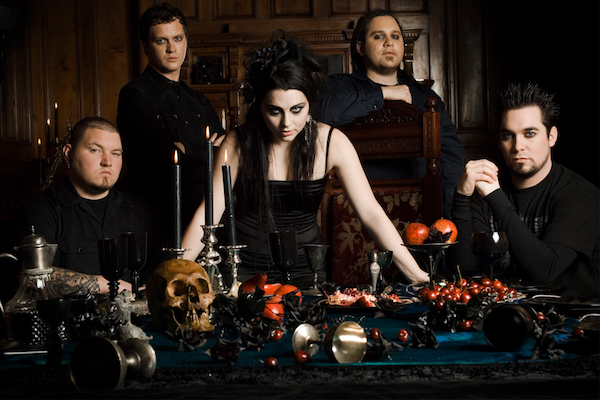 Evanescence
The band is named after the word evanescence which is usually defined as "the act or state of vanishing". Originally considered by many to be part of the Christian rock scene — and for a short time promoted in Christian stores — the band, however, made it explicitly clear they do not want to be considered a Christian rock band. Christian stores removed Evanescence from their shelves.
Evanescence's debut single "Bring Me to Life" was a global hit for the band and reached #5 on the American Billboard Hot 100. It was included in the soundtrack for the action movie Daredevil, along with their even more popular "My Immortal," and garnered recognition for the band at the Grammy Awards of 2004: The single was awarded Best Hard Rock Performance, and Evanescence was awarded Best New Artist.
Their first full length album, Origin (released in 2000), is relatively unknown. The Band also released two EPs in 1998 and 1999 which are difficult to find, and thus highly sought after by collectors. Not atypical, Origin and the EPs contain demo versions of some of the songs on their first major-label album. In fact, the recording of "My Immortal" found on Fallen can also be found on Origin, minus a handful of additional instrumental accompaniments. However, Lee herself does not consider the record to be an actual album; rather, she considers it merely a bundle of demo songs (some of which she says are not done properly) that was sent to record companies. Only 2500 copies of this record were ever made, and it is thus not generally available in record stores. In response, Lee encouraged fans to download the band's older songs from the internet during an interview.
The group was founded by Lee and former lead guitarist Ben Moody. The two met at a youth camp in Arkansas, where Moody heard Lee playing "(I'd Do) Anything For Love" by Meat Loaf on the piano. They discovered they shared a love of Jimi Hendrix and Björk, and they began to write songs together. For some time they were unable to find other musicians to play with, and did not have the funds to pay for professional assistance, thus they were unable to play live shows. However, a song of theirs entitled "Understanding" found its way onto local music charts, and demand for a live show increased. When the band finally did make an appearance, they became one of the most popular acts in the area.
In October 2003, Moody left the band abruptly in the middle of a European tour. The reasons for his departure are currently unknown. In an interview several months later, Lee said "we'd gotten to a point that if something didn't change, we wouldn't have been able to make a second record." Since then, Lee has said it was almost a relief that he left because of tensions created within the band. Terry Balsamo, from Cold joined the band, replacing Moody.
Evanescence is currently working on their second album, rumored to be ready for release in late 2005. Amy Lee, in an interview, has stated that the first single from this album will be called 'Prisoner for a Long Day'. Another song, rumored to be on the album, is the to-be-renamed song called "The Last Song I'm Wasting On You".
Evanescence fits roughly into the generic genre of rock, but in fact sounds quite different among its arsenal of songs. Many say that the band is goth rock, which is true in certain respects. Certainly, many of its songs focus on life's negative moments and darker themes such as lost love, loneliness and death. The piano plays a significant role in the majority of the band's music.
Critics have accused Evanescence of not being "wannabe" goth rockers, but really just pop. Lee, however, dismisses these labels and refuses to categorize and (to paraphrase) put in a box the band's music since she believes Evanescence has a unique sound.
Often, the band is often compared to nu-metal band Linkin Park, but many fans find this comparison innaccurate because it is based solely on their single "Bring Me to Life", which features the lead singer of Twelve Stones rapping over a short section of the music. This is not reflective of most of the other music, both on Fallen and in their earlier work. Other bands Evanescence has been compared to include Lacuna Coil, Nightwish and Within Temptation. Often, the covers that Evanescence does live come from modern prog/art bands, such as A Perfect Circle and Korn. This may say something about their influences.

This album contains no booklet.