---
Album info
Album including Album cover
I`m sorry!
Dear HIGHRESAUDIO Visitor,
due to territorial constraints and also different releases dates in each country you currently can`t purchase this album. We are updating our release dates twice a week. So, please feel free to check from time-to-time, if the album is available for your country.
We suggest, that you bookmark the album and use our Short List function.
Thank you for your understanding and patience.
Yours sincerely, HIGHRESAUDIO
1

32-20 Blues

03:16

2

Mean Mistreater Mama

04:17

3

This Little Girl Of Mine

04:03

4

Stop Breakin' Down Blues

03:35

5

My Woman Came Walking Down

05:16

6

C.C. Rider

03:57

7

Little Queen Of Spades

02:10

8

I Believe I'll Dust My Broom

04:02

9

In The Evening (When The Sun Goes Down)

05:03

10

We're Gonna Ball Tonight

03:21

11

Mr. Downchild

03:29

12

Run Your Mama

04:21

13

Ramblin' On My Mind

02:51

14

Love In Vain Blues

03:27

15

Train My Baby

03:34

16

Keys To The Highway

04:24

Total Runtime

01:01:06
Info for Delta Crossroads (Remastered)

Robert Lockwood Jr. is a blues treasure. Blues credibility doesn't get any deeper or more real than Robert Lockwood Jr. On Delta Crossroads, the 85-year-old Delta bluesman lays out a heartfelt homage to the immortal Robert Johnson, his guitar teacher, close friend, role model and possibly step-father. Playing the acoustic 12-string guitar and singing with uncommon authority, Lockwood delivers unaccompanied, bone-chilling renditions of Johnson classics like "32-20 Blues," "Stop Breakin' Down Blues," "Mr. Downchild," "Love In Vain Blues" and "I Believe I'll Dust My Broom," along with authentically earthy readings of Leroy Carr's "Mean Mistreater Mama" and "In the Evening," Lightnin' Hopkins' "C.C. Rider" and "Key to the Highway," which Lockwood says was written by Jazz Gillum and not Big Bill Broonzy, who usually gets credit. I guess he would know. This purely acoustic offering is a rich tribute and a must for Delta fanatics.
"There's a stereotype about the Delta blues. You know the one: some guy sitting on a back porch somewhere, or maybe in a boxcar, with his guitar, singing about some woman who left him. But real Delta blues is far more flexible, creative, and, above all, spooky than that. It takes someone who learned from the style's master--that would be Robert Johnson, in case you're wondering--to explore the music's length and breadth, and that someone is Robert Lockwood Jr. That's why, even though he covers some of the hoariest chestnuts the Delta blues has to offer--yep, there's "Dust My Broom," and yep, there's "Love in Vain," and "Ramblin' on My Mind," not to mention Lightnin' Hopkins's "C.C. Rider," which has been covered by just about everyone who can sling an acoustic guitar--Lockwood keeps the music fresh and appealing. There's no question that he's good at what he does; he's won a W.C. Handy award, been nominated for a Grammy, and remained one of the most respected bluesmen around for decades. It would be hard to select a more clichéd title for a Delta blues album than Delta Crossroads--Lockwood does not, by the way, cover "Crossroad Blues" on this album, but that's fine; he's earned the right." (Genevieve Williams)
Robert Lockwood Jr., guitar
Digitally remastered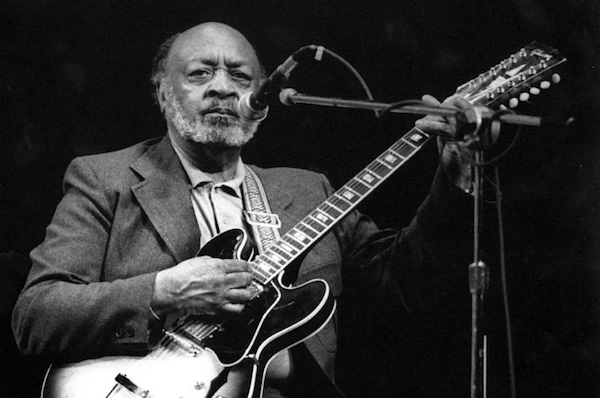 Robert Lockwood, Jr.
One of the last surviving roots bluesman of the twentieth century.
Billy Boy Arnold Robert Lockwood Jr. was born March 27, 1915 in Turkey Scratch, Arkansas, a farming hamlet about 25 miles west of Helena. 1915 was remarkable because several other monumental blues artists were born within a 100-mile radius that year; notably Muddy Waters, Willie Dixon, Little Walter Jacobs, Memphis Slim, Johnny Shines, and Honeyboy Edwards. They would all meet up in the future.
His first musical lessons were on the family pump organ. He learned the guitar, at age eleven, from Robert Johnson, the mysterious delta bluesman, who was living with his mother. From Johnson, Lockwood learned chords, timing, and stage presence. By the age of fifteen, Robert was playing professionally, often with Johnson; sometimes with Johnny Shines or Rice Miller, who would soon be calling himself Sonny Boy Williamson II. They would play fish fries, juke joints, and street corners. Once Johnson played one side of the Sunflower River, while Lockwood manned the other bank. The people of Clarksville, Mississippi were milling around the bridge; they couldn't tell which guitarist was Robert Johnson. Young Lockwood had learned Johnson's techniques very well.
Johnson's fast lifestyle caught up with him, passing away in 1937. Lockwood was 22 but prepared for the future.
Lockwood's first recordings came in 1941, with Doc Clayton, on his famous Bluebird Sessions in Aurora, Illinois. During these sessions, he cut four singles under his own name. These were the first incarnations of "Take A Little Walk with Me", and "Little Boy Blue," Lockwood staples sixty years later.
Later in 1941, Lockwood was back in Arkansas where he re-united with Sonny Boy II to host a live radio program broadcast at noon from KFFA in Helena, sponsored by the King Biscuit Flower Company. James "Peck" Curtis and Dudlow Taylor provided the rhythm. This show became a cultural phenomenon; everybody would listen during his or her lunch hour. Several generations of southern bluesman can trace their musical roots to the show.
Lockwood moved around, the usual route was Memphis, St. Louis, to Chicago. By the early 1950's, he had surfaced in the Windy City, where he became the top session man for Chess Records, the epitome of blues labels. Sonny Boy Williamson II, Little Walter, Roosevelt Sykes, Sunnyland Slim, and Eddie Boyd, whom he toured with for six years, you can hear his smooth chords on their recordings.
Blues was giving way to Rock and Roll, even in Chicago, so Lockwood moved to Cleveland, Ohio at the urging of his old pal, Sonny Boy. Settling down and raising a family took priorities but blues was still in his soul, just on the back burner.
In the late 1960s Lockwood would gig all around Cleveland, playing whenever he got the chance. Long-forgotten clubs like Pirates Cove and Brothers Lounge were places where Lockwood taught his blues to generations of local musicians and fans.
Lockwood's solo recording career, exclusive of the 1941 Bluebird Sessions, began in 1970 with Delmark's Steady Rollin' Man, backed by old friends Louis Myers, his brother Dave Myers, and Fred Below, collectively known as The Aces. In 1972, Lockwood hooked up with famed musicologist, Pete Lowry to record Contrasts, the first of two for Trix Records. Does 12 followed in 1975. They have been remastered and repackaged by Fuel 2000 Records.
In the early 1980s Lockwood teamed up with another long-time friend, Johnny Shines, to record three albums for Rounder, which has been comprised into 1999's Just the Blues. Plays Robert and Robert, a Black and Blue recording of a solo show in Paris in 1982, was re-issued on Evidence in 1993.
From the early 1980s to 1996, there were no domestic Lockwood releases. In 1998, I've Got to Find Myself a Woman was released by Verve, gaining a Grammy nomination. This was followed by Telarc's Delta Crossroads, also a Grammy contender in 2000. In 2001, What's the Score was re-issued on Lockwood Records which has the rights to his Japanese live recordings, previously only available on Peavine. They will be a future project. In the last twenty years, the Blues world has recognized Lockwood's contributions to the genre. Recently, Lockwood has amassed so many that it is not possible to list all of them. The most notable are:
1980 Lockwood receives the very first W.C. Handy Award for "best traditional blues album"
1989 Inducted into the Blues Hall of Fame
1995 Received National Heritage Fellowship Award, presented by Hilary Clinton
1996 Cleveland Mayor, Michael White, proclaims February 3, as "Robert Lockwood Day"
1997 Has street named "Robert Lockwood, Jr. Way" in Cleveland's Flat District
1998 Inducted into Delta Blues Hall of Fame in Cleveland, Mississippi
2001 Received Honorary Doctorate in Humane Letters from Case Western Reserve in Cleveland
2001 Received W.C. Handy for "best traditional blues album," Delta Crossroads
2001 City of Pittsburgh named 8/18 "Robert Lockwood, Jr. Day"
2002 Received honorary Degree of "Doctor of Music" from Cleveland State University on 5/12
Not content to rest on his laurels, Lockwood is touring more than ever at age 86. Lockwood leads an eight-piece band every Wednesday at Fat Fish Blue in Cleveland, roams the world playing his jazz-tinted Delta Blues, and records once a year. Lockwood is in better mental and physical shape than many men years younger. His guitar playing is as crisp as ever. Like a fine French cognac, he is only getting better with age; no dust, rust or must here. (Source: www.ponderosastomp.com)

This album contains no booklet.