---
Album info
Album including Album cover Booklet (PDF)
I`m sorry!
Dear HIGHRESAUDIO Visitor,
due to territorial constraints and also different releases dates in each country you currently can`t purchase this album. We are updating our release dates twice a week. So, please feel free to check from time-to-time, if the album is available for your country.
We suggest, that you bookmark the album and use our Short List function.
Thank you for your understanding and patience.
Yours sincerely, HIGHRESAUDIO
Johann Sebastian Bach (1685 - 1750): Toccata in C Minor, BWV 911:

1

Toccata in C Minor, BWV 911: Toccata

03:35

2

Toccata in C Minor, BWV 911: Fugue

06:57

Ludwig van Beethoven (1770 - 1827): Sonata No. 7 in D Major, Op. 10, No. 3:

3

Sonata No. 7 in D Major, Op. 10, No. 3: I. Presto

07:13

4

Sonata No. 7 in D Major, Op. 10, No. 3: II. Largo e mesto

10:59

5

Sonata No. 7 in D Major, Op. 10, No. 3: III. Menuetto - Allegro - Trio

02:36

6

Sonata No. 7 in D Major, Op. 10, No. 3: IV. Rondo - Allegro

04:04

Nikolai Medtner (1880 - 1951): Piano Sonata in F Minor, Op. 5:

7

Piano Sonata in F Minor, Op. 5: I. Allegro - Maestoso, ma a tempo - Alla breve

12:42

8

Piano Sonata in F Minor, Op. 5: II. Intermezzo - Allegro

05:51

9

Piano Sonata in F Minor, Op. 5: III. Largo divoto - Maestoso

08:49

10

Piano Sonata in F Minor, Op. 5: IV. Finale - Allegro risoluto

07:59

Total Runtime

01:10:45
Info for Bach, Beethoven, Medtner

Lucas Debargue, the most talked about pianist at the 2015 Tchaikovsky Piano Competition, releases his first studio album BACH, BEETHOVEN, MEDTNER. Nikolai Medtner is a Russian composer, contemporary of Rachmaninov & Scriabin with German roots and influences. Debargue performed Medtner's melodious sonata to spectacular success at the 2015 Tchaikovsky Competition with applause that lasted over fifteen minutes. Besides Bach's melancholic Toccata C minor BWV 911, Debargue is keen to engage in forgotten works as with Medtner and further puts a spotlight on the Sonata No. 7 in D major by Beethoven, which remained in the shadow of the famous Pathétique. Debargue only started professional training aged 20 but won the Tchaikovsky Piano Competition's 4th prize only four years later, being described by media as the "real winner" due to his unusual background and magnificent playing.
"Lucas Debargue became famous overnight after causing a sensation at the 2015 Tchaikovsky Competition. Following his acclaimed début live recital, the French pianist is now releasing his first studio recording, featuring works by Bach, Beethoven and Medtner. "Debargue is fantastically gifted: original, not tamed by any academicism, eccentric to the point of being mannered, but also thrilling as a result of his very personal tone." (Frankfurter Allgemeine Zeitung)
"There's no doubt that he has a considerable natural musicality and of the composers here it is Medtner with whom he seems to have a particular affinity…both Devargue's Medtner and his Beethoven have real personality" (Gramophone Magazine)
Lucas Debargue, piano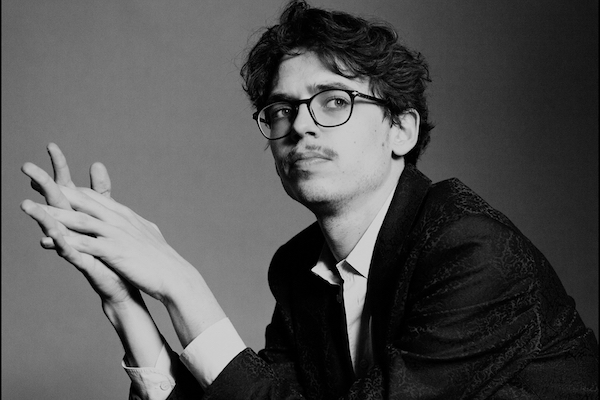 Lucas Debargue
In 2015 the French pianist Lucas Debargue became the most talked-about artist of the 15th International Tchaikovsky Competition.
Despite being placed 4th, his muscular and intellectual playing, combined with an intensely poetic and lyrical gift for phrasing, earned him the coveted Moscow Music Critics' Award as "the pianist whose incredible gift, artistic vision and creative freedom have impressed the critics as well as the audience". He was the only musician across all disciplines to do so. Soon after the competition Debargue was signed by Sony Classical, and recorded a live recital for his debut release with music by Ravel, Liszt, Chopin and Scarlatti in his native city of Paris.
Debargue was born in 1990 in a non-musical family. In 1999 he settled in Compiègne, about 90km north of Paris and began his initial piano studies at the local music school at the age of 11.
At 15 Debargue ceased piano studies having found no musical mentor to help him share his passion with others and having become frustrated at playing solely for himself. He began to work, successfully for his Baccalaureate at a local college and joined a rock band. At 17 he relocated to the capital to study for a degree in Arts and Literature at Paris Diderot University and, remarkably, ceased playing the piano altogether for three years.
In 2010 he was asked to play at the Fête de la Musique festival in Compiègne, and this marked his return to the keyboard. Shortly after he was put in touch with his current mentor and guide, the celebrated Russian professor Rena Shereshevskaya, who is based at both the Rueil-Malmaison Conservatory and the École Normale de Musique de Paris 'Alfred Cortot'. Seeing in Debargue a future as a great interpreter, Professor Shereshevskaya admitted him into her class at the Cortot School to prepare him for grand international competitions. It was at the age of 20 when Debargue started formal piano training.
Only four years later he entered the Tchaikovsky Competition in 2015, and the world instantly took note of a startling and original new talent. "There hasn't been a foreign pianist who has caused such a stir since Glenn Gould's arrival in Moscow, or Van Cliburn's victory at the Tchaikovsky Competition," said The Huffington Post.
A performer of fierce integrity and dazzling communicative power, Debargue draws inspiration for his playing from many disciplines, including literature, painting, cinema and jazz. The core piano repertoire is central to his career, but he is also keen to present works by lesser-known composers such as Nikolai Medtner, Samuel Maykapar and Nikolai Roslavets.

Booklet for Bach, Beethoven, Medtner