---
Album info
Album including Album cover
1

Se e Tarde Me Perdoa

02:30

2

Nao Tem Nada Nao

03:34

3

Vento Bravo

03:57

4

Quem Me Dera

04:33

5

Que Reste-T-Il de nos Amours

04:58

6

Agua e Vinho

03:44

7

Influencia do Jazz

02:49

8

Samba de uma Nota

03:02

9

Sou Voce

03:45

10

Reza

04:20

11

Amanhecendo

03:57

12

The Man I Love

05:06

Total Runtime

46:15
Info for Atlantico

Das Bossarenova Trio steht für einen so eleganten wie fulminanten Mix aus erlesenen Jazz-Zutaten und feinsten brasilianischen Rhythmen. Ausgerechnet im New Yorker S.O.B.s gab der brasilianisch-deutsche Dreier 2011 sein aufsehenerregendes Live-Debüt. Seither haben Sängerin Paula Morelenbaum, Trompeter Joo Kraus und Pianist Ralf Schmid mit ihrer sinnlichen, nahe gehenden Musik den Rest der Welt erobert. Paula Morelenbaum wurde an der Seite von Antonio Carlos Jobim zu einer weltweit anerkannten Bossa Nova-Kapazität. Ihre beiden Partner Joo Kraus und Ralf Schmid zählen zu den experimentierfreudigsten und kreativsten Köpfen des deutschen Jazz. Auf Alben wie dem neuesten Geniestreich "Atlântico" gelingt dem "Bossarenova Trio" eine stimmige Melange, die ohne Anbiederung an den Zeitgeist oder klassische Formen auskommt. Die aktuellen Aufnahmen sind nicht weniger als ein Brückenschlag zwischen den Kulturen, zwischen europäischem Liedgut und der musikalischen Sprache des südamerikanischen Kontinents.
Paula Morelenbaum, Gesang
Joo Kraus, Trompete, Horn, Effecte
Ralf Schmid, Klavier
Amoy Ribas, Percussion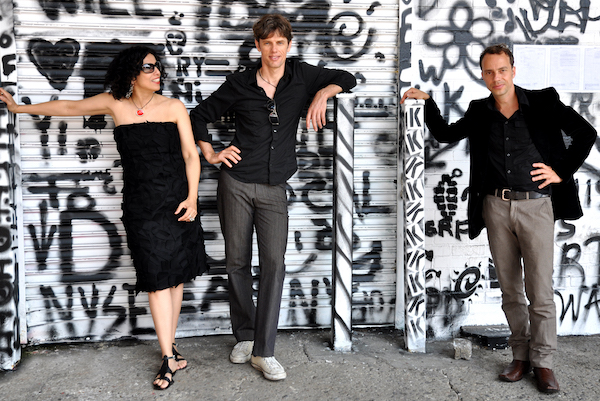 Bossarenova Trio
When Paula Morelenbaum released the album "Casa" back in 2001 together with her husband, cellist Jacques Morelenbaum, and the Japanese pianist and free-thinker Ryuichi Sakamoto, the trio's CD was received with enthusiasm worldwide. The three of them had their own way of defining how the wealth of Brazilian songs was to be dealt with.
12 years later, a new transatlantic trio has emerged featuring Paula Morelenbaum as vocalist that looks into the term 'song' from a German, Brazilian, European and South American point of view. Dori Caymmi, Frederic Chopin, Antonio Carlos Jobim, Schumann, Villa-Lobos, Pixinguinha, Claudio Monteverdi, Baden Powell, Franz Schubert and Marcos Valle – different continents and epochs, yet the essence and family tree behind mutual inspiration, too. An equally venturous and stand-alone coalescence of two cultures.
Trumpet-player and ECHO Jazz prize-winner Joo Kraus, arranger Ralf Schmid, Kraus's fellow comrade on many projects, and vocalist Paula Morelenbaum, who calls Rio de Janeiro home, got to know each other on the occasion of the Bossarenova big-band project that the German SWR Bigband carried out in 2009. The goal was to use opulent Jazz arrangements to breathe new life into timeless classics from the days of Brazilian Bossa Nova. Due to the numerous concerts the three of them performed with the SWR Bigband, it was virtually inevitable that the desire to step onstage as the nucleus within a trio would ensue.
Concerts ranging from San Francisco to New York City and on to Berlin and Hamburg ensured that this alliance of musicians, now christened "Bossarenova Trio", immersed itself deeper and deeper while becoming familiar with different and reciprocal roots. A project ultimately evolved that grasped labels like Acoustic / Electro / Balanço / Belcanto / Sodino / Whistling / Drumming / Playing and cast them away again, music that picked up the trail of individual 'songs' from a variety of cultural spheres and eras. Without any attempt to curry favor with a particular 'zeitgeist' or classic form, what emerged was a melange that allows designation as the Bossarenova Trio's very own language. "Samba Prelúdio" is nothing less than a work that bridges the cultural gap, that links the classic European 'Lied' with the musical language spoken on the South American continent, a juncture of Bossa Nova with Jazz and Classical Music in a way that hadn't been tried yet.

This album contains no booklet.