---
Album info
Album including Album cover Booklet (PDF)
Joseph Haydn (1732 - 1809): Concerto No. 1 in C Major, Hob.VIIh:1 "Lyra organizzata" (Arr. for Flute, Oboe & Orchestra):

1

Concerto No. 1 in C Major, Hob.VIIh:1 "Lyra organizzata" (Arr. for Flute, Oboe & Orchestra): I. Allegro con spirito

04:27

2

Concerto No. 1 in C Major, Hob.VIIh:1 "Lyra organizzata" (Arr. for Flute, Oboe & Orchestra): II. Andante

04:36

3

Concerto No. 1 in C Major, Hob.VIIh:1 "Lyra organizzata" (Arr. for Flute, Oboe & Orchestra): III. Finale. Allegro con brio

05:20

Anton Stamitz (1798 - 1809): Concerto for Flute & Oboe in G Major (Attrib. C. Stamitz):

4

Concerto for Flute & Oboe in G Major (Attrib. C. Stamitz): I. Allegro

08:31

5

Concerto for Flute & Oboe in G Major (Attrib. C. Stamitz): II. Adagio

04:05

6

Concerto for Flute & Oboe in G Major (Attrib. C. Stamitz): III. Rondo

05:15

Carl Stamitz (1745 - 1801): Flute Concerto in D Major:

7

Flute Concerto in D Major: I. Allegro

07:28

8

Flute Concerto in D Major: II. Adagio e cantabile

05:28

9

Flute Concerto in D Major: III. Presto non assai

03:58

Joseph Haydn: Concerto No. 3 in G Major, Hob.VIIh:3 "Lyra organizzata" (Arr. for Flute, Oboe & Orchestra):

10

Concerto No. 3 in G Major, Hob.VIIh:3 "Lyra organizzata" (Arr. for Flute, Oboe & Orchestra): I. Allegro con spirito

05:20

11

Concerto No. 3 in G Major, Hob.VIIh:3 "Lyra organizzata" (Arr. for Flute, Oboe & Orchestra): II. Romance. Allegretto

04:37

12

Concerto No. 3 in G Major, Hob.VIIh:3 "Lyra organizzata" (Arr. for Flute, Oboe & Orchestra): III. Finale. Allegro

05:12

Total Runtime

01:04:17
Info for Haydn, A. Stamitz & C. Stamitz: Concertos

Flautist Ana de la Vega teams up with two-time ECHO award-winning oboist Ramón Ortega Quero and the Trondheim Soloists on her second PENTATONE album, to explore the intricate and unique relationship between flute and oboe in concertos by Joseph Haydn and Carl Stamitz. The programme consists of two concertos Haydn originally designed for two lire organizzate, as well as Stamitz's concerto for flute, oboe and orchestra in G Major. The recording also features the latter's vibrant and virtuosic but rarely recorded Flute concerto in D Major, which offers some of the finest writing for flute of the entire Classical era.
Ana de la Vega expands her PENTATONE discography after her acclaimed debut album with concertos by Mozart and Mysliveček. She works together with Ramón Ortega Quero as well as the Trondheim Soloists, whose album Transfigured Night with Alisa Weilerstein was released on PENTATONE in 2018.
Ana de la Vega, flute
Ramón Ortega Quero, oboe
Trondheim Soloists
Geir Inge Lotsberg, conductor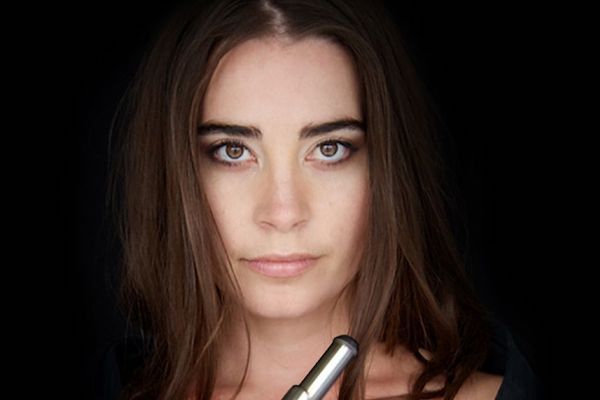 Ana de la Vega
is honoured to be the new ambassador of Altus hand crafted Japanese flutes. She is particularly involved with the release of the fully handcrafted ALTUS AL (1807) heavy wall Altus flute in 2019. Having played the prototype of the ALTUS AL for the past 5 years, Ana looks forward to this phenomenally refined instrument being available to flutists worldwide.
Indeed, the Australian flautist Ana de la Vega stirs up the classical music scene at present. Her debut recording with the English Chamber Orchestra of Mozart and Myslivecek Flute Concertos (PENTATONE) is attracting unbridled and unparalleled attention worldwide. Having won Classic FM 'Best Albums of 2018', reached Amazon Best Seller No. 1, NDR CD of the week, BBC Scotland CD of the week, Classic FM Netherlands CD of week, SR CD of the Week Germany, Pizzicato 5 Stars et al., Ana has become one of the most celebrated and recognized flautists today.
Her Wigmore Hall debut was reviewed as "outstanding" (Classical Source), her Cadogan Hall London performance as "true artistry" (Musical Opinion), and her Berlin Philharmonie debut as "first-class".
In the current and upcoming season Ana performs as soloist with DKO Berlin, the Trondheim Soloists, English chamber orchestra, Lucerne festival strings, Odessa Philharmonic, Sinfonia Rotterdam, Prague Royal Philharmonic, Bremen Philharmonic and Berliner Camerata. In 2019 She made her debut at the Elbphilharmonie in Hamburg as Soloist with the English Chamber Orchestra.
Ana de la Vega was a student of the Conservatoire Supérieur de Paris where she studied under Catherine Cantin, as well as with Philippe Pierlot and Raymond Guiot and hence is a successor of the great French school of Flute playing.
"I vividly remember the moment an Altus flute touched my lips for the first time: A whole new world opened up to me. A world of contrasts, colour and countability. So delicate yet so powerful, so vibrant yet humble, so colourful yet so refined. I will forever play an Altus because it is like no other instrument in terms of its individuality, flexibility and responsiveness.
The right flute is not about what it can do, but what it can accompany you to do. Its about finding the partner who will allow you to express your soul, realise your ideal sound, and support you in telling your story. An Altus flute is unique in its willingness and ability to allows us to become one with it. "
Ramón Ortega Quero

The two-time ECHO Award winner Ramon Ortega Quero is recognized around the world as one of the most outstanding musicians of his generation.
He received solid training from Miguel Quirós early on at the conservatory of his native city of Granada. Quero became a member of the Andalusian Youth Orchestra as a twelve-year-old. In 2003, the oboist cleared an important hurdle when conductor Daniel Barenboim accepted him as a member of the East-West Divan Orchestra. One of Ramón Ortega Quero's finest hours was winning First Prize at the ARD Music Competition held in Munich in September 2007.
Since Spring 2008, he is also Principal Oboe of the Bavarian Radio Symphony Orchestra under its Principal Conductor Mariss Jansons and is working with worldknown conductors such as Riccardo Muti, Herbert Blomstedt, Sir Colin Davies, John Eliot Gardiner, Daniel Barenboim, Nikolaus Harnoncourt and Bernhard Haitink.
During the past seasons Ramón Ortega Quero appeared, among others, with the Konzerthausorchester Berlin, MDR Sinfonieorchester, NDR Radiophilharmonie Hanover, Sinfonieorchester Basel, Zurich Chamber Orchestra, Vienna Chamber Orchester, Munich Chamber Orchestra, Kammerakademie Potsdam and the Sao Paulo Symphony. With different chamber music partners (Elena Bashkirova, Kit Armstrong, Mitsuko Uchida, Herbert Schuch and Sebastian Manz, amongst others), he played in the concert series in Vienna, Salzburg, Baden-Baden, Dusseldorf, Frankfurt, Berlin, Hanover, Valencia, Cologne, Vancouver and at the international festivals in Gstaad, Jerusalem, the Heidelberger Frühling, the Lucerne Festival, the Festspiele Mecklenburg-Vorpommern and the Rheingau Musik Festival. Among his partners are such renowned musicians as Janine Jansen, Guy Braunstein and Tabea Zimmermann.
In 2015 Ramón Ortega Quero played the world premiere of the oboe concerto "Legacy", which composer Oscar Navarro dedicated to him.
Performance highlights in season 2015/16 included his debut at Carnegie Hall New York, in 2016/17 the oboist came back to the Konzerthausorchester Berlin conducted by Ivan Fischer and played concerts in Edinburgh and Glasgow with the Scottish Chamber orchestra under conductor Robin Ticciati. He was also reinvited by the Munich Chamber orchestra and the Kammerakademie Potsdam. Furthermore he'll travel to Asia for concerts with the Taiwan National Symphony Orchestra and the Hong Kong Sinfonietta.
The concert season 2017/18 will bring Ramón Ortega Quero to several concerts to Spain – together with the Orquestra de Extremadura as well as the Orquestra de Castilla y León -, to Finland and on a tour through the netherlands, together with the Philharmony Zuidnederland. With the wind quartet variation5, with whom his last album "variation5" was released on Berlin Classics (Edel), he will be on tour again in spring 2018. Furthermore, he is invited by the Bach Orchester Leipzig.
The 2010/11 season was highly effected by his nomination as a "Rising Star" by the "European Concert Hall Organisation", which lead him to the most important concert halls in Europe (Brussels, Luxembourg, Vienna, Salzburg, Hamburg, Amsterdam).
His debut CD "Shadows" (Solo Musica) won the ECHO KLASSIK award in 2011. In 2012 he was awarded with his second ECHO KLASSIK, which he received together with his colleagues Sebastian Manz, Marc Trenel, David Alonso Fernandez and Herbert Schuch for the "Chamber Music recording of the year". Other recordings have been released on Genuin, recorded with the Kammerakademie Potsdam and with the pianist Kateryna Titova. In 2015 his solo album "Bach: New Oboe Sonatas" was recorded at the Label EDEL.
Ramón Ortega Quero is a fellowship award-winner of the Borletti Buitoni Trust London.

Booklet for Haydn, A. Stamitz & C. Stamitz: Concertos