---
Album info
Album including Album cover Booklet (PDF)
?
Formats & Prices
| | | | |
| --- | --- | --- | --- |
| Format | Price | In Cart | Buy |
| FLAC 176.4 | $ 16.80 | | |
| FLAC 88.2 | $ 14.00 | | |
| DSD 128 | $ 19.20 | | |
| MQA | $ 17.60 | | |
Ludwig van Beethoven (1770 - 1827): Sonata No. 8 for Violin and Piano in G Major, Op. 30 No. 3:

1

Sonata No. 8 for Violin and Piano in G Major, Op. 30 No. 3: I. Allegro assai

06:40

2

Sonata No. 8 for Violin and Piano in G Major, Op. 30 No. 3: II. Tempo di Minuetto, ma molto moderato e grazioso

08:09

3

Sonata No. 8 for Violin and Piano in G Major, Op. 30 No. 3: III. Allegro vivace

03:51

Sonata No. 9 for Violin and Piano in A Major, Op. 47 «Kreutzer»:

4

Sonata No. 9 for Violin and Piano in A Major, Op. 47 «Kreutzer»: I. Adagio sostenuto - Presto

14:42

5

Sonata No. 9 for Violin and Piano in A Major, Op. 47 «Kreutzer»: II. Andante con Variazioni

16:41

6

Sonata No. 9 for Violin and Piano in A Major, Op. 47 «Kreutzer»: III. Presto

09:27

Total Runtime

59:30
Info for Beethoven's Testaments of 1802

1802 was the crisis year in which Beethoven the artist committed Beethoven the man to fate – and became immortal. He was beset with mounting problems: progressive deafness, strong feelings of alienation and the conviction that he was being excluded from social and official life in Vienna. During his stay at Heiligenstadt in the summer and autumn of 1802 he writes testaments in words and in music that show his path ahead to his middle period, often called "the heroic". His Sonata no. 9 for violin and piano, the Kreutzer, is a defining work for the year 1802 and for Beethoven's heroic style. In sharp contrast is the high-spirited Sonata no. 8, but together – and particularly when considered in light of the so-called Heiligenstadt Testament – these two sonatas reveal something of the creative and existential struggle he was enduring. 1802: the year when Beethoven became Beethoven.
Ragnhild Hemsing, violin
Tor Espen Aspaas, piano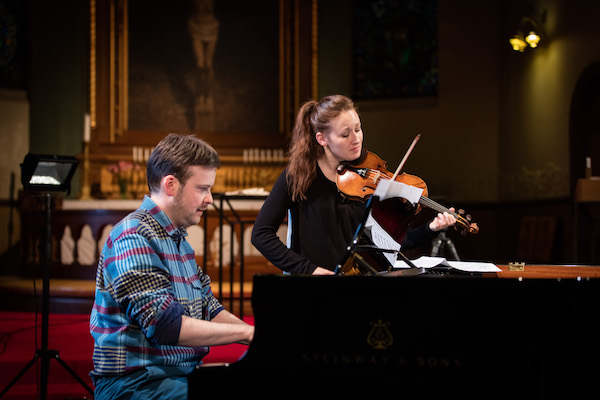 Ragnhild Hemsing
stands out amongst the rising stars in Norway as a remarkably poised artist. Her unique upbringing, deeply immersed in the rich folk music traditions of Norway enables her to be one of the first artists to successfully merge the instantly identifiable characteristics of Norwegian folk and classical performance in a young, fresh and entirely contemporary fashion.
She supplements her large repertoire of standard solo classical works for violin with more unusual and complex works written for the Hardanger Fiddle. Ragnhild's most notable contemporary collaboration is her work with the young Norwegian choreographer, Hallgrim Hansegård. Both have performed 'YR', by Norwegian composer Lasse Thoresen, throughout Norway and she has recorded this work for her solo debut-CD on the Simax label. This CD as well as her recording of Halvorsen's "Fossegrimen" op. 21 for Chandos with the Bergen Philharmonic and Neeme Järvi received outstanding critical acclaim. Neeme Järvi subsequently invited Ragnhild to debut with the Estonian National Symphony Orchestra.
Debuts over the past years include a.o. the Kennedy Center in Washington D.C., the Gothenburg Symphony, the NDR Radio Philharmonic Hannover, the Beethovenfest Bonn, the Tampere Philharmonic (Santtu-Matias Rouvali), the MDR Radio Symphony Orchestra Leipzig (Kristjan Järvi), the Risør Chamber Music Festival, the National Orchestra of Belgium, the Düsseldorf Symphony at the Tonhalle Düsseldorf, the Schwetzingen SWR Festival and the Tonhalle Zürich.
She has performed the world premiere of Lasse Thoresen's "Sprang", together with her sister Eldbjørg and the Trondheim Soloists at the Bergen International Festival with further performances at St Petersburg's Marinsky Concert Hall, the Bashmet Festival in Omsk, the Moravian Autumn in Brno, and at Trondheim celebrating the Trondheim Soloists' 25th anniversary.
At only 13 years of age Ragnhild made her debut performing the Mendelssohn Concerto with both, the Bergen Philharmonic and the Trondheim Symphony Orchestra. Since then she has performed with all major Norwegian orchestras.
She has given guest appearances at all major festivals of Norway, and she is a well known artist on Norwegian radio and TV. Together with her sister, Eldbjørg Hemsing she recorded a one hour documentary on the life of the famous Norwegian violinist Ole Bull which received an EBU award.
After her most successful debut at the Beethovenfest Bonn 2013, Ragnhild Hemsing was awarded the Beethoven-Ring of the "Citizens for Beethoven". Together with her sister Eldbjørg, Ragnhild is the artistic director of the Hemsing Festival in Valdres.
Ragnhild was born into the heart of the Norwegian folk region, Valdres. She began to play the violin at 5 years of age and continued her studies at the prestigious Barratt Due Institute of Music in Oslo, followed by studies with Boris Kuschnir in Vienna. She plays on a Francesco Ruggeri Violin (Cremona, 1694) kindly on loan from the Dextra Musica Foundation.
Tor Espen Aspaas
is one of the most outstanding pianists and music communicators of his generation in Norway. In 2016 he was created Knight 1st Class within the Royal Norwegian Order of St. Olav for his merits and contributions to music and culture.
In 2006 he was appointed university professor at the Norwegian Academy of Music where, in addition to his teaching duties, he is currently doing a research project looking into the role of improvisation in the creative processes and works of Beethoven.
Aspaas gained his postgraduate soloist's diploma at the NAoM in 1996 and gave a critically acclaimed debut recital in Oslo the following year. He has received numerous grants and awards (among the more recent are the Lindeman-prize, the Levin-prize, and the Nils Larsen Grant) and he has appeared as a soloist with several international orchestras, as well as with all of Norway's professional orchestras. Among the many conductors Aspaas has collaborated with in his solo career are Brüggen, Sinaysky, Plasson, Karpe, Eggen, Engeset, Gupta and Engegård. In 2011 Aspaas gave the premier performance of O.A. Thommessen's third piano concerto, commissioned by the Trondheim Symphony Orchestra.
In addition to recitals and world-wide concert tours he is regularly invited to Norwegian and international festivals and concert series. In the autumn of 2010 Aspaas gave an acclaimed series of recitals on Debussy's 24 preludes, which included a performance in the Norwegian National Opera. In March 2013 he made his US debut with a solo recital at Carnegie Hall, NY.

Booklet for Beethoven's Testaments of 1802