---
Album info
Album including Album cover
Francesco Feo (1691 - 1761): St John Passion:

1

St John Passion: Jesus Arrested (I)

03:40

2

St John Passion: Jesus Arrested (II)

04:52

3

St John Passion: Jesus Arrested (III)

02:39

4

St John Passion: Peter's Denial (I)

01:59

5

St John Passion: The High Priest Questions Jesus

03:39

6

St John Passion: Peter's Denial (II)

01:43

7

St John Passion: Jesus Before Pilate (I)

02:40

8

St John Passion: Jesus Before Pilate (II)

06:36

9

St John Passion: Jesus Before Pilate (III)

06:15

10

St John Passion: Jesus Before Pilate (IV)

02:42

11

St John Passion: Jesus Sentenced to Be Crucified

03:10

12

St John Passion: The Crucifixion

05:40

13

St John Passion: At the Cross (I)

02:16

14

St John Passion: At the Cross (II)

01:53

15

St John Passion: At the Cross (III)

04:03

16

St John Passion: Jesus Dies

03:14

17

St John Passion: Jesus Pierced by the Lance

03:55

Total Runtime

01:00:56
Info for St John Passion

Francesco Feo (1691–1761) is one of those Read more opera seria. The same year he became the head instructor at the Sant'Onofrio Conservatory at the Porta Capuana, a position he maintained for a decade and a half before going on to the Poveri di Gesù Cristo Conservatory. After a few more years he tired of this and wanted to resume an international career as an opera composer. He received a number of commissions from as far away as Spain and Bohemia, but by that time he had long been overtaken by ambitious students such as Nicolò Jommelli. Thus, he remained a footnote to music history, mainly being noted for his vain attempt to get his prize pupil, Giovanni Pergolesi, to stop obsessively working and regain his health. (Pergolesi didn't follow the advice and died at the young age of 26.)
"Short ritornellos featuring some extraordinary harmonic details are played superbly by La Divina Armonia's single strings, and the singers are routinely excellent...Doron Schleifer's bright Evangelist is perpetually on the ball...This is a superb performance of an impressive work." (Gramophone Magazine)
"In short, this is a great album to have if you are a fan of Italian Classical or Neapolitan music. Moreover, it is a good contrast to the plethora of German Passion s that abound in the recording world, in that it shows that the Catholics, too, had a specialized genre that they used every Lenten season. Feo's work is solid, harmonically interesting, and in many cases quite moving. Given the fine performance by La Divina Armonia, this is a disc that is recommended." (Bertil van Boer, FANFARE)
Krystian Adam. tenor
Barbara Schmidt-Gaden, mezzo-soprano
Doron Schleifer, counter-tenor
Mirko Guadagnini, tenor
Varese Chamber Chorus
La Divina Armonia
Lorenzo Ghielmi, conductor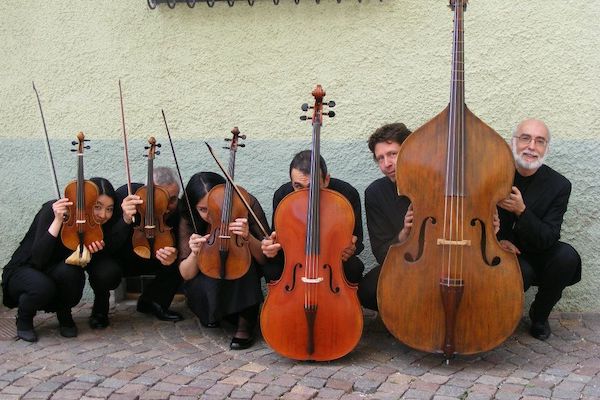 La Divina Armonia
was founded by Lorenzo Ghielmi in 2005. All the musicians involved in the Italian group have distinguished themselves for many years in the performance of Baroque music as soloists and musicians in several of the best reknown ensembles in this field. In La Divina Armonia they're coming together to play music from the Baroque up to the early Classical period, playing extraordonary vividly, but in a beautifully cantabile manner at the same time. 

La Divina Armonia works with diverse soloists, but also with vocal ensembles for certain productions.
The ensemble has performed all over Europe, for instance in Italy, Austria, Belgium and Switzerland, but also was invited to Japan several times. La Divina Armonia played in most of the important European festivals of Early Music as well as concert series, like Serate Musicali di Milano, Bozar Brussels, Concertgebouw Bruges, Les Arts Renaissants Toulouse, Salzburg Bach Society, Oslo Church Music Festival, Utrecht Early Music Festival, where in 2017 they're invited as artist in residence with several concerts.
In 2009, la Divina Armonia gave the modern premiére of the Passio secundum Joannem (Naples 1744) by the composer Francesco Feo, rediscovered and edited by Lorenzo Ghielmi, and achieved a great recording success with this masterpiece of the Italian Baroque, which they performed also on an European Tour. 

Numerous CD-productions have been published during the last years, amongst them chambermusic by Bach or concerti for violin and organ by Haydn. A CDs with the Handel organ concertos Op. IV and the Haydn concertos received diverse awards, including a Diapason d'Or, whilst Vol. II of the Handel organ concertos even was awarded with the prestigious Diapason d'Année in 2013. Also the most recent CD, with concerti and Bach's cantata BWV 209, released in summer 2016, was received very enthusiastically by audience and critics.

This album contains no booklet.