---
Album info
Album including Album cover
1

I'll Make Ya Famous

03:41

2

Southern Shine

03:30

3

Will and the Witch

04:19

4

Independence Night

05:38

5

Skin Out

09:45

6

Babylon: Scarlett's Saloon

04:41

7

Everything Hurts

03:35

8

Spit Bucket Brawl

03:41

9

Navajo Crow

06:08

10

Welded as One

07:10

11

Reap the Whirlwind

03:54

12

Regulators

05:50

Total Runtime

01:01:52
Info for Will and the Witch

The American Pagan Metal pioneers return with a heathen laced concept album which tells a tall tale accounting of the western frontiers most notorious outlaw...Billy The Kid. Helsott deliver a hard hitting and catchy adventure through the American Wild West that will leave you wanting more gunfights, saloon girls, voodoo, Shaman's, peyote, fire, and blood in your life!
Since their incarnation in 2019, Helsott has amassed a respectable discography including two EPs and two full-lengths. They have toured throughout North America and Europe along with performing on several festivals including Wacken Open Air.
On their new record "Will and the Witch", Helsott goes back to their roots along with adding orchestrations composed by the band. Overall, "Will and the Witch" will have more thrashy elements and fewer orchestrations than their previous work, which results in a bit less complexity than earlier albums, yet keeps the essence intact while catching listeners off guard with new influences befitting of the album's theme, but maintains the group's underlying core that definitely is still Helsott. Vocalist Eric Dow explains further:
"The album is a concept recording. It's basically a fan fiction story about how Billy The Kid became the fastest gunfighter in the wild west. There are southern vibes with banjo and fiddle. There are Native American vibes with hand drums and flute. There is thrash metal, power metal, death metal, and even acoustic campfire parts. We think there are enough flavors on this album to keep any listener engaged and wanting to listen over and over again. The title track explores the relationship between the two main characters on the album. Musically it's melodic and thrashy, but also catchy and fun so I think this is a great song to introduce the listener to the full-length."
Heavy, and eclectically enchanting, Helsott weave tales from mythology and history and are recommended for fans of Amon Amarth, Ensiferum, and Moonsorrow.
Helsott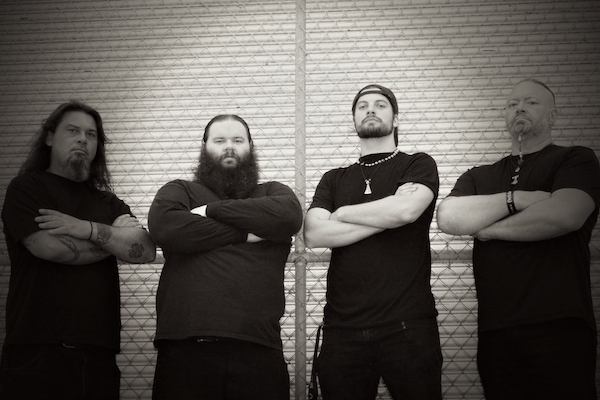 Helsott
Formed February 2010, Helsott, meaning "Fatal Illness" in Old-Norse, are a Pagan Death Metal band from southern California. The band proudly pays homage to pagan cultures and ancient mythologies while keeping true to their American influences. ​
In 2011 Helsott won a Battle of the Bands competition in southern California and their prize was time in the Vault Recording Studio in Temecula, California. They recorded their first EP titled "Folkvangr" and self-released it in early 2012. In 2013 the band embarked on their first North American tour as part of the Paganfest festival tour line-up which included Ensiferum, Tyr, Heidevolk, and Trollfest which included a performance on the main stage at the New England Metal and Hardcore Fest. In 2014 the band successfully crowd-funded their debut full-length album, "Woven," which was self-released to great reviews all over the world. 2015 saw the band touring the U.S. again on a summer headlining tour in support of "Woven" and a fall tour supporting Arkona and Heidevolk. ​
In 2016 Helsott recorded their follow-up EP titled "The Healer» which was recorded in part at Trench Studios and mixed and mastered by J-F Dagenais (Kataklysm/Ex Deo). January 2017 Helsott signed to M-Theory Audio, begun by former Century Media USA president Marco Barbieri. In May of 2017, Helsott embarked on their first European tour in support of I Am Morbid featuring members of Morbid Angel, Trans-Siberian Orchestra, and Metal Church. In June 2017 Helsott toured the west coast with Tennger Cavalry and Felix Martin. In August of 2018, Helsott embarked on their final tour headlining in support of "The Healer" EP alongside labelmates Sicocis and friends Malphas. Helsott also headlined the Maryland Folk Metal Fest on that tour. On October 12th, 2018, Helsott released their second full-length album "Slaves And Gods", via M-Theory Audio. They toured the west coast with Arkona and Korpiklaani in direct support of the release. 2019 saw the band's return to Europe playing the Wacken Winter Nights and Cernunnos Pagan festivals in February. In July they played the 30th anniversary of the Wacken Open Air Festival in Germany. In the fall they toured Europe alongside Skyforger, Finsterforst, and Enisum on the Pagan Warriors Across Europe Tour. ​
In 2020 Covid-19 halted all of Helsott's plans to play live and instead they recorded their 3rd full-length album, "Will And The Witch", which is a concept album about the wild west gunslinger Billy The Kid. In 2021 Helsott re-signed with M-Theory Audio and will release the new album in the Spring of 2022. In 2022 Helsott is scheduled to play the Dark Troll Fest in Germany and they have been confirmed to play HRH Vikings in England.

This album contains no booklet.