---
Album info
Album including Album cover
Andrea Falconieri (1585 - 1656):

1

Fantasia Echa para el muy reverendo Padre Falla

02:52

Bartolomeo Montalbano (1598 - 1651):

2

Sinfonia Marescotti a due violini

02:07

3

Sinfonia Sghemma a violino solo

03:28

4

Sinfonia Bargellini a due violini

01:41

Andrea Falconieri (1585 - 1656):

5

La Suave Melodia

03:01

6

La Preciosa

03:31

7

Su Gallarda

01:46

Bartolomeo Montalbano:

8

Sinfonia Geloso a violino solo

03:13

Giovanni Maria Trabaci (1575 - 1647):

9

Toccata seconda e ligature per arpa

02:42

10

Canzona francesa a 4 « per concerto di violini »

02:49

Giovanni Antonio Pandolfi (1624 - 1670):

11

Il Falvetti, Capriccetto Quarto à 3

01:18

12

Il Mauritio. Capriccetto à Violino Solo

05:10

Andrea Falconieri:

13

Canzona a 3

01:57

Giovanni Antonio Leoni (1600 - 1652):

14

Sonata No. 30, terzo tono

04:34

Giovanni Antonio Pandolfi: Passacaglio 'Il Marquetta' a due Violini:

15

Passacaglio 'Il Marquetta' a due Violini: Arietta Adagissimo - Brando

05:39

Bernardo Storace (1637 - 1707):

16

Balletto, per clavicembalo

02:23

Giovanni Antonio Leoni:

17

Sonata nona Secondo tono

04:46

Bartolomeo Montalbano:

18

Sinfonia Fiumicello a due violini

02:42

Giovanni Antonio Pandolfi:

19

Capriccetto Il Catalano

05:43

Anonymous:

20

Ballo a tre

04:01

Ascanio Mayone (1570 - 1627):

21

Toccata seconda

00:51

Giovanni Antonio Pandolfi:

22

Il Raimondo, Capriccetto à Violino Solo

04:15

Total Runtime

01:10:29
Info for Il Sud: Seicento Violin Music in Southern Italy

We may wonder whether the violin was a northern Italian invention, for the instrument was also to be heard in the great cities of southern Italy at an early stage, from the beginning of the 17th century onwards. Certain southern Italian composers had clearly understood that the instrument was unequalled in its ability to express emotion allied to virtuosity, including Montalbano in Palermo, Pandolfi in Messina, Falconieri and Trabaci in Naples, and Leoni in Rome. They wasted no time in channelling the freedom and expressivity of the violin into rare, fascinating and original works, some of them recorded here for the first time.
Exit
Emmanuel Resche-Caserta, violin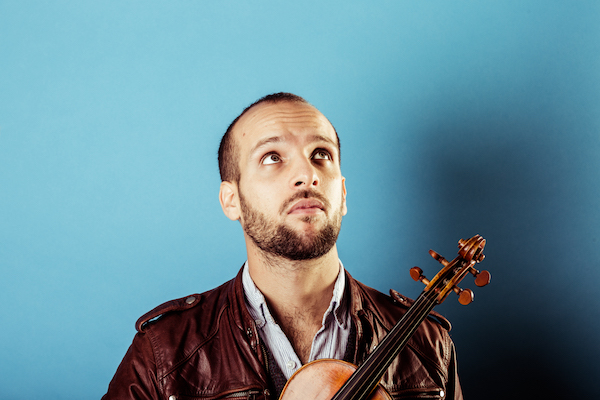 Emmanuel Resche-Caserta
is a franco-italian baroque violin player born in 1988.
Since 2017, he has been invited as concertmaster for the baroque orchestra Les Arts Florissants, conducted by William Christie, in residence at Philharmonie de Paris.
Credits include: Handel's Jephtha at the Opéra de Paris (Palais Garnier), Haydn's Creation– Lincoln Center, New York, Purcell's Dido & Aeneas and Charpentier's Actéon- USA and Colombia, Rameau's La Naissance d'Osiris / Daphnis et Eglée– South Korea, Monteverdi's Selva Morale- Europe tour (Berlin Philharmony, Paris Philharmony, The Barbican- London).
In 2019, he will continue to lead the orchestra in « Rameau Maître à danser » for the 40th anniversary of Les Arts Florissants at the Brooklyn Academy of Music- New York and for a European tour of Mozart's Finta Giardiniera, to name a few. Emmanuel is the Artistic Director on Les Arts Florissants most recent recording of Airs de cour (« Airs Sérieux et à boire III ») for Harmonia Mundi.
After graduating in Political Sciences and History of Art, he decided to dedicate himself entirely to the baroque violin. Intrigued about learning from various schools of baroque violin playing, he studied with a range of teachers in Italy, France, Spain and the US, including Enrico Onofri- Conservatorio di Palermo, François Fernandez- Paris Conservatoire National Supérieur (CNSMDP), Monica Huggett – the Juilliard School, New York and Pablo Valetti- Escola Superior de Musica de Catalunya, Barcelona.
Emmanuel regularly leads various ensembles in France, Spain and Belgium including- Il Gardellino (Marcel Ponseele and Jan de Winne, artistic directors), Marguerite Louise (Gaétan Jarry), Hemiolia (Claire Lamquet), The New Baroque Times (Pablo Garcia and Diego Fernandez), A Nocte Temporis (Reinoud Van Mechelen), Tiento Nuovo (Ignacio Prego). He has been invited as artistic director at the Conservatoire Supérieur de Paris, at the Moscow Conservatory Baroque Orchestra in 2014 as well as teaching workshops about Haydn symphonies at the Academie de Saintes.
Emmanuel has recently created his own ensemble, Exit, with whom he has recorded his first CD for the Label Passacaille. This CD is dedicated to violin music from southern Italy in the 17th century, featuring some hidden treasures from Palermo, Messina, and Naples.
In June 2019, Emmanuel has been awarded a 1675 Ruggeri violin for a period of 10 years by the Jumpstart Foundation (Amsterdam).

This album contains no booklet.