---
Album info
Album including Album cover Booklet (PDF)
Ludwig van Beethoven (1770 - 1827): Violin Sonata No. 1 in D Major, Op. 12 No. 1:

1

Violin Sonata No. 1 in D Major, Op. 12 No. 1: I. Allegro con brio

08:46

2

Violin Sonata No. 1 in D Major, Op. 12 No. 1: II. Tema con variazioni. Andante con moto

06:45

3

Violin Sonata No. 1 in D Major, Op. 12 No. 1: III. Rondo. Allegro

04:45

Violin Sonata No. 5 in F Major, Op. 24 "Spring":

4

Violin Sonata No. 5 in F Major, Op. 24 "Spring": I. Allegro

10:06

5

Violin Sonata No. 5 in F Major, Op. 24 "Spring": II. Adagio molto espressivo

05:07

6

Violin Sonata No. 5 in F Major, Op. 24 "Spring": III. Scherzo. Allegro molto

01:27

7

Violin Sonata No. 5 in F Major, Op. 24 "Spring": IV. Rondo. Allegro ma non troppo

07:14

Violin Sonata No. 6 in A Major, Op. 30 No. 1:

8

Violin Sonata No. 6 in A Major, Op. 30 No. 1: I. Allegro

07:17

9

Violin Sonata No. 6 in A Major, Op. 30 No. 1: II. Adagio molto espressivo

06:53

10

Violin Sonata No. 6 in A Major, Op. 30 No. 1: III. Allegretto con variazioni

08:46

Jörg Demus (1928 - 2019): Cello Sonata in C Minor, Op. 35 "Il tramonto" (Version for Violin & Piano):

11

Cello Sonata in C Minor, Op. 35 "Il tramonto" (Version for Violin & Piano): I. Il tramonto

12:49

12

Cello Sonata in C Minor, Op. 35 "Il tramonto" (Version for Violin & Piano): II. Chant d'automne

02:32

13

Cello Sonata in C Minor, Op. 35 "Il tramonto" (Version for Violin & Piano): III. Valse

02:14

14

Cello Sonata in C Minor, Op. 35 "Il tramonto" (Version for Violin & Piano): IV. Le vol d'oiseaux

04:16

Violin Sonata, Op. 7 "Gahberg":

15

Violin Sonata, Op. 7 "Gahberg": I. Elegie

05:01

16

Violin Sonata, Op. 7 "Gahberg": II. Scherzo phantasque

05:52

17

Violin Sonata, Op. 7 "Gahberg": III. Nocturne

04:15

18

Violin Sonata, Op. 7 "Gahberg": IV. Final

05:53

Violin Sonata, Op. 48 "Sylvestre":

19

Violin Sonata, Op. 48 "Sylvestre": I. Le muguet

09:32

20

Violin Sonata, Op. 48 "Sylvestre": II. Conte des feés

04:53

21

Violin Sonata, Op. 48 "Sylvestre": III. Chez les nains

06:10

22

Violin Sonata, Op. 48 "Sylvestre": IV. Nocturne

04:43

23

Violin Sonata, Op. 48 "Sylvestre": V. Le passereau

06:22

Johann Sebastian Bach (1685 - 1750): Violin Sonata in E Major, BWV 1016:

24

Violin Sonata in E Major, BWV 1016: I. Adagio

04:38

25

Violin Sonata in E Major, BWV 1016: II. Allegro

03:13

26

Violin Sonata in E Major, BWV 1016: III. Adagio ma non tanto

04:43

27

Violin Sonata in E Major, BWV 1016: IV. Allegro

04:06

Violin Sonata in C Minor, BWV 1017:

28

Violin Sonata in C Minor, BWV 1017: I. Siciliano. Largo

04:05

29

Violin Sonata in C Minor, BWV 1017: II. Allegro

05:31

30

Violin Sonata in C Minor, BWV 1017: III. Adagio

03:14

31

Violin Sonata in C Minor, BWV 1017: IV. Allegro

04:00

Robert Schumann (1810 - 1856): 3 Romances, Op. 94 (Version for Violin & Piano):

32

3 Romances, Op. 94 (Version for Violin & Piano): No. 1, Nicht schnell

03:25

33

3 Romances, Op. 94 (Version for Violin & Piano): No. 2, Einfach, innig

04:00

34

3 Romances, Op. 94 (Version for Violin & Piano): No. 3, Nicht schnell

04:50

Antonín Dvořák (1841 - 1904): Violin Sonatina in G Major, Op. 100, B. 183:

35

Violin Sonatina in G Major, Op. 100, B. 183: I. Allegro risoluto

05:21

36

Violin Sonatina in G Major, Op. 100, B. 183: II. Larghetto

03:51

37

Violin Sonatina in G Major, Op. 100, B. 183: III. Scherzo. Molto vivace

02:47

38

Violin Sonatina in G Major, Op. 100, B. 183: IV. Finale. Allegro

05:44

Total Runtime

03:25:06
Info for Beethoven, Demus & Others: Violin Works

The work of pianist Jörg Demus was one of the most important musical exports of Austria after the end of the Second World War. In addition to many other musical partners Demus also entertained a very fruitful collaboration with the established Salzburg violinist Thomas Albertus Irnberger, which is documented on the occasion of his death with 90 years in April 2019 with this 3-CD collection with mostly unpublished recordings. In addition to Ludwig van Beethoven's Violin Sonatas No. 1 in D major Op. 12 No. 1, No. 5 in F major Op. 24 and No. 6 in A major Op. 30 No. 1 (CD 1) there are two Sonatas for violin and piano by Johann Sebastian Bach (BWV 1016/1017), the Three Romances Op. 94 by Robert Schumann and the famous Sonatina in G major Op. 100 by Antonin Dvorak (CD 3). The fact that Jörg Demus, in addition to his extensive concert tours and engagements as lecturer, appeared also as a composer in the last decades of his life is only known to proven connoisseurs. On CD 2 one can hear his Sonatas for Violin and Piano Op. 7 "Gahberg Sonata", Op. 35 "Il tramonto" and Op. 48 "Sonata sylvestre / Forest Sonata".
Jörg Demus, piano
Thomas Albertus Irnberger, violin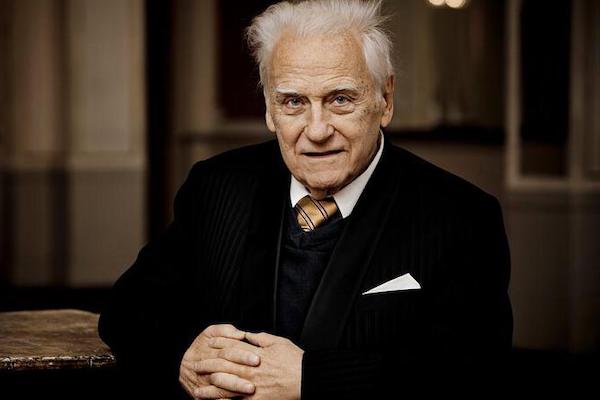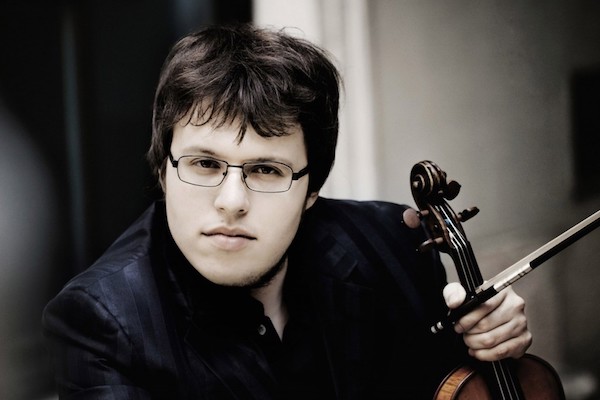 Jörg Demus
born in St Pölten, Austria, on December 2, 1928 received his first piano lessons at the age of six and was allowed to enter the Vienna State Academy of Music when he was eleven. After completing these studies in Vienna, he went abroad to study with Yves Nat in Paris, then with Walter Gieseking in Saarbrücken, later with Wilhelm Kempff, Edwin Fischer and Arturo Benedetti Michelangeli. When Jörg Demus was 14 years old he made his debut at the famous Brahms Saal for the prestigious «Gesellschaft der Musikfreunde» in Vienna. In 1950 he gave first concerts in Zurich and London and in 1951 he went on his first extended tour to South America.
In the course of his life Jörg Demus has achieved a repertory of more than 350 LPs, Compact Discs, and Video recordings. Several of Jörg Demus' recordings were inspired by his passion of collecting old historic keyboard instruments. Jörg Demus died in Vienna on April 16, 2019.
Thomas Albertus Irnberger
is among Austria's leading violinists. The German specialist press wrote: «like hardly any other young artist in his field, in recent years Irnberger has secured himself a leading position amongst Europe's violinist elite.»
At the age of 15 in the Palais des Beaux Arts in Brussels he celebrated a debut that attracted widespread attention as the soloist in Tchaikovsky's Violin Concerto. Since then Thomas Albertus Irnberger has performed as a soloist and chamber musician in major concert halls in Europe, Israel and in Asia, and has been invited to renowned international music festivals.
His recordings have regularly been the recipients of prizes and top rankings from the international press. Since 2008 Thomas Albertus Irnberger has devoted himself to research into and the rediscovery of «ostracised composers», and in Israel he played the first performance of the violin concerto by Hans Gál.

Booklet for Beethoven, Demus & Others: Violin Works