---
Album info
Album including Album cover
I`m sorry!
Dear HIGHRESAUDIO Visitor,
due to territorial constraints and also different releases dates in each country you currently can`t purchase this album. We are updating our release dates twice a week. So, please feel free to check from time-to-time, if the album is available for your country.
We suggest, that you bookmark the album and use our Short List function.
Thank you for your understanding and patience.
Yours sincerely, HIGHRESAUDIO
Eric Bloom (b. 1944), Graham Russell (b. 1950): In the eyes of a Child:

1

In the eyes of a Child

04:35

Walter Afanasieff (b. 1958), Mariah Carey (b. 1969): Hero:

2

Hero

04:13

Lynn Ahrens (b. 1948), Stephen Flaherty (b. 1960): Make Them Hear You:

3

Make Them Hear You

02:15

Frederick Mercury (1946 - 1991): Love of My Life:

4

Love of My Life

03:34

John Miles Errington (1949 - 2021): Music:

5

Music

05:48

Heidi Stern (b. 1960), Wolfgang Detmann (b. 1946), Gunther Mende (b. 1952): The Power of Love:

6

The Power of Love

04:50

John Turner (1929 - 2020), Geoffrey Parsons (1929 - 1995), Charlie Chaplin (1889 - 1977): Smile:

7

Smile

03:35

Bryan Adams (b. 1959), Robert John Lange (b. 1948), Michael Kamen (1948 - 2003): Have You Ever Really Loved a Woman?:

8

Have You Ever Really Loved a Woman?

04:47

Giovanni Meccia (b. 1931), Carlo Pes (1927 - 1999), Italo Nicola Greco (1934 - 2012): Il mondo:

9

Il mondo

04:14

Giovanni Rota (1911 - 1979): A Time for Us:

10

A Time for Us

04:19

Lucio Quarantotto (1957 - 2021), Francesco Sartori (b. 1957): Canto della terra:

11

Canto della terra

03:59

Linda Thompson (b. 1950), Richard Marx (b. 1963): To Where You Are:

12

To Where You Are

04:06

Total Runtime

50:15
Info for In the Eyes of a Child

One of Australia's most celebrated voices, Mark Vincent, returns with a new album. Featuring the impeccable production and arrangement of Chong Lim, 'In The Eyes Of A Child' captures Mark at a genuine crossroads in his career.
Armed with a wealth of life experience and a maturity well beyond his years, 'In The Eyes Of A Child' features a selection of songs that run the full gamut of emotions. From contemporary classics such as 'The Power Of Love,' 'Hero' and the heartfelt Queen standard 'Love Of My Life' to breathtaking operatic standards 'Il Mondo' and 'Canto Della Terra' for which Mark is renowned.
From the moment he first appeared on our television screens as a fresh-faced 15 year-old, Australia has loved Mark Vincent like one of the family. We have watched him grow up in front of our eyes, and shared in his successes and milestones, including nine consecutive albums reaching #1 on the ARIA Classical Crossover charts.
Now, with the release of his tenth studio album, In The Eyes Of A Child, Mark welcomes us into his family, with a collection of songs that reveal Mark's own hopes, dreams and aspirations for his future.
Since Mark's last album his life has changed hugely – first when he got married, and again when his first child was born. It was the birth of his son Matteo in 2020 that most profoundly influenced the album, giving Mark a burst of determination to tackle the next phase of his career with all his heart, the way he has always approached his singing.
"Having my son come into the world – it changed me," Mark says. "It's the best thing that ever happened in my life. When he was born, I looked into his eyes and it's like I knew him forever. It was the strangest, most beautiful feeling ever."
Mark has always been a gifted interpreter of songs, but having gone through these major life changes he now has the lived experience to connect even more deeply than before. That young boy has become a man, with the maturity to draw on his own life to inform how he performs these songs.
In The Eyes Of A Child is a culmination of everything that has come before. The title track is a song Mark could not have sung three years ago, but thanks to Matteo he can now make it his own. So too 'Have You Ever Really Loved A Woman?', made so famous by Bryan Adams that initially, Mark couldn't find his own take on it. But then he thought of his wife, and all they had been through together, and he immediately knew exactly how he wanted to sing it.
The album also wears Mark's influences on its sleeve. There are songs made famous by his idols Josh Groban ('To Where You Are') and Andrea Bocelli ('Canto Della Terra'). There are songs that Mark associates with his grandfather Bruno, who was his inspiration, and who taught him to work hard and follow his dreams, but who would not live to see Mark's television debut: songs by Ennio Morricone ('Il Mondo') and Henry Mancini ('A Time For Us', best-known as the 'Love Theme' from Franco Zeffirelli's film of Romeo and Juliet), and which moved Mark to tears when he heard the extraordinary arrangement that his longtime friend and collaborator, Chong Lim AM, made especially for him.
It's obvious that Mark has a deep connection to his devoted fanbase, the ones that have sent his albums to the top of the ARIA charts. It's something he has never taken for granted, and he dedicates In The Eyes Of A Child to those that have stuck with him throughout his career.
Mark's career to date has been a series of extraordinary highs, things he never could have imagined when he stepped on the stage of Australia's Got Talent at 15. After blowing us away with his stunning rendition of Puccini's world-famous aria 'Nessun Dorma', he would go on to win the entire competition in 2009.
In 2014 he made his musical theatre debut in Dirty Dancing, followed closely by being handpicked by Dame Julie Andrews to play Freddy Einsfeld Hill in My Fair Lady. In 2017 Mark recorded his tribute to his boyhood idol, the great Mario Lanza, featuring the groundbreaking virtual duet 'Because You're Mine', with Mark singing alongside the legendary tenor.
In the years since Mark has toured the UK with Katherine Jenkins, performing at iconic venues including London's Royal Albert Hall and he has toured Ireland with Irish tenor Tommy Fleming. He has worked with Susan Boyle, Marina Prior and Anthony Warlow, and his Australian national tours are always sold-out affairs.
In The Eyes Of A Child marks an exciting new milestone in Mark's journey, and he looks forward to taking you all along for the ride with him.
Mark Vincent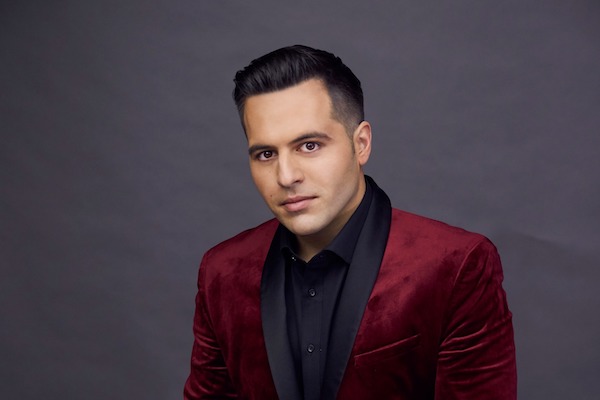 Mark Vincent
Completing his HSC in 2011, Mark has embraced tertiary studies whilst continuing his recording and performing career. Mark is a full time student at the Australian Institute of Music where he is studying everything from song writing to dance. He has found a new passion for musical theatre and hopes to branch further into that world. Yet his feet are still firmly on the ground. His heart always connected to his much loved family and genuine affinity to his fans which is endearing and true. Despite the success of his five albums, Mark declares his favourite pastimes to be simple ones: hanging out with his buddies, enjoying the company of older folk, and delving - for the first time - into the possibility of young romance. And of course, singing. Always singing - his first, last, undying passion. It's something stamped in his DNA, the blueprint to his life. "Music is in me. You know, when you're born with something inherently in you? I think we are all born with a voice capable of singing, but not everyone has it in them to use it. "I grew up listening to all the beautiful arias, and I feel that when I sing, I really am the happiest guy on earth. All my troubles are gone. And you know, many people have a great voice, an exceptional voice even, but what's missing is the storytelling. It's not just about singing notes it's always, always about telling a story". Mark's own story remains a remarkable one. The Sutherland Shire-raised young man won the third series of 'Australia's Got Talent' in 2009 (an experience he has described as "surreal, amazing") and soon he was signed to the Sony Music record label - and the world really sat up to take notice. His first album 'Mio Visione - My Dream', captured the hearts of many and he has continued to do so with his following four albums 'Compass', 'The Great Tenor Songbook', 'Songs from the Heart' and most recently 'The Quartet Sessions'. In amongst all that he has appeared on stage alongside Whitney Houston, Katherine Jenkins, The Priests and Kate Ceberano. His star continues to rise - indeed, it seems it is only the start of his stratospheric ascent. On his current album "The Quartet Sessions' he once again showcases his singing talent. His voice has a depth and clarity which belies his years, songs which appear on the album such as the beautiful rendition of 'Besame Mucho' and 'Viva La Vida' clearly illustrate this and truly showcase his innate, God-given gift. 'The Quartet Sessions' is a collection of enduring classics (including 'Burn for You' and 'Runaway'), tracks from iconic musicals such as West Side Story and Les Miserables, as well an assortment of contemporary songs such as 'Halo' and 'Jar of Hearts'. For Mark, singing a collection of classics and contemporary songs was aimed to inspire a youthful audience. "The new record features a variety of songs. It has quite a different feel to my previous records. I've taken a few pop songs and given them a classical feel. I'm hoping to also appeal to the younger generation". Mark again teamed up with conductor/producer, friend and mentor Chong Lim, backed by the glorious sound of a string quartet. "A lot of the songs we were doing were written for forty piece orchestras; they're big songs. Chong and I had to find a way to adapt them for four string players". The end result is a collection of songs which move, tell a story, and have the ability to resonate amongst generations; it's exactly what Mark aimed to achieve. "I say to people of my generation - give this music a chance, because you will be surprised at how it can move you, speak to you. These are songs which have the ability to transcend several generations, and their lyrics are simply timeless". And then of course there is Mark the performer. The ultimate showman, the consummate professional. His utter ardour for connecting with the people he is performing for - you get a sense it's what he lives for. "When you're in front of an audience, they're silently cheering you on, and your adrenaline is through the roof, and you want to deliver the song while telling the story". Indeed, standing ovations are commonplace at a Mark Vincent show. "I am emotionally connected to each of the songs I sing, and at a recent show I sang 'My Way' - just introducing it to the crowd moved me to tears. The audience stood and cheered, which moved me even more. I was once told by a producer that a standing ovation should be taken all in, enjoyed in the moment. And that's what I did. I was told later it was the way I sang the songs which told that story. I think that's what singing is all about. Telling a story. Making people think. Bringing a tear to their eye. I always feel twenty kilos lighter after belting out a tune. Singing, for me, is like therapy. And likewise, if I'm down I'll put on a song. It's beyond uplifting - it's what keeps me going". And continuing to deliver is what we want Mark to do. To carry on gracing the world with his dulcet tones, to keep showcasing old school classics laced with the Mark Vincent slant. It's what he wants; it's what his fans want. And Mark Vincent - with the world at his feet - is ready again to give all that…and more.

This album contains no booklet.