---
Album info
Album including Album cover
1

Show Your Face

04:09

2

Eye Glass

04:54

3

Play You in My Dreams

04:18

4

Start Again

04:23

Total Runtime

17:44
Info for Show Your Face

South London-based multi-instrumentalist, vocalist & producer Quinn Oulton readies new music with his upcoming EP 'Show Your Face' releasing in July 2021 on London-based label DeepMatter. Exhibiting a raw sound, melding soaring vocals and tangled acoustic textures with abstract electronics, the EP's sound is deeply unique.
On 'Show Your Face', Oulton joins forces with vocalist (and Touching Bass family member) Demae to offer an airy jazz number, highly refined in its cadences and colours. With a graceful arrangement and elegant vocals, the first single acts as the perfect appetizer for this new body of work.
In the EP's second single 'Start Again', Quinn presents an airy atmosphere with delightful colours, cadences, and elegant arrangements. This is the first time Oulton teams up with another producer on his own music, joining forces with Conor Albert, he offers skillfully crafted verses alternated with soaring choruses, the track acquires great emotional dynamic. The spacious number is composed of powerful and hopeful melodies accentuating his endearing vocals, certain to leave listeners enriched.
Quinn picked up the saxophone at a very young age. His thirst for music was nurtured by mentors Julian Joseph and Soweto Kinch - two heavyweights of the UK Jazz scene. Although Jazz was his focus, he was surrounded by blues, folk and rock music at home thanks to his dad's diverse record collection. His first leap into the world as a solo artist was a self-produced EP in 2017 exploring his own voice and skills as an instrumentalist to tell a story. This release earned him a place on the 2018 Red Bull Music Academy, a two-week course that entirely changed his scope and ambitions. His eyes were opened to the world of electronic music culture - working alongside legends such as Just Blaze and father of techno Mike Banks (Underground Resistance). His 2020 EP 'Long Gone' presented a more refined sound as he honed his production skills and pushed his vocal abilities further. He tours and regularly appears on radio and TV alongside 2020 Mercury Nominee, Moses Boyd.
Quinn Oulton, bass, drums, vocals, synths, saxophone, guitar, keyboards
Damae Wodu, vocals (on Show Your Face)
Conor Albert, guitar, Production (on Start Again)
Chris Hill, drums (on Show Your Face, Eye Glass)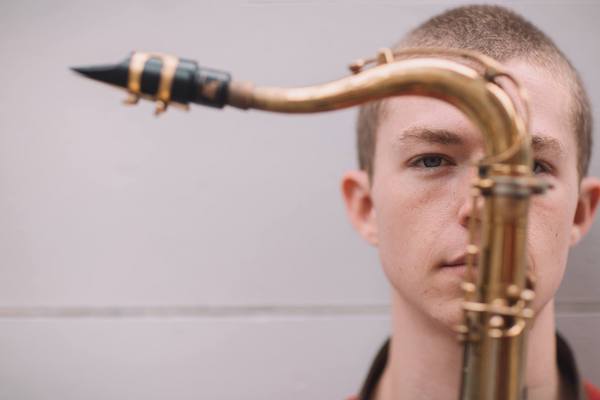 Quinn Oulton
South London based multi-instrumentalist, vocalist & producer Quinn Oulton exhibits a raw sound, melding soaring vocals and tangled acoustic textures with abstract electronics.
Quinn picked up the saxophone at a very young age. His thirst for music was nurtured by mentors Julian Joseph and Soweto Kinch - two heavyweights of the UK jazz scene.
His first leap into the world as a solo artist was a self-produced/released LP (self- titled, 2017), when he began exploring his own voice and how to manipulate his skills as an instrumentalist to tell a story. This album earned him a place on the 2018 Red Bull Music Academy. The two week course entirely changed his scope and ambitions, as his eyes were opened to the world of electronic music culture - working alongside legends such as Just Blaze and father of techno Mike Banks (Underground Resistance).
His self-released EP 'Long Gone' (2020) presented a more refined sound to his debut as he honed his production skills and became more connected to his voice.
'Show Your Face', is Quinn's latest EP to be released 23 July 2021. Two singles are being released in advance of the full EP - the title track Show Your Face on 27 May, and 'Start Again' on 24 June. The project shows his strengths when working with collaborators Conor Albert and Demae, and a new, exciting way of blending traditional jazz and electronic soundscapes.
He also tours and regularly appears on radio and TV alongside 2020 Mercury Nominee, Moses Boyd.

This album contains no booklet.