---
Album info
Album including Album cover
I`m sorry!
Dear HIGHRESAUDIO Visitor,
due to territorial constraints and also different releases dates in each country you currently can`t purchase this album. We are updating our release dates twice a week. So, please feel free to check from time-to-time, if the album is available for your country.
We suggest, that you bookmark the album and use our Short List function.
Thank you for your understanding and patience.
Yours sincerely, HIGHRESAUDIO
1

Building Song

04:03

2

Secret Plan

03:31

3

Bow Wow

03:19

4

Elevator

03:45

5

Walking Talking Marathon

03:30

6

Frame Of Reference

02:31

7

Feedback Loop

02:58

8

What's On Your Mind

04:17

9

No Placing

03:16

10

Vibrate

02:34

11

Electric Silence

03:01

12

Kites

03:08

13

Put Me On The Finish Line

02:58

14

Cycle of Life

01:45

15

Adult Glamour

03:59

Total Runtime

48:35
Info for The world within our bedrooms

Drug Store Romeos formed at college in nearby Farnborough when childhood friends Jonny (Gilbert) and Charlie (Henderson) pinned an ad about finding a bassist for their new band to the school's notice board – Sarah (Downie) replied and quickly proved herself a better vocalist than either of them. The trio spent the subsequent 24 hours discussing their love of Stereolab over messenger and watching Portishead and Mild High Club videos in the college's computer lab.
The band soon cut their teeth playing live at college, at Guildford Boiler Room and Aldershot West End Centre, rather than the familiarly trodden paths in London although they did frequent Brixton Windmill as often as three times a week at one point; carrying all of their equipment back to Fleet by train as none of the band were old enough to drive. The 3am walk home from Fleet station, with amps and flight cases slung over their shoulder, would become a rite of passage; the quiet countryside influencing their hushed atmospheric sound and nocturnal aesthetics as much as their shared affection for Suburban Lawns, Broadcast, and Tom Tom Club.
Drug Store Romeos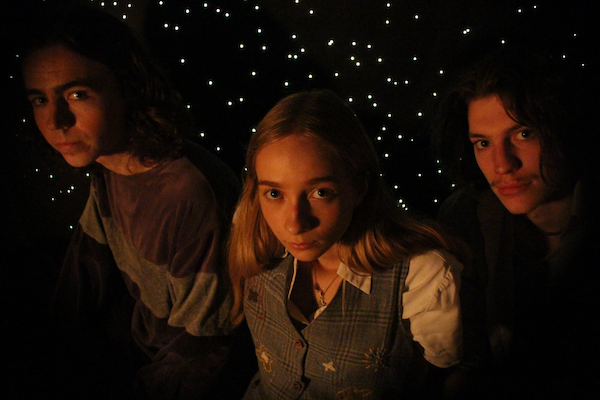 Drug Store Romeos
When Drug Store Romeos first got together they would spend long weekends writing songs together in their teenage bedrooms. It was a joyous period and one they never wanted to leave. In many ways they haven't. The bedroom days came soon after the group formed following Charlie Henderson and drummer Jonny Gilbert pinning an ad on the wall at their college looking for a bassist. Sarah Downie replied and, despite not playing bass, was welcomed into the fold. Not only did the time spent in their bedrooms result in new music, mainly pulled from long, zig-zagging jam sessions, the three also became friends while shut away from the rest of the world. Holed up in the commuter town of Fleet, a commuter town perhaps best known for those who have passed through it rather than making a home there, they'd trade stories, share obsessions, and pull up beloved YouTube clips. A band and new friendships formed in real time. Naturally, by the time they came to record their debut album, all three members of the band were keen to hold onto that wide-eyed energy for as long as possible.
"We always wanted to create our own world," Sarah explains, "and I think we did." When the band moved to London they'd still feel part of the bubble they formed at home in Fleet. "As a three we have this force field around us," Sarah remembers of a time spent buoyed by the tight bonds she'd formed back home. This feeling of otherworldliness is apparent in Drug Store Romeos' music, a hypnotic and delicate mix of dream pop and synth-led exploration. Their songs have always had a spacey quality to them, romantic yet a little alien. On debut album The World Within Our Bedrooms they wanted to shake things up more than ever, add more weight to their featherlite production and begin looking out through the curtains. Suddenly the walls of the bedroom were looking less protective and more like something to push beyond. "The new songs reflect a more mature side of our personality," Charlie says when comparing the album to early single Now You're Moving. "The emotional experiences of being a young adult are all in there."
Recorded at London's Eastcote Studios with regular producer George Murphy, the band likens their record to giving the listener a "bird's eye perspective" of their experiences as they move out of adolescence and into young adulthood. The band cut their teeth playing live at college as well as becoming regulars at south London's Windmill venue, making the trek into the capital as often as three times a week at one point. Those late night shows would mean early morning trips back home and that sleepy return to the quiet reality of small town life left a lasting impact on the band.
The World Within Our Bedrooms is an album filled with a "surreal suburban" quality, according to Jonny; kaleidoscopic exploration from the heart of middle England. Testament to Drug Store Romeos sense of adventure is the innovative ways in which they wrote some of the songs on the album. Inspired by Dadaist poet Hugo Ball, Sarah scoured Ebay for vintage magazines she could use for lyrical inspiration. Her eventual haul consisted of technology publications dating back to the 1960s and the trashy, lurid documents of '90s celebrity culture. Using the Cut-Up technique, essentially stripping the printed word of context and reapplying it in new forms, Sarah was able to use these works as a springboard for her own thoughts and feelings. "It's a great method for writing in a way that addresses what's going on without being so direct about it," she says. "Your mind picks together patterns and associations, it's not completely random. It's about evading critical thoughts and finding something natural and uninhibited." Album tracks including Walking Talking Marathon, Put Me On The Finish Line, and Electric Silence are all a product of this methodology.
Natural and uninhabited is an apt description for the music Drug Store Romeos make. Warm but sprightly, the trio employ a small army of vintage synths to create pillowy canvases on which to fall into. Abstract in unique and memorable ways, the trio make their emotional intent clear even if the subject matter remains somewhat obscured from view. "A lot of our songs have this swaying motion and soft energy to them," Charlie says while explaining that they imagine most people will listen to their album alone, most likely as they wind down at night. Citing similarly idiosyncratic acts such as Stereolab, Broadcast, and Australia's Mild High Club as guiding lights, Drug Store Romeos worked with producer George Murphy to take their humble sound and elevate it. Having worked with the band since their earliest studio sessions, Murphy brings weight to the album without compromising the fragility. Adding to the homely nature of the sessions, Sarah hung a print of transcendentalist artist Agnes Pelton's 1934 piece Orbits in the vocal booth. "When I look at that painting it's where I want my voice to exist," she says of the work by an artist renowned for her abstract approach to depicting stillness. "I would sing and try to immerse myself in that."
Submerged in an existence of their own creation, Drug Store Romeos have carved something extraordinary from the mundane. A testament of youth and adventure, The World Within Our Bedrooms is an escape from mundanity and proof that art will always open a door for those looking to escape. At a time when reality bites harder than ever, who would deny anyone the pleasure of that?

This album contains no booklet.