---
Album info
Album including Album cover
I`m sorry!
Dear HIGHRESAUDIO Visitor,
due to territorial constraints and also different releases dates in each country you currently can`t purchase this album. We are updating our release dates twice a week. So, please feel free to check from time-to-time, if the album is available for your country.
We suggest, that you bookmark the album and use our Short List function.
Thank you for your understanding and patience.
Yours sincerely, HIGHRESAUDIO
1

Hotel Worth

03:55

2

Useless Nights

02:57

3

I Am Lost

02:26

4

About Blank

02:37

5

River Don't Care

02:19

6

The Least Impossible

02:34

7

Traffic Is Magic

02:25

8

Away Is Mine

02:23

9

No Solace

02:18

10

Untitled(Gord Downie/Away Is Mine)

03:44

11

Hotel Worth

02:57

12

Useless Nights

02:28

13

I Am Lost

02:12

14

About Blank

02:06

15

River Don't Care

02:13

16

The Least Impossible

02:10

17

Traffic Is Magic

02:27

18

Away Is Mine

02:23

19

No Solace

01:57

20

Untitled(Gord Downie/Away Is Mine)

03:31

Total Runtime

52:02
Info for Away Is Mine

Away Is Mine is the seventh solo studio album by Gord Downie, due for release on October 16, 2020. The album was recorded in the span of four days in July 2017, three months prior to Downie's passing.
A characteristically questing and idiosyncratic work that holds fast to its author's unwavering artistic spirit, Away Is Mine is a contemplation on Gord's life, written with his deft hand and forever inscrutable sense of humour even as he locked eyes with the Great Inevitability.
"This won't be his last release, but these are the final ten songs Gord sang before he passed away. The last time he ever sang into a mic," brother Patrick Downie wrote in a statement. "That's pretty special to us."
"They are the same record," avows Spencer, referring to the loosely labeled 'electric' and 'acoustic' discs. "Just different mixes." Finlayson asked for the stripped-back versions after the fact "purely for selfish reasons," as personal mementos, but their standalone value has since grown clear to all who have heard them. They could be mistaken for two entirely different recordings, and yet they are actually the same – the same lightning, just in different bottles.
Whereas Introduce Yerself – Gord's 23 songs of personal love letters to family, friends, and the Bruins – was his farewell album, arriving just ten days after his passing, the posthumous Away Is Mine is Gord's existential reckoning with life. Away Is Mine is a document of an artist disappearing into his art, essentially becoming his art through that process. Here, laid bare, is the process.
"River Don't Care" ambles along the water's edge following a deceptively breezy groove through which to confront or accept that the river of time "don't care" what any of us "write for it" or "cast into it." "About Blank" morphs from a plaintive bluegrass picker into a bizarrely upbeat electro-hoedown lifted by the auspicious refrain of 'Come be surrounded / By those who love you the most' before it dives into the ether. "I Am Lost" could find dub-like buoyancy in naked acoustic blues "writing about words" pondering 'the waste, the glory, and the vast debris.' "Untitled", the last chapter, spins the emotional heft of the final dissolve, claiming "night is good, think of it like that" with a ghostly but dazzling exhale.
"I found him to be pretty quiet. And now, looking back, it was kind of the 'last gasp' almost because when Gord got this one done, Gord went irretrievably downhill," recalls brother Patrick. "Almost to the day we got back to Toronto, there's no way he would have been able to do it. Things just went really far south."
Despite the grim undercurrent or the "elephant in the room" during the album's recording, joy is the guiding light of what Gord, together with loved ones, created over four summer days by Lake Ontario: joy in friendships, joy in family, joy in collaboration, joy in writing, joy in music and joy in mystery. Everyone involved in the making of Away Is Mine refers to it as "a gift," the magic of which has carried through the completion of the album over this summer 2020, including the creation of the original artwork by Clare Downie and Willo Downie, Gord's daughters.
Like all of the music and the poetry and the memories and the mad genius Gord gave us during his 53 years on our planet, Away Is Mine is immortal. And yet it took a fearless reckoning with his own mortality to get us here.
"We feel so blessed for this opportunity. Simply described as gratitude. Grateful for another gift from Gord. A gift that has been our beautiful companion and an unintended source of solace in the face of life without him," Josh and Patrick share. "May it lift you up and carry you onwards and upwards always and forever.
Away Is Mine. Away Is Yers."
"Simply described as gratitude. Grateful for another gift from Gord. A gift that has been our beautiful companion and an unintended source of solace in the face of life without him." (Jane Stevenson, timminspress.com)
Gord Downie, vocals, guitar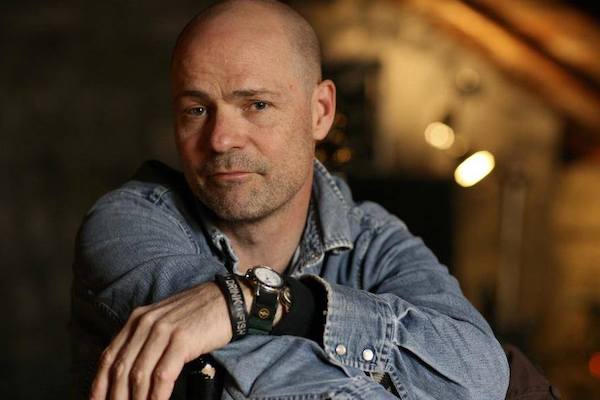 Gord Downie
Singer- and songwriter and poetic improviser Gordon Downie was one of Canada's most treasured artists. Beginning in 1983, he fronted Kingston, Ontario's beloved trad rock band the Tragically Hip, and Downie's lush and charming lyrical stories garnered the Hip many fans across the globe, particularly in pockets of New York and Michigan. Downie, however, was the leading force -- not only as a vocalist, but also as an artist. The clarity in his songwriting exuded a passion, a poignant sensibility for the most simplistic and the most complex.
Aside from his band duties, the new millennium saw Downie making time for a solo career. He worked alongside Skydiggers' Josh Finlayson and ex-Odds bass player Steven Drake to complete and produce his first solo effort, 2001's Coke Machine Glow. Coke Machine Glow, which was also the title of his first book of poetry and prose, was recorded in Gas Station Studios and featured additional help from Barenaked Ladies' Kevin Hearn, bandmate Paul Langlois, and Don Kerr of Rheostatics. A second solo effort, Battle of the Nudes, appeared two summers later, and featured guest spots from Julie Doiron, Josh Finlayson, and members of experimental blues-rock outfit the Dinner Is Ruined. Released in 2010, the well-received The Grand Bounce featured production work by Death Cab for Cutie's Chris Walla, and in 2014 Downie collaborated with the Sadies on And the Conquering Sun.
On May 24, 2016 Downie announced through the Tragically Hip's website that he had been diagnosed with a terminal brain tumor. He continued to tour in support of the band's recently released 13th studio album, Man Machine Poem, culminating in a massive final concert at the Rogers K-Rock Centre in Kingston that was streamed and broadcast live via the CBC to an estimated 11.7 million people. Downie died on October 17, 2017 at the age of 53. (MacKenzie Wilson, AMG)

This album contains no booklet.