---
Album info
Album including Album cover Booklet (PDF)
Claude Debussy (1862 - 1918): Études, CD 143, Livre 1:

1

Debussy: Études, CD 143, Livre 1: IV Pour les sixtes (Arr. for Ensemble by Thibault Bertin-Maghit)

04:05

Préludes, Livre 1, CD 125:

2

Debussy: Préludes, Livre 1, CD 125: VI. … Des pas sur la neige (Arr. for Ensemble by Thibault Bertin-Maghit)

04:05

Suite bergamasque, CD 82:

3

Debussy: Suite bergamasque, CD 82: IV. Passepied (Arr. for Ensemble by Thibault Bertin-Maghit)

03:34

4

Debussy: Suite bergamasque, CD 82: III. Clair de lune (Arr. for Ensemble by Thibault Bertin-Maghit)

05:23

Luna Pearl Woolf (b. 1973): Contact:

5

Woolf: Contact

12:02

Claude Debussy: La mer, CD 111:

6

Debussy: La mer, CD 111: I. De l'aube à midi sur la mer (Arr. for Ensemble by Thibault Bertin-Maghit)

08:30

7

Debussy: La mer, CD 111: II. Jeux de vagues (Arr. for Ensemble by Thibault Bertin-Maghit)

07:07

8

Debussy: La mer, CD 111: III. Dialogue du vent et de la mer (Arr. for Ensemble by Thibault Bertin-Maghit)

08:48

Total Runtime

53:34
Info for Vagues et ombres

collectif9, well-known for its innovative programming and its unique arrangements of the classical repertory, here tackles the music of Debussy, following a first recording devoted to Mahler (ALPHA770). With Clair de lune , La Mer and Des pas sur la neige, the Montreal collective invites us into a sumptuous theatre of shadows and waves: 'Could we, as nine string players, perform Claude Debussy's La Mer and do it justice? In a musical style where timbre and colour are paramount, attempting to interpret this emblematic work seemed outrageous; but come to think of it, we like a challenge. This is certainly a reinterpretation. Being fewer in number allows us to otherwise reveal a rich rhythmic interplay already present in the work while shedding new light on the balance of voices and harmonies.' A work by composer Luna Pearl Woolf completes the programme: Contact, 'a sonic view into the underwater world of beluga whales in the St Lawrence Estuary'.
collectif9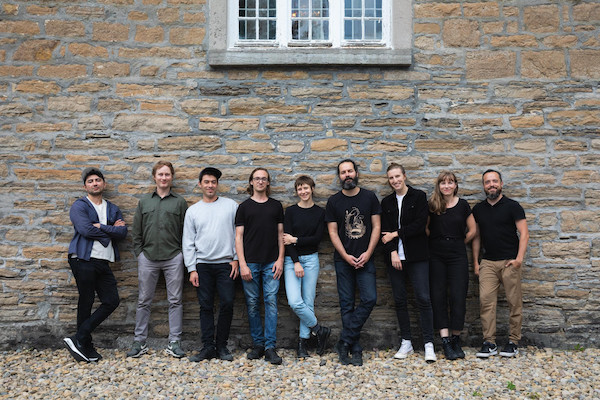 collectif9
Known for innovative programming and unique arrangements of classical repertoire and new commissions, Montréal-based string ensemble collectif9 performs "with an infectious energy and vigour that grabs an audience's attention" (The WholeNote). Now celebrating its tenth anniversary, collectif9 attracts diverse audiences in varied spaces. For an experience that combines the power of an orchestra with the agility of a chamber ensemble, collectif9 explores partnerships with composers, video artists, poets, lighting designers, and other inspired collaborators to create multidisciplinary projects that come to life in acoustic or amplified settings.
On international tours, on films, and its Alpha Classics CDs, collectif9 enjoys critical acclaim: "brilliant arrangements, exuberantly performed" (The Wholenote); "Satirical and serious, frivolous and intense, No Time for Chamber Music delves into rich and complex musical textures with original and intimate arrangements." (BroadwayWorld.com); "Their eagerness to break the mold while upholding the highest performance standards make collectif9 a model for 21st century classical music ensembles." (Oregon Arts Watch)
Worldwide tour highlights include concerts at the Festival de Música de Morelia (Mexico), La Folle journée de Nantes (France), Festival de Lanaudière (Québec), Shenzhen Concert Hall (China), and Sound Unbound (Barbican Centre, London).

Booklet for Vagues et ombres