---
Album info
Album including Album cover
I`m sorry!
Dear HIGHRESAUDIO Visitor,
due to territorial constraints and also different releases dates in each country you currently can`t purchase this album. We are updating our release dates twice a week. So, please feel free to check from time-to-time, if the album is available for your country.
We suggest, that you bookmark the album and use our Short List function.
Thank you for your understanding and patience.
Yours sincerely, HIGHRESAUDIO
1

Seventeen Going Under

04:58

2

Getting Started

03:09

3

Aye

03:06

4

Get You Down

04:23

5

Long Way Off

03:55

6

Spit Of You

04:33

7

Last To Make It Home

05:21

8

The Leveller

04:01

9

Mantra

04:16

10

Paradigms

03:45

11

The Dying Light

03:57

Total Runtime

45:24
Info for Seventeen Going Under

A new Rockstar is born: Almost two years since the release of Sam's critically acclaimed debut album Hypersonic Missiles debuted at number 1 in the UK album chart, Sam now readies its follow up. Seventeen Going Under finds Sam turning the mirror on himself; his adolescence and the trials and tribulations of growing up. It's a relatable journey that careers through an often misspent youth, navigating tumultuous relationships with both friends and family, and trying to figure out what comes next and how to get there. North Shields is the ever-present backdrop for these deeply personal vignettes of a young life travelling breathlessly from nought to sixty, hauling on the brakes and zipping back again from where he started. Over the course of the record, these stunning songs chronicle all the cherished memories, tricky encounters, and events that Sam cannot unsee.
Back in the spring of 2019, this writer sat down with Sam Fender as he was still piecing together Hypersonic Missiles, the sky-scraping debut which six months later would go on to top numerous charts and mint Fender's status as the most important songwriter of his generation.
Through the prism of an acutely aware kid from a council estate in North Shields, tracks such as Dead Boys, The Borders and Leave Fast yearned for escape while finding poetry and drama in the lives of those surrounding their author. They were songs with their eyes – and their hearts – wide open. As he sat in the afternoon sun, Fender reflected on the viewpoint within his songs with typical North Eastern self-deprecation.
"I find it easier to write about other people because I can be completely honest about them," he pondered. "I can't be completely honest about myself because everyone would think I was a miserable c**t."
Fast-forward to 2020 and like the rest of the planet, Sam Fender was faced with little more than the four walls in front of him. There were no old boys propping up the bar at The Lowlights Tavern or Poundshop Kardashians to draw inspiration from. Instead, for the first time as a songwriter he had to turn his gaze to himself.
"I didn't have anyone to write about. I've always relied on that stuff. On hearsay, rumours, stories, gossip… gossip made mankind," recalls Fender today from his studio in North Shields. "I didn't want to write about Covid because fucking no one is ever going to want to hear about that ever again, so this time I went inwards."
You don't need to be intimately acquainted with his backstory to realise Sam Fender's own life isn't short of material to draw from. Press play on Seventeen Going Under and in the surging double-header of the title track and Gettin' Started you can hear the beats of his own story, his journey from North Shields and his own battles pounding through the music's euphoric rush. You can practically feel the wind blowing in your face as the motor starts running and the vista of a life unfolding opens up ahead of you.
"Some of the stories are autobiographical so they write themselves," he says. "In a sense though, you're writing about the human experience, but you do feel exposed."
Like only a truly great songwriter can, Fender turns his own experience into art that speaks to, and resonates with, all of us. It's why his songs mean so much to people. On the soaring Get You Down, he might be looking unflinchingly at his own failures as a partner, yet as listeners we can all recognise something of ourselves within its New Order-meets-The E Street Band jangle. Similarly, you don't need to have experienced the same sort of relationship with a parent or family member that inspired the heart-crushing Spit Of You to enjoy the fact that it's the most moving songs written about the relationship between a father and son for decades.
Though in relative terms Seventeen (Going Under) is coming under two years after Hypersonic Missiles, Fender's songwriting is lightyears ahead here. Musically, the songs are far more nuanced, more detailed and more textured than before. Be it the plaintive piano blues of Last To Make It Home's closing-time regret, the modal strings that swirl around the The Leveller's pounding confusion or the enormous boom and crunch of Long Way Off's state of the world address, there's a far wider scope of sounds and styles on display here, and the deftness with which Fender incorporates them is dazzling.
A great example of just how far he's come as a writer is Aye. A track Fender sees as a follow up to Hypersonic Missile's polemical broadside White Privilege. Compare the two to see how much more sophisticated he's become as a lyricist, unafraid to move in grey areas and face ambiguities in a way that actually reflects what it's like to be a human through these troubling and confusing times.
"Politics is so unpalatable at the moment and so polarised. The online world is becoming progressively more toxic. We're so conditioned to assign every person we talk to online to a camp that we've completely lost any human connection," he says of the song's feeling of being trapped within an echo chamber of fury. "The only thing I care about is people. I think we've got to fight the injustices in the world and one of them is the fact that we're being hoodwinked by the 1% permanently and we're sat down here shouting at each other about some stuff on the news. It's a fucking cesspit. Everyone's fired up and pissed off before they've even begun the conversation." If the album's first half largely mirrors Fender's own story, its second deals with the toll life and your own feelings of self worth can take. There's a gentle feeling of joy within the War On Drugs-like Mantra as it speaks of the importance of learning to love and accept yourself, while the explosive, widescreen sweep of Paradigms is a powerful reminder that the toxicity than can unfairly extinguish lives is sadly still with us. The empathy within is palatable as Fender reaches out a hand, repeating the lyric "no one should feel like this".
Perhaps the most important song on the record, however, is closing track The Dying Light. A piano-led epic that revisits the bars and promenades of North Shields and sees the ghosts in the town still there, the dead boys that still keep growing in number, but comes to the powerful conclusion that as human beings we owe it to ourselves and everyone we love to keep fighting, that life will triumph. It's a remarkable end to a remarkable album.
"This album is a coming of age story. It's about growing up. It's a celebration of life after hardship, it's a celebration of surviving," reflects Fender. "I think it's fucking leagues ahead of the first one."
Sam Fender had nothing to fear. By turning his gaze inwards he hasn't come out sounding like a miserable c***t. He's come out with an era-defining, life-affirming masterpiece. Seventeen Going Under is a celebration of life itself and is a triumph on every count. He's right to feel proud of it.
"Despite not quite being as upbeat and full of instant hits like his debut, Seventeen Going Under sees Sam Fender take the listener on a new, personal, and emotional journey that centres around the backdrop of his adolescence and his own sense of morality. The record is truly a fine piece of artistry that has the power to hypnotise the listener into questioning their inner demons. He does this simply with his own angelic voice, masterful lyricism and powerfully emotional guitar playing – solidifying him as one of this generations truly great songwriters. Well aye!" (Kieran Macadie, thelineofbestfit.com)
Sam Fender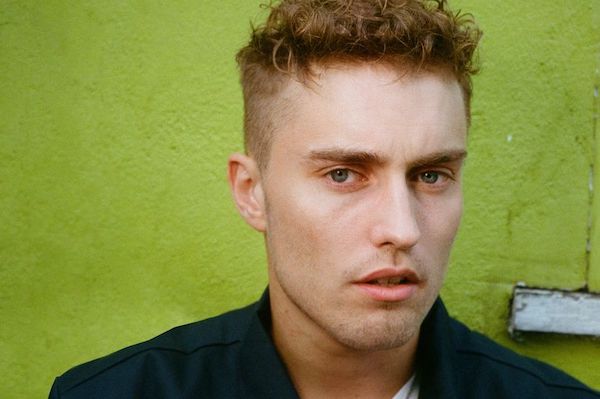 Sam Fender
Melding urgent, melodic indie rock with the heart of a singer/songwriter and socially conscious lyrics, Newcastle native Sam Fender rose to British acclaim in late 2017 when he appeared on the coveted BBC Sound of 2018 list and was subsequently signed to Polydor Records. His first album, Hypersonic Missiles, arrived in 2019.
Born and raised in North Shields, just outside of Newcastle, Fender came from a musical family. After gigging locally, he was discovered by Ben Howard's manager, who helped pave the road for Fender's debut single, "Play God." Moody in tone and socially conscious, it was followed by two more singles, "Greasy Spoon" and "Millennial," before the BBC named Fender along with acts like Sigrid and Lewis Capaldi for their Sound of 2018 list. Tours with Hozier and Catfish and the Bottlemen followed, as did 2018 singles like "Leave Fast" and "That Sound," both of which later appeared on his EP Dead Boys, released by Polydor in November of that year.
At the beginning of 2019, Fender entered his own studio in his hometown of North Shields to record his debut album with friend and producer Bramwell Bronte. He won the Brit Awards' Critics' Choice honor and made his U.S. television debut on Jimmy Kimmel Live! before Interscope/Polydor issued the resulting Hypersonic Missiles in September of 2019. He followed with a second album, 2021's Seventeen Going Under, in short order, this time reflecting on his upbringing and coming of age in North Shields. (Timothy Monger, AMG)

This album contains no booklet.