---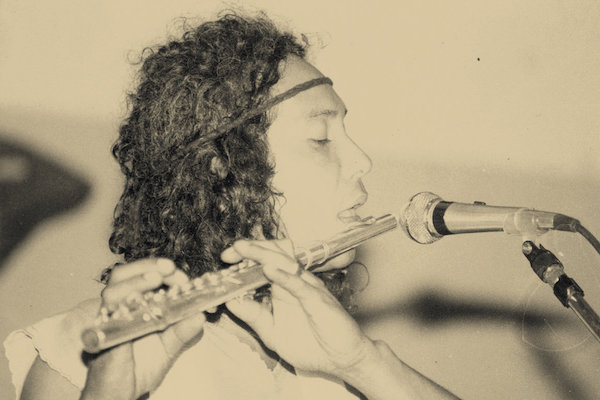 Zoun
started early, at the age of 12, he became a ballroom musician. Initially oriented to become a French teacher, he is rapidly seduced by the sweet sounds of music that certainly influenced his path in life.
In 1983, he released "Lézart Vert". With Kiki Mariapin on bass guitar and tablas, Teddy Baptiste and Jean-Philippe Bideau on guitars. The audio cassette tape featured only instrumental music and was produced by the Ziskakan association. The band played in various spots and venues, such as gymnasiums, discotheques and stages in major popular events. Between two concerts, he continued by the best to explore the never-ending universe of maloya. Surrounded by the best musicians of the island such as Jean-Jacques Harrison and Philippe "Kawa" Chavriacouty or Yves Antoine and Frédéric Borne.
In 1985, Zoun's repertoire flourishes with the release of "Fler Kann", eight tracks recorded at Studio 102 Productions, the brand-new studio of Jean Ah Voune. Many amazing musicians feature on the album: Teddy Baptiste, Babette Seguenot, Patrick Marvilliers, Jean-Jacques Harrison, Philippe Chavriacouty and Bernard "Brice" Legros directing.
The music applies a range of rhythms evolving between maloya, funk and jazz-rock. Zoun's music is an audacious musical construction driven by a rule-breaking attitude, in demand for recognition. However, when the music scene in Réunion went through an unprecedented explosion, he put aside his piano, flute and various percussions, became Carla's dad and shifted to real estate negotiation.
A new life, until a tour in India, Gilbert Pounia, the charismatic leader of Ziskakan, revived Zoun's spark for music. That marked the start of Zoun's ongoing come back.