---
Album Info
Album Veröffentlichung:
2020
HRA-Veröffentlichung:
22.05.2020
Das Album enthält Albumcover
Entschuldigen Sie bitte!
Sehr geehrter HIGHRESAUDIO Besucher,
leider kann das Album zurzeit aufgrund von Länder- und Lizenzbeschränkungen nicht gekauft werden oder uns liegt der offizielle Veröffentlichungstermin für Ihr Land noch nicht vor. Wir aktualisieren unsere Veröffentlichungstermine ein- bis zweimal die Woche. Bitte schauen Sie ab und zu mal wieder rein.
Wir empfehlen Ihnen das Album auf Ihre Merkliste zu setzen.
Wir bedanken uns für Ihr Verständnis und Ihre Geduld.
Ihr, HIGHRESAUDIO
1

Mississippi

04:15

2

Walk The Walk

03:27

3

Memphis Loud

03:01

4

Sing

04:32

5

Disappear

06:18

6

Creek Don't Rise

04:08

7

Golden Rule

04:48

8

America

05:09

9

South End Of A North Bound Mule

03:47

10

Recovery

04:41

11

My Dog Riley

05:16

12

Reconcile

08:27

Total Runtime

57:49
Info zu Memphis Loud
If you want to travel America, climb aboard e Train. As a GRAMMY-nominated kingpin of American roots music, Victor Wainwright's 2020 release is a snapshot of the nation's great cities and genres, embodying a connection between exciting unseen places with a modern twist.
As the title suggests, Memphis Loud's rattle-and-shout originals demand to be played at speaker-shaking volume. "Find a moment," he advises, "to sit back with your favorite headphones or speakers, turn it up, and listen. It's heavy, and I know you're gonna love it."
Stick a pin in the post-millennium roots scene and you'll find Wainwright at the heart of the action, breaking the rules. Since perking up ears with his 2005 release, Piana' From Savannah, the now Memphis based Georgia native has been a vital force in the American roots scene, lost count of his industry awards, and elbowed aside the pop pretenders to scale the dizzying heights of the Billboard Top 10. He's an ageless, genre-defying presence, busting at the seams with original music that darts between Americana, Jam, Soul, Funk, Blues, Jazz and even Psychedelia.
As he says; "Everyone's welcome aboard the train." Now, far from running out of steam, Wainwright's latest locomotive only further stokes his creative fire. Whether in the studio or on the stage, The Train follows their 2019 GRAMMY Nomination with joyous, ears-wide-open music. The exchange of energy is breathtaking. "Our fans are like locomotive firemen," says the bandleader, "frantically shoveling coal into the furnace. They fuel us as we pull handles, twist knobs and screech around bends. With flying sparks and a wicked whistle, we're arriving right on time with Memphis Loud."
All aboard! Renowned for twisting roots music into bold new shapes, Wainwright's recording sessions in Memphis, flanked by co-producer Dave Gross and a wishlist of special guests, has birthed a modern classic. "I like to produce and write with immense musical curiosity," he says, "leaving no roots stone unturned, but pushing the art-form forward. I carry with me the lessons from my grandfather, who taught me piano, and countless hours studying the roots of blues, genuine rock 'n' roll, jazz, boogie-woogie and honky-tonk, all the while honestly developing that into something modern, fun, unique, emotional and powerful."
Opening with a cinematic ripple from Wainwright's fabled fingers on piano, Mississippi grows into an irresistible storied melody, pounding with an immense wall of sound that picks you up and lifts you higher and higher, rightfully setting the tone for the rest of the album… this is going to be a big party! Walk the Walk offers a fun, very catchy brass-driven hook that firmly implants itself and never lets go.
With the album being tracked live, the chemistry and vocal ad-libs remain on the recording, immersing the listener as part of live recording experience. "Sometimes we had upwards near ten musicians in the studio," he recalls, including fresh faces and old friends. "We're a big family, with many boxcars to this long train now. Everyone has built up emotional steam in their lives too, and as conductor, all I have to do is utilize that steam to power the Train forward."
The title track, MEMPHIS LOUD skillfully combines Wainwright's piano-driven rhythmic fire with the story of a benevolent music-locamotive. Featured artistically on the album's cover, this unique train proudly offers an exciting journey, escape and redemption to all who board it.
With echoes of New Orleans piano, horns, and haunting chamber vocals, just when you feel like you can't catch your breath, Sing conjures a cinematic sense of looming, while celebrating the catharsis of music. "By the song's end," explains Wainwright, "the listener is surrounded by a hundred singing voices in emotional toil, but relieving that pain by singing, and letting it all out."
Every track of Memphis Loud is given beautiful attention to detail, commanding respect musically and lyrically; Disappear, a sincerely stunning song about sudden loss, with heart wrenching vocals and a very intentional, heavy ending. Creek Don't Rise picks you back up off the floor, with its sun-kissed guitars, uplifting piano and story of a couple reigniting their spark while "getting away". Golden Rule preaches the age ol' familiar parable with a new twist, funky rhythm, clav and wurlitzer. The wistful America beautifully presents an emotional state of the nation, with powerful vocals and lyrics "Left or right, a path we must choose. We shouldn't wager, more than we can lose." South End Of A North Bound Mule with it's chickenwire riffs, sweetening its hard-luck lyric with humor. Recovery, with it's classic Americana feel, relatable subject matter and ripping sax solo. My Dog Riley, a love letter to Wainwright's four-legged companion ("I never ever had a friend so fine," goes the lyric, even if the hound is often caught "drinkin' out of the toilet, and pickin' through the trash"). The gorgeous slow-burn Reconcile, its momentum building and boiling over an epic emotional journey – and closing an album that holds whatever you're searching for within its boxcars and grooves. "Everyone's invited and allowed on this train," says Wainwright. "My Grandfather taught me that no brave man lies down on the tracks of history to wait for the train of the future to run over him. So I'm chuggin' forward, making sure we give everyone the opportunity to travel, and as we traverse the beautiful winding path of all that roots music has to offer, we arrive fully at the same destination, happily, and all together!"
Victor Wainwright, vocals, piano, Hammond B3, electric piano
Billy Dean, drums, percussion (1, 6, 7, 9), vocals (1, 9, 11)
Terrence Grayson, bass, vocals (1, 7, 9, 11)
Pat Harrington, guitar, vocals (1, 2, 7, 9, 11)
Mark Earley, baritone saxophobe, tenor saxophone & clarinet
Doug Woolverton, trumpet & flugelhorn
Dave Gross, guitar (4, 5, 6, 8, 10), vocals (3, 11), percussion (1, 2, 3, 4, 5, 8, 9, 10, 11, 12)
Special guests:
Greg Gumpel, guitar (5, 9, 12), vocals (9)
Mikey Junior, vocals (1, 4), harmonica (1)
Reba Russell, vocals (1, 9, 11)
Monster Mike Welch, guitar (8, 10)
Nick Black, vocals (6, 8)
Francesca Milazzo, vocals (6, 8)
Chris Stephenson, Hammond B3 (12)
Stephen Dees, vocals (1)
Patricia Ann Dees, vocals (1)
Gracie Curran, vocals (1)
Terrell "Peanut" Reed, vocals (1)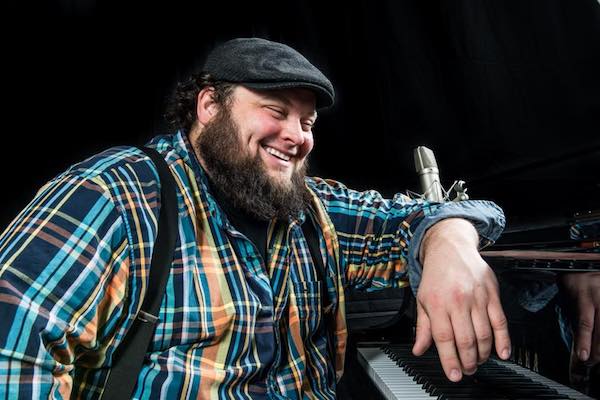 Victor Wainwright
Power-house blues, Memphis soul, and roots rock'n'roll. Featuring the high-octane boogie piano and big soul sounds of vocalist and blues man Victor Wainwright, backed by one of the tightest smokin' bands on the scene; the WildRoots.
Victor, along with producer/bassist/co-writer Stephen Dees have teamed up once again to deliver a blues and American roots 'tour de force'. In short, they have scored another musical Bull's Eye! On the heals of their critically acclaimed debut release "Beale Street to the Bayou"; their new CD "Lit Up" is poised to ignite blues fans with a freshness and flair that's infectious and impossible to ignore.
Victor Wainwright, singer, pianist, "hepcat" from Memphis, Tennessee by way of the Savannah, Georgia; is a raucous high-octane dynamic performer and crowd pleaser with soul to spare. After earning what he calls a "double major in Boogie, a Ph.D. in Swing and a master's in Rhythm," the "Piana' from Savannah" is making a name for himself in a big way.
Stephen Dees is a rock n' roll aficionado, touring and-or recording as bassist and vocalist for Hall and Oates, Todd Rundgren, Pat Travers, and Foghat to name a few. He was a Billboard and MTV char-tee with his band Novo Combo, and has received great acclaim for his original rock band "Bandees."
The boogie blues "piana" player and savvy pop-rocker met in 2004 in Ormond Beach FL, where they were both on the bill of a benefit concert. Very impressed after hearing each other perform and finding that they had a common love for blues, R&B and roots rock 'n' roll out of the '50s and 60's, such as B.B. King, Ray Charles, James Brown, Muddy Waters, Otis Redding, Louis Jordan, Jerry Lee Lewis and Little Richard; they discussed the possibility of collaborating on an original recording project for Victor; paying homage to the music that has influenced them. Dees agreed to produce and co-write what would become Wainwright's 2005 release, "Piana from Savannah". "...it's hard to follow the speed limit while this one's playing... Pinetop Perkins would be proud." [Backstage Pass Magazine]
After the release of the "Piana' from Savannah" CD, and some outstanding live performances, they knew they had something special and decided to forge a more enduring working relationship. Victor Wainwright and the WildRoots were born.
The WildRoots debut CD, "Beale Street to the Bayou," was released in September of 2009; launching a successful radio promotion which landed them stellar reviews as well as charting #7 on the Root Music Report "Top 50 Blues", #2 on the Blues Internet Charts, and #8 on the Tennessee Roots Charts. In addition, they hit #4 on Europe's Collectif des Radio Blues Charts.
"Victor Wainwright, wields a mighty left hand and a robust vocal delivery that brims with the very spirit of the blues. [Sheryl & Don Crow - Nashville Blues Society]
"Extremely diverse with great songwriting, exceptional arrangements, flawless playing and vocals soulful enough to make Otis Redding sit up and take notice" [Bill Wilson - Billtown Blue Notes]
"Victors' piano playing is exciting and soulful, along with his strong vocals. Victor is a blues star on the rise. " [Honey Piazza, Rod Piazza and the Mighty Flyers]
Their follow up CD "Lit Up" will be released on June 7th, 2011 and serviced to over 600 commercial and non-commercial radio outlets in conjunction with a worldwide tour in support of the project.
Returning WildRoots alumni includes Greg Gumpel on guitar, along with Ray Guiser & Patricia Ann Dees on saxophones; and introducing Billy Dean on drums.
"Lit Up" Pure dynamite, set to explode, highly combustible, and ready to roll!


Dieses Album enthält kein Booklet