---
Album Info
Album Veröffentlichung:
2019
HRA-Veröffentlichung:
13.12.2019
Das Album enthält Albumcover Booklet (PDF)
Atanas Ourkouzounov (b. 1970): Guitar Sonata No. 1:

1

Guitar Sonata No. 1: I. Allegro assai

03:53

2

Guitar Sonata No. 1: II. Adagio quasi canzone

02:14

3

Guitar Sonata No. 1: III. Vivo

03:05

Guitar Sonata No. 2 "Hommage à Bartók":

4

Guitar Sonata No. 2 "Hommage à Bartók": I. Allegro

03:12

5

Guitar Sonata No. 2 "Hommage à Bartók": II. Scherzo

02:02

6

Guitar Sonata No. 2 "Hommage à Bartók": III. Interlude

01:41

7

Guitar Sonata No. 2 "Hommage à Bartók": IV. Toccata

02:05

Guitar Sonata No. 3 "Cycling Modes":

8

Guitar Sonata No. 3 "Cycling Modes": I. Vivo

04:13

9

Guitar Sonata No. 3 "Cycling Modes": II. Poco rubato

04:38

10

Guitar Sonata No. 3 "Cycling Modes": III. Presto nervoso

03:06

Guitar Sonata No. 4:

11

Guitar Sonata No. 4: I. Allegro con spirito

05:02

12

Guitar Sonata No. 4: II. Lamentoso

03:58

13

Guitar Sonata No. 4: III. Allegro inquieto

04:00

Guitar Sonata No. 5:

14

Guitar Sonata No. 5: I. Movimento fluido

05:14

15

Guitar Sonata No. 5: II. Scherzo diabolico

03:53

16

Guitar Sonata No. 5: III. Partite variate

05:39

Total Runtime

57:55
Info zu Cycling Modes
Award-winning Atanas Ourkouzounov is one of Bulgaria's foremost composers and has written prolifically for the guitar. These five sonatas reveal elements of Bulgarian national music—sometimes through a textured soundscape that includes percussive elements—cast in forms that are often rhythmically asymmetric. Teeming with complex harmonies, contrapuntal effects and poignant depth, the sonatas are a vivid contribution to the contemporary guitar repertoire.
Kostas Tosidis, classical guitar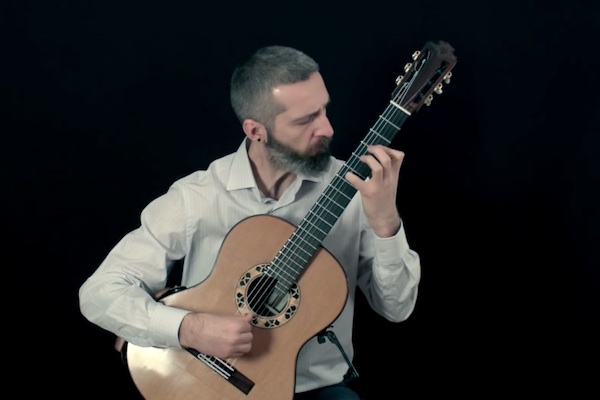 Kostas Tosidis
s a classical guitarist, performer, researcher and pedagogue. He studied at the Agios Pavlos Conservatory in Thessaloniki and the Mozarteum University Salzburg, Austria, where he obtained his master's degree with distinction and became Eliot Fisk's assistant. Tosidis has won several international prizes with the Miscelanea Guitar Quartet, of which he is one of the founding members, and as a soloist.
He has performed concerts throughout Europe and the US, and has recorded five albums featuring both solo and chamber music repertory.
Since September 2016 Tosidis has been a PhD candidate at the Royal Conservatory of Brussels, with his research exploring the possibilities of playing arrangements of contemporary pieces for cello, violin and viola on the guitar without losing the music's intention or style, and he has subsequently arranged Ligeti's Sonata for Solo Cello which has been published by Edition Schott. His doctoral research includes commissioned works by composers such as Atanas Ourkouzounov, Marios Joannou Elia, Feliu Gasull, Marco Döttlinger, Giannis Papakrasas and Yorgos Nousis. Kostas Tosidis plays a guitar by Alector Guitars, uses Knobloch strings and a guitar rest by Guitarlift.


Booklet für Cycling Modes