---
Album Info
Album Veröffentlichung:
2006
HRA-Veröffentlichung:
09.12.2016
Das Album enthält Albumcover
1

Night Falls (2016 Remaster)

05:19

2

Body Language (Interpretation) (2016 Remaster)

05:00

3

Paper Moon (2016 Remaster)

05:11

4

The Birds and the Beats / At the Window (2016 Remaster)

05:20

5

Darko (2016 Remaster)

06:11

6

Pong Pang (2016 Remaster)

05:51

7

Mandarine Girl (2016 Remaster)

05:42

8

Take a Ride (2016 Remaster)

04:02

9

Wasting Time (2016 Remaster)

05:06

10

In White Rooms (2016 Remaster)

05:26

11

Hallelujah USA (2016 Remaster)

02:06

12

Lost High (2016 Remaster)

04:39

13

Night Falls (Nils Frahm Rework)

09:11

14

In White Rooms (Jonas Rathsman Reprise)

07:25

15

Lost High (Dennis Ferrer Remix)

06:56

16

Body Language (Interpretation) (Chi Thanh Remix)

08:01

17

Lost High (andhim Remix)

06:37

18

Mandarine Girl (Deetron Remix)

06:11

19

Wasting Time (M.A.N.D.Y. Remix)

07:54

20

Mandarine Girl (Eat's 'Twisted' Remake)

08:02

21

In White Rooms (Hunter/Game Remix)

07:09

22

Night Falls (Patrick Topping Remix)

06:49

Total Runtime

02:14:08
Info zu Night Falls (2016 Remaster)
Zum zehnten Jahrestag der Erstveröffentlichung releasen Booka Shade eine erweiterte Version Neuauflage von "Movements", ihres bahnbrechenden Albums. mit dem sie im Jahr 2006 schlagartig international bekannt wurden und eine Reihe junger Künstler nachhaltig beeinflussten. Neben der Remastered-Version des Originalalbums enthält es obendrein 10 exklusive Remixes von diversen Größen aus dem Bereich der elektronischen Musik.
Zu den Künstlern, die Remixe angefertigt haben, zählen Nils Frahm, Jonas Rathsman, Deetron, Eats Everything, Dennis Ferrer, Patrick Topping, M.A.N.D.Y, andhim, Hunter/Game und Chi Thanh. Das atmosphärische "Night Falls", wurde zum Beispiel sowohl von Nils Frahm als auch von Patrick Topping geremixt. Beide Versionen befinden sich auf der Vorab-Single zu "Movements". Frahm baut das Original komplett um und setzt dafür auf seinen Trademark-Style aus elektronischen und klassischen Elementen. Toppings Version bleibt näher beim clubtauglichen Vibe der Urversion, inklusive der massiven Bassline und nur kleinen Ergänzungen zur Melodie des Originals. Zu "In White Rooms" hat Jonas Rathsman eine Reprise kreiert, dessen Synth-Figur sich ähnlich bewegt wie das Original. Auch Hunter/Game haben eine neue Vision dieses Tracks beigesteuert, in der sie die Akkordfolge nehmen und damit in düster-pulsierende, von Synthesizer-Flächen dominierte Sphären abtauchen. Auch der Electro-House-Sound von "Mandarine Girl" wird gleich doppelt neu interpretiert: Eats Everything und Deetron nehmen sich den Sound von "Mandarine Girl" vor und überführen ihn in sehr viel härtere, abruptere Techno-Gefilde. Am anderen Ende des Klangspektrums steht der Remix von Andhim, die für ihre Version von "Lost High" auf das Summen der Natur und den Sound von Windspielen setzen. Dennis Ferrers Version von "Lost High" und Chi Thanhs Version von "Body Language" haben Booka Shade schon seit einiger Zeit ihre Live-Shows eingearbeitet, Und schließlich haben M.A.N.D.Y. ein Update von "Wasting Time" beigesteuert.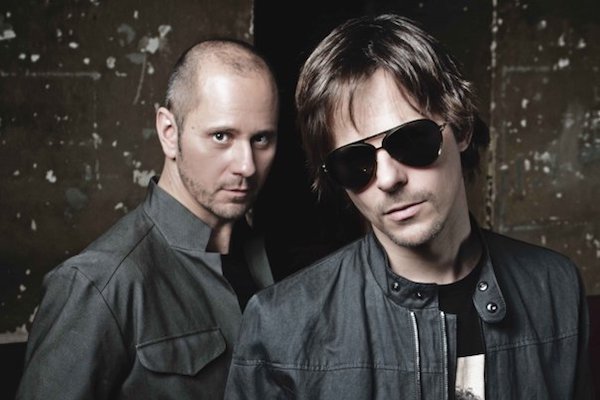 Booka Shade
Berlin-based Booka Shade (Walter Merziger and Arno Kammermeier) leapt to the forefront of contemporary dance music in 2005 with their classic singles "Body Language" (with M.A.N.D.Y.) and "Mandarine Girl", and their debut full-length ́Memento ́. Since then they've released a string of hit singles, become one of the world's most sought-after electronic live acts and developed their unique sound on the acclaimed albums ́Movements ́ and ́The Sun & The Neon Light ́.
2008 was one of the duo's most successful and madly busy years yet. As well as releasing ́The Sun & The Neon Light ́, their most ambitious and full-realized album to date, they embarked on another exhaustive world tour. Performing at festivals like Glastonbury, Rock Am Ring and Creamfields in Argentina, they cemented their reputation as one of the most formidable live acts around (Resident Advisor voted them the 5th best live act in the world). Their single "Charlotte" was one of the top three selling underground tracks on Beatport in 2008 and Booka Shade was voted ́Best Tech House Act 2008 ́.
Having released a Movements tour edition, a live DVD called ́We Came To Dance ́ (which found them performing to 12,000 fans at the Pukkelpop festival) and ́Cinematic Shades ́, a compilation of more reflective tracks from the Booka Shade back catalogue, the guys are now back in their Berlin studio working on a new album. They will play selected shows in Spring and over the summer festival season. Their eagerly-anticipated US tour starts in March 2009.
It's been a long and winding road that's got Booka Shade to where they are now. Following their formative synth-pop outings in the 90s and releases on labels like R&S, Music Man and Tommy Boy – including a huge hit in 1993, "Una musica senza ritmo", as Degeneration - Arno and Walter sought a new, more personal outlet for their creative energies. They found this through Get Physical Music, which they co-founded in 2002. Since then they've been at the production helm of countless releases by M.A.N.D.Y, DJ T., Sunsetpeople and Chelonis R. Jones, and the label has quickly grown to become one of the most respected and popular underground dance music labels around, releasing hits from a variety of artists from the aforementioned to Samim, Lopazz, Raz Ohara, Elektrochemie and Jona.
In 2004 Booka Shade released their highly acclaimed debut album ́Memento ́, but it was their seminal collaboration with M.A.N.D.Y, "Body Language", that launched them into the stratosphere. An immediate underground hit, the track also broke into commercial realms and was awarded 'Ibiza Track of the Season 2005'. Booka Shade's solo offering "Mandarine Girl" became a club smash and subsequent live performances at the 2005 Sónar festival and a warm-up set for Depeche Mode. Garnering massive props for both their studio work and live performances, Booka Shade have become in-demand remixers, lending their production magic to respected artists including Moby, Yello, Hot Chip, Depeche Mode, Roxy Music, Dubfire, Tiga, Dave Gahan and The Knife.


Dieses Album enthält kein Booklet