---
phil Blech Wien, Olivier Latry & Anton Mittermayr
---
Biography phil Blech Wien, Olivier Latry & Anton Mittermayr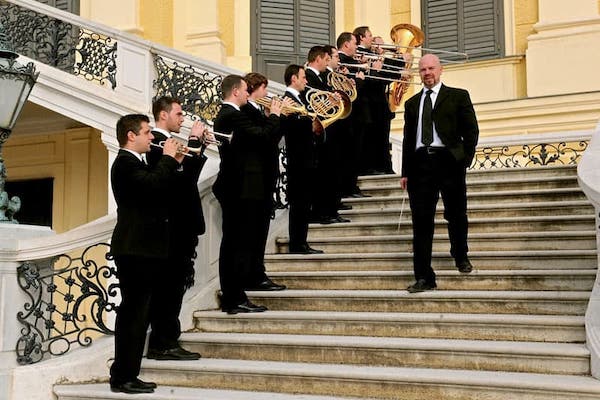 phil Blech Wien
is an ensemble formed by musicians from the ranks of the Vienna Philharmonic, the Staatskapelle Dresden, the NDR Radiophilharmonie, the Vienna Volksoper, the Tonkünstler Orchestra, the Hanover State Opera and the Mozarteum Orchestra Salzburg. They made their impressive debut with a brilliant performance in the intermission film of the Vienna Philharmonic's New Year's Concert 2013. The musicians play rotary valve trumpet, Viennese horn, trombone, tuba and Viennese timpani, and thus provide an unmistakable, harmonious and round Viennese sound. Their first album was released by Deutsche Grammophon and centered around Wagner and Verdi – 2013 being both composers' anniversary year.
Olivier Latry
titular organist at Notre-Dame, Paris, emeritus organist at the Orchestre National de Montréal, and currently William T. Kemper Artist in Residence at the University of Kansas in Lawrence, is acknowledged as one of the world's most eminent exponents of his instrument and one of the greatest ambassadors for the organ. A former student of Gaston Litaize, he now teaches at the Conservatoire National Supérieur de Paris and has been honoured with numerous international awards and prizes, including the prize awarded by the Del Duca Foundation (Institut de France-Académie des Beaux-Arts). He has appeared in more than fifty countries and on all five continents, as an ambassador for the organ, as a recitalist or with major orchestras under the direction of renowned conductors.
Anton Mittermayr
In addition to engagements as a soloist and in various chamber music formations – including as solo timpanist of the Wiener Hofmusikkapelle – Anton Mittermayr has also been solo timpanist of the Wiener Staatsoper Orchestra and the Wiener Philharmoniker, and is currently professor of percussion at the Konservatorium Wien Privatuniversität and senior lecturer at the University of Music and Performing Arts Vienna. Every year he conducts the opening fanfares at the traditional ball of the Wiener Philharmoniker.
Mark Gaal
bass trombonist of the Wiener Philharmoniker/Wiener Staatsoper Orchestra and tenor trombonist of the Wiener Hofmusikkapelle, is a versatile and sought-after chamber musician. A founding member of phil Blech Wien, a member of Wien-Berlin Brass Quintet and Wiener Posaunen Ensemble.