---
Apocalypse 91… The Enemy Strikes Black (Remastered) Public Enemy
Album info
Album including Album cover
I`m sorry!
Dear HIGHRESAUDIO Visitor,
due to territorial constraints and also different releases dates in each country you currently can`t purchase this album. We are updating our release dates twice a week. So, please feel free to check from time-to-time, if the album is available for your country.
We suggest, that you bookmark the album and use our Short List function.
Thank you for your understanding and patience.
Yours sincerely, HIGHRESAUDIO
1

Lost At Birth

03:49

2

Rebirth

00:59

3

Nighttrain

03:27

4

Can't Truss It

05:21

5

I Don't Wanna Be Called Yo Niga

04:24

6

How To Kill A Radio Consultant

03:09

7

By The Time I Get To Arizona

04:48

8

Move!

04:59

9

1 Million Bottlebags

04:06

10

More News At 11

02:40

11

Shut Em Down

05:04

12

A Letter To The New York Post

02:45

13

Get The F... Outta Dodge

02:38

14

Bring Tha Noize

03:50

Total Runtime

51:59
Info for Apocalypse 91… The Enemy Strikes Black (Remastered)

Happy 30th Anniversary to Public Enemy's fourth studio album Apocalypse 91…The Enemy Strikes Black, originally released October 1, 1991.
We never begged for acceptance and thought that was the most rebellious s__t ever," says Chuck D. "So we set out to never repeat ourselves on an album. Once you thought you had us figured out, we flipped on you again. Apocalypse 91 came with a totally different sound than Fear Of A Black Planet which had a totally different style than It Takes A Nation Of Millions To Hold Us Back which was even more different than Yo! Bum Rush The Show. With Apocalypse 91," Chuck D continues, "we wanted to grate on nerves and still be great in our approach. Never beg for acceptance. This is what it is, down your throat. Boom."
Apocalypse 91… The Enemy Strikes Black ranked No. 2 in The Village Voice's 1991 Pazz & Jop critics' poll, No. 7 on SPIN's 20 Best Albums of the Year in 1991, with AllMusic citing the album as "one of the great records of golden age hip-hop," and Entertainment Weekly giving it an A+ stating "Apocalypse '91 has an emotional and intellectual sweep, advancing political awareness along with fellow feeling, enlightenment with pleasure" and "…PE's hardest-hitting music ever."
Last year, the group released the critically acclaimed album What You Gonna Do When The Grid Goes Down, reuniting them with their original record label, Def Jam and featuring "Fight The Power: Remix 2020" with Nas, Rapsody, Black Thought, Jahi, YG and Questlove. The album included guest appearances by Mike D and Ad-Rock of Beastie Boys, Cypress Hill, Run-DMC, Ice-T, PMD, George Clinton and more. Their classic albums are the soundtrack to hip-hop's rise as a form of social and political commentary. 1988's It Takes A Nation Of Millions To Hold Us Back was, and still is, one of the most important records ever made, with Rolling Stone recently naming it the #15 Greatest Album of All Time and The New York Times added it to their list of "25 Most Significant Albums of the Last Century." Fear of a Black Planet--also named on the Rolling Stone list--features PE anthems including the original version of "Fight The Power," which holds the #2 spot on Rolling Stone's "500 Greatest Songs of All Time" list, "911 Is A Joke" and "Welcome To The Terrordome." Most recently, SPIN Magazine named them to the #9 position on their "Most Influential Artists of the Last 35 Years" list. PE was inducted into the Rock n' Roll Hall of Fame in 2013 and received The Recording Academy's "Grammy® Lifetime Achievement Award" in 2020.
"Coming down after the twin high-water marks of It Takes a Nation of Millions and Fear of a Black Planet, Public Enemy shifted strategy a bit for their fourth album, Apocalypse 91...The Enemy Strikes Black. By and large, they abandon the rich, dense musicality of Planet, shifting toward a sleek, relentless, aggressive attack -- Yo! Bum Rush the Show by way of the lessons learned from Millions. This is surely a partial reaction to their status as the Great Black Hope of rock & roll; they had been embraced by a white audience almost in greater numbers than black, leading toward rap-rock crossovers epitomized by this album's leaden, pointless remake of "Bring the Noise" as a duet with thrash metallurgists Anthrax. It also signals the biggest change here -- the transition of the Bomb Squad to executive-producer status, leaving a great majority of the production to their disciples, the Imperial Grand Ministers of Funk. This isn't a great change, since the Public Enemy sound has firmly been established, giving the new producers a template to work with, but it is a notable change, one that results in a record with a similar sound but a different feel: a harder, angrier, determined sound, one that takes its cues from the furious anger surging through Chuck D's sociopolitical screeds. And this is surely PE's most political effort, surpassing Millions through the use of focused, targeted anger, a tactic evident on Planet. Yet it was buried there, due to the seductiveness of the music. Here, everything is on the surface, with the bluntness of the music hammering home the message. Arriving after two records where the words and music were equally labyrinthine, folding back on each other in dizzying, intoxicating ways, it is a bit of a letdown to have Apocalypse be so direct, but there is no denying that the end result is still thrilling and satisfying, and remains one of the great records of the golden age of hip-hop." (Stephen Thomas Erlewine, AMG)
"Musically, this albums's sound is even richer than its predecessors, thanks to production that delivers everything from the stone soul of "I Don't Wanna Be Called Yo Niga" to the full-blown frenzy of "Nighttrain".​ (Rolling Stone Album Guide)
Public Enemy
Digitally remastered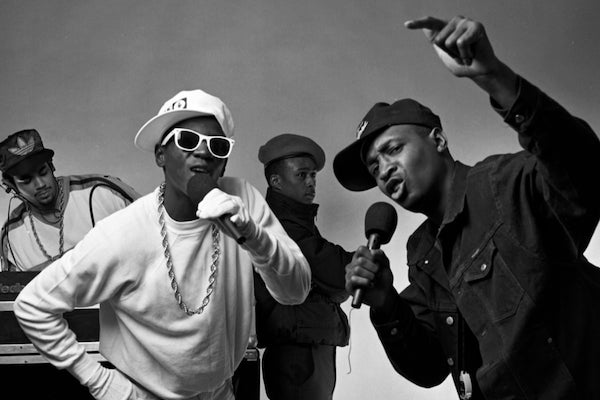 Public Enemy
Politically charged hip hop legends, Flavour Flav, Chuck D, Terminator X, Professor Griff and Gary G-wiz were cultivated in Long Island, New York, but are now a house hold name across the globe. A group whose musical style and incendiary delivery have earned them critical acclaim and millions of fans throughout their career, Public Enemy continue to blaze musical and technological trails with the release of albums like Beats And Places.
The group burst onto both the rap and pop music world in 1987 with their first single 'Public Enemy #1', a startling combination of Chuck D's commanding orations, Hank Shocklee's layered cacophony of musical noise, and Flava Flav's show-stopping antics to keep the message entertaining. A month later, the group released their debut album Yo! Bum Rush the Show. Shortly after, they recorded Rebel Without A Pause, which would herald a new era of rap with layers upon layers of samples, sirens and general chaos. The world responded positively and Public Enemy became international stars overnight. The classic It Takes a Nation of Millions to Hold Us Back was released in 1988, and was considered to be one of the most important records ever released, voted as #1 rap album of all time. Many more albums have followed including Muse-Sick-N-Hour-Mess-Age, Greatest Missea and more, with singles such as 'More News at 11', 'Shut Em Down' and 'Letter to the New York Post' all confirming their place at the top of the international rap pile.
Chuck D
When Chuck D founded Public Enemy in the late '80s he wanted to deliver socio-political messages that give voice to those who have long been ignored. He has always been unafraid to question institutional injustices and challenge both leaders and laymen alike to work for change.
His musical and lyrical intensity, eloquence and depth are matched by few, an explosive combination that feeds both mind and soul. His artistry draws unwavering critical acclaim and legions of worldwide fans who have flocked to concerts in over 105 countries, during 2,000+ concerts, on 107 tours. The New York Times named Public Enemy's music to their list of the "25 Most Significant Albums of the Last Century," and in 2005 The Library of Congress included Fear of a Black Planet in their National Recording Registry. Three albums are certified multi-platinum, three more are gold, with four gold singles and a platinum-selling home video. In 2013, the group was inducted into the Rock and Roll Hall of Fame. Public Enemy Radio carries on this powerful legacy, led by Chuck D, DJ Lord and Jahi. Bringing it back to the hip hop foundation of 2 turntables and a microphone.

This album contains no booklet.