---
Album info
Album including Album cover
I`m sorry!
Dear HIGHRESAUDIO Visitor,
due to territorial constraints and also different releases dates in each country you currently can`t purchase this album. We are updating our release dates twice a week. So, please feel free to check from time-to-time, if the album is available for your country.
We suggest, that you bookmark the album and use our Short List function.
Thank you for your understanding and patience.
Yours sincerely, HIGHRESAUDIO
1

La herida oscura

03:19

2

Negra del alma

03:37

3

Color de rosa

03:34

4

Milonga de mis amores

02:38

5

Cariño

04:10

6

Cambalache

03:45

7

Sorongo

03:42

8

Juana Azurduy

02:52

9

Dämmerung

01:53

10

Vestida de vida

04:40

Total Runtime

34:10
Info for Palabras Urgentes

In the 50th year of her musical career Susana Baca has no intention of surrendering her creativity to the will of others and Palabras Urgentes is not just another album in her discography. It is more than that. It is a musical creation, a collection of songs, intended to take on today's difficult times.
The album was not created to be just a beautiful distraction or as a means to charm the listener. On the contrary, Susana has recorded this album as a form of protest and to spark debate — and the listener must understand this to really understand the album — but, also, as a means to encourage us to cherish and value the time we are given and to live in the fullest sense.
Immersed in her country's political landscape Susana Baca has come to understand and value the importance of being the heir to singers that once sung for liberty, social equality and for the end of racism. There is a bleak shadow over Peru's recent history and the only way forward is by confronting the past.
Palabras Urgentes is a collection of 10 songs that attempts to bottle the heritage and tradition of those that once fought for a better world. It was recorded in Cañete, a small town located 150 kilometres from Peru's Capital, and the songs are given added life by the presence and support of Michael League (Snarky Puppy, Bokanté, David Crosby) whose production brings a universal and contemporary sound to the album.
It is the combination of the music's beauty and urgency of the lyrics that makes Palabras Urgentes so compelling. It is a journey divided into 10 chapters. Each one a self-contained narrative with its own beginning and end, but when they all come together they become one single journey; a unique musical reflection of the traditions of Peru.
Palabras Urgentes' message is strong and it uses the most powerful weapon to fight injustice: knowledge.
"Age casts a different light upon the world and this album seeks to express freely and honestly those things that I love most intensely. At the age of 76 it is time to stop thinking of always having to please others and deliver an album truly from the heart. These ten songs seem to be mostly premonitions of the difficult times we are now living through. They weave music from my deepest roots with urgent words, of hope and condemnation, to seek out a mature and cherished truth. With my own spirit and the hearts and talent of all those who have contributed, we offer this album as a renewal of our traditional music. I hope those listening to this album feel both a love for life and a love for living truthfully." (Susana Baca)
Susana Baca, vocals
Oscar Huaranga, double bass (1,2,3,4,6,7,8,10) batácajón (3,6)
Hugo Bravo, cajón (1,3,4,6,10) congas (3,6,7,10) djembe (2,6,7,8,10) kaxixi (8) cajita, quijada and campana (6,7)
Enrique Purizaga, marimba de agua (2, 7, 10) piano (5,6,7,9)
Ernesto Hermosa, acoustic guitar (1,3,4,10)
Marielena Pacheco, violin (1,4,7)
Aaron Abuid, soprano and alto saxophone (2)
Abiud Mucha, soprano and tenor saxophone (2)
Felix Ayllon, alto saxophone (2)
Jeff Coffin, alto flute (1,2,3,4,6,10) tenor saxophone (3,6 solo,7,10) whistles (3)
Carolina Araoz, tenor saxophone (2,4,10) voice (7,10)
Becca Stevens, charango (8)
Magda Giannikou, accordion (8)
Rodrigo Castillo, spoken word (10)
Daniela Ghersi, choir director (7,10)
Paola Cuadros, choir director (7,8)
Music Solutions, choir and voices (3,7)
Michael League, riq (4,8) dohola and solo darbuka (7) electric guitar (1,8) and voice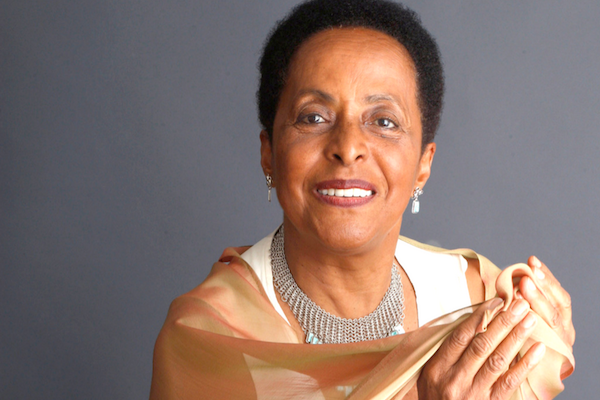 Susana Baca
Susana Esther Baca de la Colina (born Chorrillos, Lima Province, Peru, 24 May 1944) is a prominent Peruvian singer-songwriter; two-times Latin Grammy Award winner. She has been a key figure in the revival of Afro-Peruvian music.
In July 2011, she was named Peru's Minister of Culture in the Ollanta Humala government, becoming the second Afro-Peruvian cabinet minister in the history of independent Peru.
In November 2011 she was elected to the Organization of American States (OAS) as the President of the Commission of Culture for the period 2011–13.
Baca grew up in a coastal fishing village Chorrillos, a district of the Lima Province of Peru, and part of greater Lima. Her music is a mixture of traditional and contemporary. Her backing band features indigenous Peruvian instruments such as the cajón ("wooden box", whose origins lie in an upturned fruit crate), udu (clay pot), and quijada (jawbone of a burro) cheko a dried gourd, as well as acoustic guitar and electric upright baby bass. Although many of her songs are based on traditional forms such as the landó or vals, she also incorporates elements of Cuban and Brazilian music. Her debut CD for Luaka Bop, produced by Greg Landau, brought her to the attention of World Music audiences worldwide.
Her songs are poetic (with lyrics composed by some of Latin America's premier poets, with whom she collaborates), rich with evocative imagery, and her voice is delicate yet soulful. She has an elegant and engaging stage presence, gliding gracefully about the stage while singing. Her delivery is so deeply felt and emotion-filled as to project a spiritual character, even in songs that are not expressly religious in subject matter.
Baca is an important figure in the revival of Afro-Peruvian music within Peru (see, for example, dancers from the Perú Negro troupe, as well as "Festejo" music), which, like the culture that produced it, had previously been little recognized, but which is now regarded as an important part of Peruvian culture. Baca has contributed much to its international popularity, which began in 1995 with the release of the compilation CD The Soul of Black Peru. The album, which features the Baca song "Maria Lando", was released by the Luaka Bop record label, which belongs to ex-Talking Heads frontman David Byrne.

This album contains no booklet.