---
Album info
Album including Album cover Booklet (PDF)
I`m sorry!
Dear HIGHRESAUDIO Visitor,
due to territorial constraints and also different releases dates in each country you currently can`t purchase this album. We are updating our release dates twice a week. So, please feel free to check from time-to-time, if the album is available for your country.
We suggest, that you bookmark the album and use our Short List function.
Thank you for your understanding and patience.
Yours sincerely, HIGHRESAUDIO
1

Bayou

05:38

2

Pasha

06:28

3

Duryea

03:37

4

Nahla

03:44

5

Varsha

04:04

6

Eyre

04:27

7

Dwyn

04:14

8

Bayou II

01:01

9

Como

03:03

10

Chantara

05:41

Total Runtime

41:57
Info for Bayou

A fresh and open music, delicate and space-conscious, is shaped as drummer Thomas Strønen and Ayumi Tanaka, previously heard in the ensemble Time Is A Blind Guide on Lucus, resurface in a new trio with clarinettist/singer/percussionist Marthe Lea. The group first came together at Oslo's Royal Academy of Music, where for two years the players would meet each week for exploratory music making. Strønen: "We always played freely- drifting between elements of contemporary classical music, folk music, jazz, whatever we were inspired by. Sometimes the music was very quiet and minimalistic: playing together generated some special experiences." The spontaneous spirit of the music is reflected in the trio's debut recording, which was made at the Lugano radio studio and produced by Manfred Eicher. With the exception of the title piece, based on a traditional Norwegian tune, the music on Bayou was collectively created in the moment.
Openness is the watchword here. The album came into being after Thomas Strønen visited Munich to finalize aspect of his Lucus project with Time Is A Blind Guide. "I played Manfred Eicher part of the very first concert with Ayumi and Marthe which I happened to have on my laptop – just a rough document that I'd made with one microphone. He caught the special tension and stylistic freedom in this trio and said we should do a studio recording – which was a welcome surprise."
The trio had been conceived primarily as an open-form rehearsal and sound research project, "drifting between elements of contemporary classical music, folk music, jazz, whatever we were inspired by. Sometimes the music was very quiet and minimalistic, and sometimes it was the opposite. Playing together generated some special experiences."
That spontaneous spirit is reflected in the trio's debut recording. With the exception of the title piece, based on a traditional Norwegian tune, the music on Bayou was created collectively, in the moment, drawing upon the individual and shared histories of the musicians. The improvisations here are named for diverse waterways, rivers and lakes, as fitting metaphor for the glistening fluidity of the music, and also in acknowledgement of the recording location, in Lugano, Switzerland
Lea's beautifully phrased vocal performances on the two versions of the title piece mark the first time that she had sung with the trio. She had however sung a lot of folk songs in childhood, latterly reclaiming this resource as part of a wide palette that also includes free improvising. Since the recording, Marthe has sung on most of the trio's gigs. "It's always a highlight," says Strønen, "and it's always different." She has also gone on to participate in and win prizes at competitions for traditional unaccompanied singing. As an improvising reed player, she often embraces diverse flutes and tenor sax in concert. The focus on clarinet on the present recording suggests lines of influence that stretch back to Jimmy Giuffre (an association underlined by Tanaka's sometimes Bley-ish piano) as well as to contemporary freer players such as Fredrik Ljungkvist.
Ayumi Tanaka, born into a musical family in Japan, was schooled in classical music from the age of three. At college, while studying contemporary composition, she also began to explore improvisation, a study that intensified with her moving first to Sweden and then to Norway. Strønen praises her commitment to any project of which she is a part. "I think Ayumi's become a really strong player in the last few years, able in her improvisations to bring in something from her background – both the contemporary classical experiences and the culture she comes from." Tanaka's own projects have included a three pianos ensemble with Christian Wallumrød and Johan Lindvall, and a trio with bassist Christian Meaas Svendsen and drummer Per Oddvar Johansen. An ECM recording with the Ayumi Tanaka Trio will be released later this year.
Thomas Strønen's groups have each had clearly demarcated characters. Food, his collaboration with saxophonist Iain Ballamy, increasingly emphasized electronics over the course of its recordings while Time Is A Blind Guide has developed as an acoustic chamber ensemble playing Thomas's compositions. The trio heard on Bayou is very different again, distinctive in its sense of borderless inquiry and musical interplay, and freely improvisational.
The group first convened at the Norwegian Academy of Music in Oslo, where Strønen has an associate professorship and where Tanaka and Lea were studying, the players meeting regularly for exploratory music making.
Thomas Strønen, drums, percussion
Ayumi Tanaka, piano
Marthe Lea, clarinet, vocal, percussion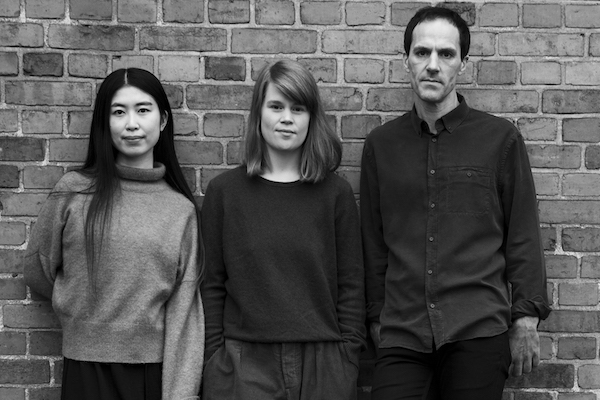 Thomas Strønen
graduated from the Music Conservatory of Trondheim, Norway in 1999 after six years of studying jazz and composition. Since his student days he has been involved with improvised music in different contexts
He is one of Norway´s most prolific drummers, known from his involvement with Food (with Iain Ballamy), Humcrush (with Ståle Storløkken), Parish (with Bobo Stenso), Pohlitz (solo), Maria Kannegaard Trio and others, where he has often also taken on the role of writer and arranger and sometimes producer.
Strønen is a very interactive musician who likes to be involved in different musical forms and he has the ability of creating structures and textures to generate unexpected results. He is a melodic type of drummer who focuses on large forms, sounds and communication, playing both acoustic music and a set up with live electronics such as samplers and sound effects. Today Strønen has a solo record deal on the leading electronic music label Rune Grammofon, and also with his band Parish, on German label ECM.
As a composer, Strønen has contributed (either as main or co-composer) on almost all of his released records so far, more then thirty-five altogether. He has also contributed on several commissioned works for festivals (e.g. the Bath and Cheltenham Jazz festival and Ultima comptemporary music festival) and radio. (e.g. the BBC, NRK, Deutsche Rundfunk, Swedish Radio, among others).
He has played with musicians such as Bobo Stenson (S), Iain Ballamy (UK), Tomasz Stanko (PL), Evan Parker (UK), Tim Harries (UK), Bill McHenry (USA), Lars Danielsson (S), David Tronzo (USA), Koichi Makigami (JP), Ernst Reijseger (NL), Chris Batchelor (UK), Eric Vloeimans (NL), Mattias Ståhl (S), Joakim Milder (S), Fredrik Ljungkvist (S), Christian Spering (S), David Stackenas (S), Staffan Svendsson (S), Joe Williamson (Can), Francois Houle (Can), Martin Kuchen (S), Magnus Lindgren (S), Phil Bancroft (UK), Tunji Bejer (GE), Ståle Storløkken, Bjørnar Andresen, Vidar Johansen, Knut Reiersrud, Iver Kleive, Silje Nergaard, Tore Brunborg, Christian Wallumrød, Trygve Seim, Arve Henriksen, Stian Carstensen, Cikada, and others.
Thomas has toured Europe, Asia and Canada during the last few years with the bands mentioned above, and also with Ståhls Blå (with Swedish musicians Joakim Milder, Filip Augustson and Mattias Ståhl), Phil Bancroft Quartet (with British musicians Mike Walker, Steve Watts) and Maria Kannegaard trio (comprising Ole Morten Vågan). His festival appearances include Moldejazz, Oslo Jazzfestival, Ungjazz, Maijazz, Bylarm, Vossajazz, Nattjazz, Soddjazz, Trondheim Jazzfestival, Kongsberg Jazz, Dølajazz, Montreal Jazzfestival (Can), Vancouver Jazzfestival (Can), Winnipeg Jazzfestival Can), Edmonton Jazzfestival (Can), Toronto Jazzfestival (Can), Victoria Jazzfestival (Can), Ottawa Jazzfestival (Can), Calgary Jazzfestival (Can), Birningham Jazzfestival (UK), Cheltenham Jazzfestival (UK), Bath Jazzfestival (UK), Brighton Jazzfestival (UK), Edinburgh Jazzfestival (GB), Largs Jazzfestival (GB), Exeter Jazzfestival (UK), Leeds Jazzfestival (UK), Leverkusen Jazzfestival (Ty), Musik Triennale Köln (Ty), Aalen Jazztage (Ty), Heidelberg Jazzfestival (Ty), Beyreuth World Music Festival (Ty), København Jazzfestival (DK), Umeå - Stockholm-, Malmö- og Göteborg Jazzfestival (S), Expo (Jp) and others.
Ayumi Tanaka
is a Japanese pianist and composer currently living in Norway. She leads the Ayumi Tanaka trio which debuted in 2016 with the album Memento. Later that year, she released her second album 3 pianos with another trio. In 2018, Ayumi went on to record under ECM Records as part of Thomas Strønen's ensemble.
In April 2021, the album "Bayou" of the co-leading trio with Thomas Strønen and Marthe Lea will be released on ECM Records. The new album of Ayumi Tanaka Trio is expecting to be released later in the same year.
Ayumi continues to perform internationally with various ensembles including in Japan, India, Germany, Nordic countries, the US and Brazil. Ayumi holds Bachelors and Masters Degrees in Musical Performance in Jazz and Improvisation from the Norwegian Academy of Music. Ayumi began studying at Yamaha Music School from age 3 and when she was fifteen, won first prize in the Yamaha Junior Electone Competition.

Booklet for Bayou