---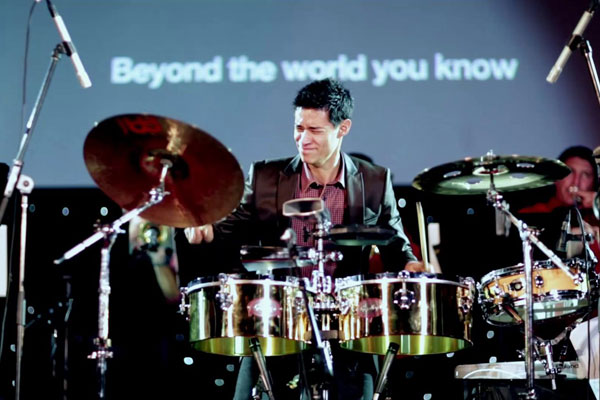 Tony Succar
Born into a family of talented musicians in Lima, Peru on May 18, 1986, Tony Succar's very DNA must be imbued with cadence and rhythm. The Succar family moved to Miami, Florida when Tony was just two; at the ripe old age of 13, Tony's own music career began. He says, "I was privileged to be brought up in a family of musicians: I couldn't be more grateful." Succar's music education began on piano then segued to percussion. He earned his Bachelor of Arts degree in Jazz Performance from Florida International University in 2008 and his Master's degree in 2010. This year Succar became the youngest Artist-in-Residence FIU has ever had.
Succar has worked with artists Arturo Sandoval, Néstor Torres, Ed Calle, Tito Nieves, La India, Obie Bermudez, Jennifer Peña, and Tito Puente Jr., among others. Growing up in Miami—a multi-cultural "Melting Pot"—molded him into a versatile musician, prompting him to make the most of his prodigious talent.
President of his own record label, Mixtura Productions, Tony Succar is well-versed in a number of professional roles: bandleader, percussionist, musician, producer, composer, and arranger. He is currently endorsed by Gon Bops, a top percussion brand. Whether in a timbales solo, an orchestration, or an explosive groove, Succar's sound is gripping and distinctive and accommodates the energies and interests of musicians and dancers. Notably, at every performance, Tony focuses on the integrity of his music.
Succar's compositions emphasize combinations of syncopation, harmonic curiosity, rhythmic uniformity, and tasteful melodies. With his unique arrangements and personal charisma, Succar breaks the mold to create enticing masterpieces for all. Tony's debut album (CD/DVD) "Live at the Wertheim Performing Arts Center" is a prime example. The album received excellent reviews from mainstream media, including this one: "An exciting fusion of South America, Cuba, Jazz and South Beach flavor from an up-and-coming artist who will almost certainly be heard from more in the future." – Jazz Chicago Reviews.
Assembling an exceptional production team and featured artists, Tony Succar has created The UNITY Project, a unique endeavor aimed at the minds, ears and hearts of a global audience. Pop legend Michael Jackson's music and life philosophies heavily influenced Tony as a youngster and teenager, truly igniting his musical ideas and passion. The UNITY Project is the result: an innovative sound that interconnects elements of American Pop, Jazz, Tropical, and World Music with the enduring foundations of the King of Pop. The UNITY album will explode beyond mainstream media to appeal indefinitely to markets around the world.
Tell us about the band..(how did it all get started, the members of the band etc)
The Unity Band is basically my original Mixtura Band but with reinforcements! It's a 49 piece orchestra! And all the members are dear friends of mine who all share the same passion for music! We are here to show the world how much Michael still means to all of us!