---
Ilya Gringolts, Daniel Haefliger & Gilles Vonsattel
---
Biographie Ilya Gringolts, Daniel Haefliger & Gilles Vonsattel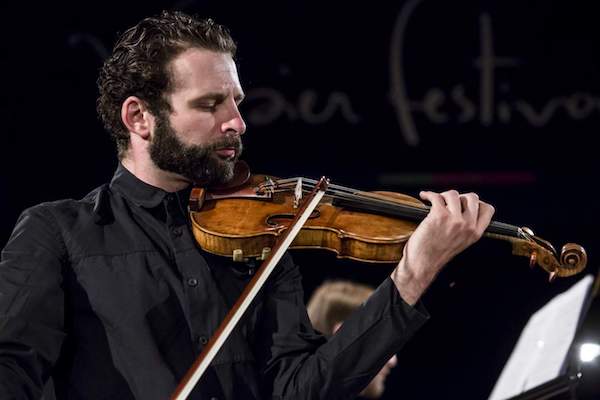 Daniel Haefliger
A musician of great versatility, Daniel Haefliger is as renowned as a soloist, chamber musician and cello and chamber music professor as he is as organizer, lecturer and translator. He has also initiated numerous educational and musicology projects. After studying with Pierre Fournier and André Navarra, he has performed regularly in important music centres such as Berlin, London, Lucerne, Paris, Tokyo or Sydney with partners as Heinz Holliger, Dénes Várjon or Patricia Kopatchinskaja and conductors such as Thierry Fischer, Pascal Rophé, Peter Eötvös or Magnus Lindberg. Member of the Zehetmair Quartet, which has won the greatest international awards for its recordings and plays by heart, he performed on Europe-wide tours. Deeply invested in music of our time, he collaborated closely with composers who left their mark on his generation such as György Kurtág, Brian Ferneyhough, György Ligeti, Elliott Carter, Heinz Holliger, Helmut Lachenmann, Klaus Huber, Luciano Berio, Franco Donatoni, Pascal Dusapin, George Benjamin and many others, and continues to commission and premiere numerous works by the new generation of Swiss composers.
At the turn of the millennium, he initiated the greatest chamber music season in Switzerland with regular con- certs in Geneva, Zurich, Basel and Lugano, known as the Swiss Chamber Concerts, of which he is the Artistic and Executive Director. He has been solo cellist for the Ensemble Modern in Frankfurt, the Camerata Bern and the Ensemble Contrechamps, among others. He is a founder member of the musicological Editions Contrechamps, and has in particular translated the Schönberg-Kandinsky correspondence into French. Passionate teacher, he holds the chamber music class at the Sion site of the Lausanne HEMU, and founded the Swiss Chamber Academy in 2014, followed by the Swiss Chamber Camerata in 2017, which brings together Switzerland's most promising tal- ents. Numerous radio and CD recordings with labels such as Forlane (F), Stradivarius (I), Claves (CH), Neos (D), ECM (D) or Genuin (D) attest to his activities as performer. Daniel Haefliger plays a Giovanni Grancino cello, Milan 1698.
Gilles Vonsattel
Swiss-born American pianist Gilles Vonsattel is an artist of extraordinary originality, comfortable with an enormous range of repertoire, who displays a musical curiosity and sense of adventure that has gained him many admirers. Recipient of an Avery Fisher Career Grant and winner of the Naumburg and Geneva competitions as well as the 2016 Andrew Wolf Chamber Music Award, he has made his Boston Symphony, Tanglewood, and San Francisco Symphony debuts, while performing recitals and chamber music at Ravinia, Tokyo's Musashino Hall, Wigmore Hall, the Gilmore festival, the Lucerne festival, and the Munich Gasteig. He has also appeared with the Warsaw Philharmonic, Calgary Philharmonic, Edmonton Symphony, l'Orchestre Symphonique du Québec, Boston Pops, Nashville Symphony, Musikkollegium Winterthur, Staatskapelle Halle, among others. Chamber partners include musicians such as James Ehnes, Frank Huang, Ilya Gringolts, Nicolas Altstaedt, David Shifrin, David Finckel, Stefan Jackiw, Jörg Widmann, Gary Hoffman, Carter Brey, Anthony Marwood, Paul Neubauer, Paul Watkins, Philip Setzer, Emmanuel Pahud, Karen Gomyo, David Jolley, Ida Kavafian, the Swiss Chamber Soloists or Pacifica, Orion, Ebène, Danish, Daedalus, Escher, and Borromeo Quartets. Deeply committed to the performance of contemporary works, he has premiered numerous works and worked closely with notable composers such as Jörg Widmann, Heinz Holliger, and George Benjamin. His 2011 recording (Honens/Naxos) of music by Debussy, Honegger, Holliger, and Ravel was named one of Time Out New York's classical albums of the year, while a 2014 release (GENUIN/Artist Consort) received a 5/5 from FonoForum and international critical praise. His latest solo release (2015, Honens) of Scarlatti, Webern, Messiaen, Debussy, and George Benjamin's Shadowlines received rave reviews in Gramophone, The New York Times, and the American Record Guide.
Gilles Vonsattel received his bachelor's degree in political science and economics from Columbia University and his master's degree from The Juilliard School (Jerome Lowenthal). He is on the faculty of the University of Massachusetts at Amherst, and makes his home in New York City. Gilles Vonsattel is a Steinway Artist.
Ilya Gringolts
Der russische Geiger Ilya Gringolts überzeugt mit äußerst virtuosem Spiel und feinfühligen Interpretationen und sucht dabei stets nach neuen musikalischen Herausforderungen. Als gefragter Solist widmet er sich neben dem großen Orchesterrepertoire auch selten gespielten sowie zeitgenössischen Werken; Kompositionen von Peter Maxwell Davies, Augusta Read Thomas, Christophe Bertrand und Michael Jarrell wurden von ihm uraufgeführt. Daneben gilt sein künstlerisches Interesse der historischen Aufführungspraxis. So arbeitet er regelmäßig mit Klangkörpern wie dem Finnish Baroque Orchestra oder Arcangelo zusammen.
Ilya Gringolts konzertierte mit namhaften Orchestern wie dem Royal Liverpool Philharmonic Orchestra, City of Birmingham Symphony Orchestra, BBC Symphony Orchestra, dem Deutschen Symphonie-Orchester Berlin, St. Petersburg Philharmonic, Los Angeles Philharmonic, NHK Symphony Orchestra, dem Mahler Chamber Orchestra und den beiden Orchestern des SWR. Jüngste Höhepunkte waren Projekte mit dem BBC Scottish Symphony Orchestra, dem Israel Philharmonic Orchestra, Singa­pore Symphony Orchestra sowie den Bamberger Symphonikern.
Nach Solo- und Duoauftritten beim Verbier- und MiTo-Festival startet Ilya Gringolts fern von seiner Schweizer Wahlheimat in die Saison 2018/19: Mit der Hong Kong Sinfonietta bestreitet er die asiatische Erstaufführung von Michael Jarrells Violinkonzert und leitete vom Solistenpult aus Locatellis Violinkonzert Il labirinto armonico, ehe er in einem play-conduct-Programm mit dem Australian Chamber Orchestra auf einer Tournee durch die fünf größten australischen Städte Werke von Paganini, Vivaldi, Bach und Bartók zu Gehör bringt. Weitere Einladungen führen ihn in der laufenden Saison zum Symphonieorchester des Bayerischen Rundfunks, zum Royal Stockholm Philharmonic Orchestra, zum Finnish Radio Symphony Orchestra, den Hamburger Symphonikern, dem Orquesta Sinfónica de Galicia, dem Berner Symphonieorchester sowie zum Ensemble Resonanz, dem Münchner Kammerorchester und Uppsala Chamber Orchestra; dabei stehen unter anderem Uraufführungen von Albert Schnelzer und Nicolaus Richter de Vroe auf dem Programm.
Als Primarius des 2008 gegründeten Gringolts Quartetts feierte er Erfolge unter anderem bei den Salzburger Festspielen, beim Lucerne Festival, dem Menuhin Festival Gstaad, dem Edinburgh Festival und am Teatro La Fenice in Venedig; in der laufenden Saison debütiert das Quartett am Concergebouw Amsterdam, der Philharmonie Luxembourg, der Elbphilharmonie Hamburg und am Konzerthaus Dortmund. Als äußerst geschätzter Kammermusiker arbeitet Ilya Gringolts außerdem mit Künstlern wie Yuri Bashmet, David Kadouch, Itamar Golan, Peter Laul, Aleksandar Madzar, Nicolas Altstaedt, Andreas Ottensamer, Antoine Tamestit und Jörg Widmann zusammen.
Seiner umfangreichen Diskografie mit hochgelobten CD-Produktionen für die Deutschen Grammophon, BIS, Hyperion, Orchid Classics und Onyx fügte er 2013 seine von der Kritik mit Begeisterung aufgenommene Einspielung von Paganinis 24 Capricen für Violine solo hinzu. Der Aufnahme von Mieczysław Weinbergs Violinkonzert mit dem Warsaw Philharmonic Orchestra im Jahr 2015 folgten zuletzt zwei weitere Orchester-Einspielungen: Dvořáks Violinkonzert mit der Prague Philharmonia sowie die Konzerte von Korngold und Adams mit dem Copenhagen Philharmonic unter Santtu-Matias Rouvali. 2018 erschien die zweite CD seiner Einspielung des kompletten Violinwerks von Strawinsky, aufgenommen mit dem Orquesta Sinfónica de Galicia unter Dima Slobodeniouk.
Nachdem er zunächst Violine und Komposition in St. Petersburg studiert hatte, setzte Ilya Gringolts sein Studium bei Itzhak Perlman an der Juilliard School fort. 1998 ging er als Gewinner des internationalen Violin-Wettbewerbs "Premio Paganini" hervor, als jüngster Finalteilnehmer der Wettbewerbsgeschichte. Neben seiner Tätigkeit als Professor an der Zürcher Hochschule der Künste wirkt Ilya Gringolts regelmäßig als Violin International Fellow am Royal Scottish Conservatoire in Glasgow. Er spielt eine Violine von Giuseppe Guarneri "del Gesù", Cremona 1742-43.