---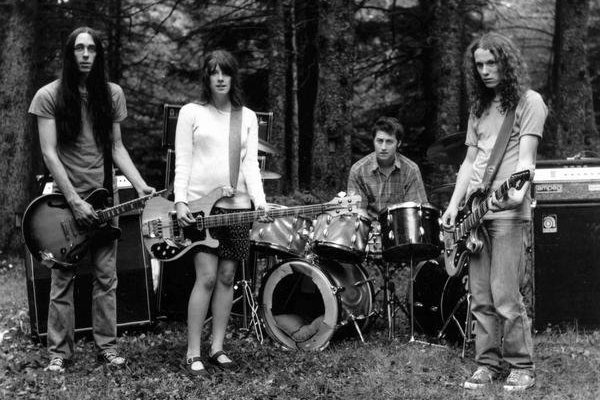 Eric's Trip
formed in 1990 when musicians Rick White and Chris Thompson joined Julie Doiron and Ed Vaughan (who was later replaced by Mark Gaudet in 1991). The band's members began in a number of other groups before joining together. Rick and Chris were both involved in the Moncton groups Bloodstain, Dang, and The Forest, while Mark came from The Whoremans, No Explanation, and Purple Knight.
Eric's Trip took their name from a Sonic Youth song and emulated the distorted guitar of Dinosaur Jr., the folk leanings of Neil Young, and the lo-fi aesthetic of Sebadoh. Rick White described their sound as "sappy melodic pop music on top of thick distortion." They are champions of what is generally called the 'lo-fi' sound, since they use a lot of lo-fi recording methods and production values. A typical ET song will hold bits of other songs, background talking, tape hiss, found sounds, and random noise.
Eric's Trip were the first Canadian band to be signed to Seattle's Sub Pop record label in the early 1990s. Another two Atlantic Canadian bands, Jale and The Hardship Post, were signed to Sub Pop in subsequent years.
The band broke up in 1996, but reunited in 2001 and August of 2006 to play at the Sappy Records Festival in Sackville, New Brunswick. They reunited again for a series of shows in 2007, including a show at the 2007 Halifax Pop Explosion. The band has announced tour dates for the summer of 2008.
After beginning a 'solo' career under the name Broken Girl, bassist Julie Doiron currently has a successful solo career recording under her own name and also plays with Shotgun & Jaybird. Rick White and Mark Gaudet play in Elevator, and Chris Thompson enjoyed some fame as Moon Socket. Thompson currently plays in The Memories Attack with Ron Bates of Moncton band Orange Glass. White produced Doiron's 2007 solo album Woke Myself Up, which features three tracks on which the entire Eric's Trip lineup worked together.