---
Los Angeles Guitar Quartet
---
Biographie Los Angeles Guitar Quartet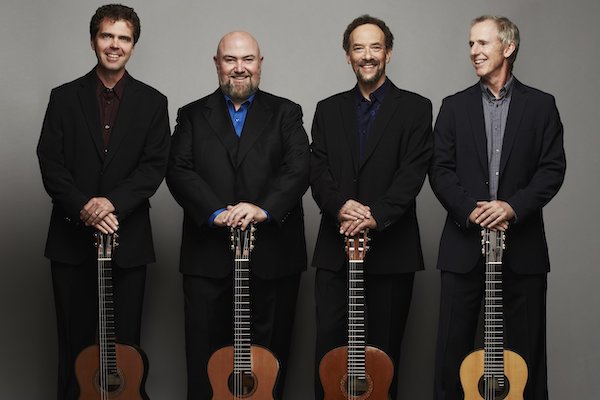 Los Angeles Guitar Quartet (LAGQ)
For over four decades on the concert stage, the Grammy® Award-winning Los Angeles Guitar Quartet (LAGQ) has continually set the standard for expression and virtuosity among guitar ensembles, while perennially exploring new musical landscapes. The charismatic LAGQ, is recognized as one of America's premier instrumental ensembles and consistently play to sold-out houses worldwide. Their critically acclaimed transcriptions of concert masterworks provide a fresh look at the music of the past, while their interpretations of works from the contemporary and world-music realms continually break new ground. Latin, African, Far East, Irish, Folk and American influenced works transport listeners around the world in a single concert experience.
Featuring music from their newest recording, "OPALESCENT" is an exploration through a musical world where light, color and sound unite to create a uniquely immersive listening experience. Highlighted are Australian composer Philip Houghton, a musical alchemist and synesthete whose senses of color and sound are fused in his kinetic, rock-tinged "Opals", and Michael Hedges' "Aerial Boundaries", a portrait of sunlight filtered through moving clouds. Andrew York's brief "Hidden Realm of Light" explodes in a colorful electric charge, and Pat Metheny's chart-topping "Road to the Sun" speaks for itself. In true LAGQ spirit, they weave in some of their own highly specialized renditions of their favorite classical selections. Optional multimedia presentation in development.
Reconnecting to the traditional styles that established them as masters of classical guitar, LAGQ traverses Eastern Europe with a spirited program of concert favorites. From the shores of the Danube to the vast Steppes of Russia, this program includes Liszt's Hungarian Rhapsody #2 and Stravinsky's Pulcinella and likely features Bartok, Prokofiev, and young Bulgarian composer Ourkouzounov, along with gypsy folk music from Hungary and the Balkans.
The Grammy-winning Los Angeles Guitar Quartet continues their exploration of music from around the globe, this time turning their focus towards some of the most innovative guitar masters from the US. The centerpiece of this program is a monumental new work written for them by jazz legend Pat Metheny: "Road to the Sun," a tone poem filled with his trademark grooves, haunting melodies, and rich extended harmonies. Tunes by artists as diverse as Chet Atkins, Hendrix, and Zappa will showcase LAGQ's stylistic range, and a set of "Country Classics" will certainly raise the barn. The program is rounded out with lyrical "Chorale" by fingerstyle master Fred Hand.
In addition to the Grammy award-winning "Guitar Heroes" CD and the Grammy-nominated "LAGQ-Latin", their recent releases include "New Renaissance" and Rodrigo's "Concierto Andaluz" paired with Sergio Assad's Latin Grammy-nominated "Interchange, " which quickly climbed to the top spot on the Billboard charts. Their eagerly anticipated "OPALESCENT" recording will be released in 2022; an eagerly awaited addition to their 2021 collaborative releases, "The Singing Guitar" ( 2022 Grammy Nominee Best Choral Performance), and "Road To The Sun" (#1 Apple Music Classical Chart).