---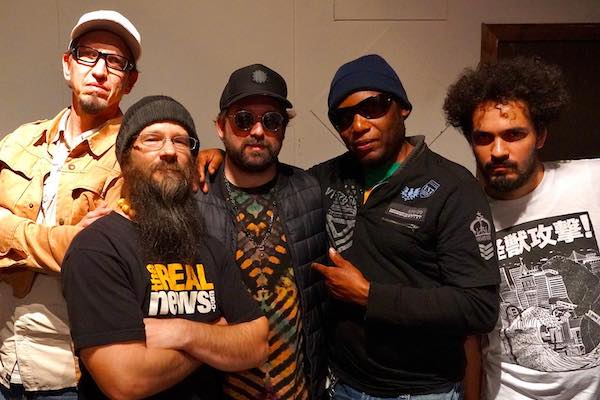 Groundatio
Bursting forth from their underground status, Groundation is set to take the music industry by storm. While capturing the essence and drive of true Roots Reggae, internationally renowned Groundation aims to take the art of genre-bending to new heights by blending elements of both Jazz/Funk fusion and transcendental Dub in their progressive amalgam of sound.
Fans of Fusion music across the globe have taken note. It is fair to say that no other band today is playing music like Groundation is currently playing music. Whether on their masterfully self-produced studio albums or in the midst of their now legendary live-performances, Groundation's sound is both uncategorizable and yet somehow familiar. Whether a fan of Jazz improvisation, the deep grooves of Funk and Dub or the challenging consciousness of Roots Reggae, Groundation offers whoever listens an access point for connecting to the music.
Throughout the summer and fall of 2009 Groundation embarked on a world tour of epic proportions. This tour, in support of their sixth full-length studio album (the already internationally heralded "Here I Am"), has taken them as far as Switzerland, Israel, Germany, Italy, England, Holland and France, before coming back to their homeland for a full coast-to-coast U.S. Tour. Encompassing over 100 shows across 50,000 miles, the Groundation Here I Am World Tour is surely one of the most ambitious tours of its kind, taken upon by an independent, non-mainstream group.
Groundation was founded at the Jazz program of California's Sonoma State University in the fall of 1998 by Harrison Stafford (guitar/lead vocals), Ryan Newman (bass) and Marcus Urani (b3 organ/keys/piano). It was at university that the core of the group honed their musicianship as well as their worldly outlook.
Sonoma State was also where Stafford taught the first California state university accredited class on the History and Culture of Reggae Music.
This core was later joined in 2000 by San Francisco based Jazz trumpeter David Chachere and the North Bay's Kelsey Howard on trombone. Original Groundation saxophonist Jason Robinson went on to become the head of the Jazz program at UC San Diego. Longtime drummer Paul Spina (Les Claypool's Flying Frog Brigade, Will Bernard's Mother Bug) was replaced in 2008 with Reno-based Jazz/Fusion specialist Tekanawa "Rufus" Haereiti.
Bay area percussionist Mingo Lewis Jr. (son of Santana and Return to Forever percussionist Mingo Lewis) brings to the group Latin and African infused rhythms, adding heady layers to Groundation's already stout syncopations. Jamaicans Kim Pommell and Stephanie Wallace, joining the group in 2007 and 2008 respectively, have helped take Groundation's harmonies and live shows to new heights and are featured lead vocalists on the new studio album.
The name 'Groundation' alludes to the decades old communal Rastafarian ceremony of "Grounation," a ritual based on the meditative powers of music. However, Groundation is an idea for today. Its goal: using the universally common vibration of music to get everyone on the same wavelength in order to forward positive consciousness.
With the combination of Reggae music's commitment to an upheaval of our unjust social system and Groundation's livication of forwarding this message through a fresh, improvisation-based musical lens, a truly unique international movement has been created. Groundation is the biggest, most respected American Reggae band in the world today...come join us and find out why.