---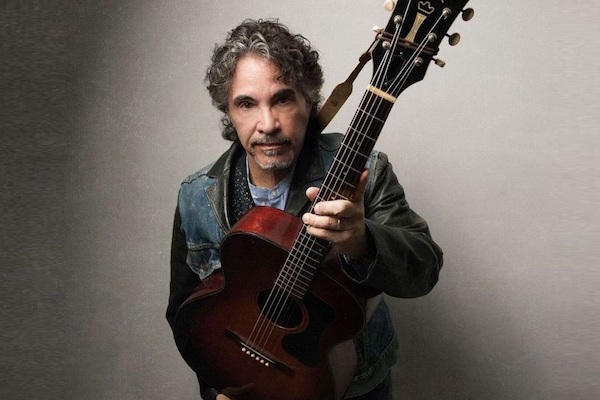 John Oates
is one half of the best selling duo of all time, Hall & Oates, as well as an accomplished solo artist. Singing from the time he could talk and playing the guitar since the age of five, John Oates was destined to be a musician. Born in New York City, his family moved to a small town outside of Philadelphia, PA in the early 1950's, a move that would change the course of his life.
Soaking up the sounds of the 60's, John was influenced by the Nascent folk scene, bluegrass, delta blues, and ragtime guitar styles while also immersing himself in R&B legends such as Otis Redding, Sam and Dave, The Temptations, Curtis Mayfield, as well as Smokey Robinson and the Miracles. One of his biggest mentors was his guitar teacher Jerry Ricks, who had spent time on the road with Mississippi John Hurt and Son House introducing John to the music of Doc Watson and Reverend Gary Davis, passing down their signature finger and flat picking styles.
John Oates met Daryl Hall while attending Temple University in Philadelphia, PA. The two began collaborating and playing music together, marking the beginning of their historic partnership. Since the formation in the early 70's Hall & Oates have gone on to record 21 albums, which have sold over 80 million units making them the most successful duo in rock history. They have scored 10 number one records, over 20 Top 40 hits and have toured the world for decades. Their involvement in the original "Live Aid" concert and the groundbreaking "We Are The World" charity recording have further established them as legendary artists who have personally and through their music, stood the test of time.
In addition to their numerous American Music, MTV awards, and multiple Grammy nominations, in 2005 they were inducted into the American Songwriters Hall of Fame and in May of 2008 were presented the prestigious BMI Icon Award for their outstanding career achievement in songwriting. In April 2014 Hall & Oates were inducted into the Rock and Roll Hall of Fame.
Since embarking on a long awaited solo career in 1999 John has recorded five solo albums including Phunk Shui, 1000 Miles of Life, Mississippi Mile, a live album called The Bluesville Sessions, and most recently Good Road To Follow, which features collaborations with Ryan Tedder of OneRepublic, Vince Gill, Nathan Chapman, Jim Lauderdale, and more.
In January 2015 John released his latest project Another Good Road (Warner/Elektra), a DVD docu-concert that premiered on Palladia Music Channel. Recorded live in a Nashville studio in one session, the video features some of Music City's finest musicians and singers as well as rare, seldom seen footage of John's family ranch in Colorado, a glimpse into his world behind the music.
John is a diverse musician and songwriter active in Nashville community and beyond. Founded in 2010, he was the creator and executive producer for the "7908 the Aspen Songwriters Festival" at the historic Wheeler Opera House in Aspen, CO. In 2013, John teamed up with Jim James (My Morning Jacket) to curate the Bonnaroo Super Jam with special guests Britney Howard, Billy Idol, R. Kelly, Larry Graham and the Preservation Hall Jazz band. He is currently writing a memoir to be released via St. Martin's Press in 2017.
When not touring with his solo show or with Daryl Hall, John, his wife Aimee and their son Tanner divide their time between Nashville, TN and their rescue ranch in the Rocky Mountains of Colorado, along with dogs, emus, peacocks, llamas and alpacas.