---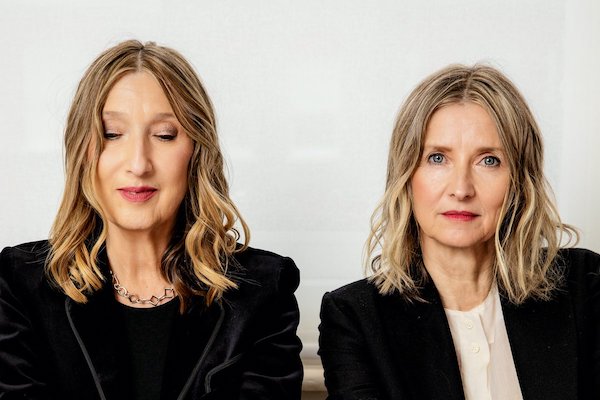 Claudia Brücken & Susanne Freytag
1982 gründete, das ehemalige Mitglied der Band "Die Krupps", Ralf Dörper Propaganda. PROPAGANDA entsprang der lebendigen Düsseldorfer Punk und New Wave Bewegung aus der ebenfalls "Die Krupps", "Male", "DAF", "Fehlfarben" und die "Toten Hosen". Gemeinsam mit dem DJ und Plan-Produzenten Andreas Thein und der Sängerin Susanne Freytag startete das Trio zunächst mit zwei Titeln.
1983 stießen Michael Mertens, ein begeisterter und professioneller Percussion-Experte, bis dahin bei den Düsseldorfer Philharmonikern und Claudia Brücken zu dem Trio. Es folgte ein Vertrag beim englischen Label ZTT Records und 1984 das Lied Dr. Mabuse, welches ein echter kommerzieller Erfolg bei dem mit neuen technischen Möglichkeiten gearbeitet wurde, insbesondere mit Samplings, die zuvor vom Produzenten Trevor Horn in der Zusammenarbeit mit Art of Noiseund Frankie Goes to Hollywoodangewandt wurden. Es entstand ein herausragender Pop-Hit mit zukunftsweisenden Elementen, die vielen Künstler in den drauffolgenden Jahren inspiriert und geprägt haben.
1985 erschienen die in Europa sehr erfolgreichen Singles "Duel" und "P-Machinery. Das dazugehörige Album "A secret Wish" wurde millionenfach verkauft.
Das melodische und mit tanzbaren Synthiebeats produzierte Album, prägnant, einzigartig und unterkühlt eingesungen durch Claudia Brücken und Susanne Freytag schaffte gerade durch die Stimmen der beiden Künstlerinnen auf besondere Art und Weise den damaligen musikalischen Zeitgeist zu treffen und erreichte eine signifikante Positionierung in der modernen Musikgeschichte.
Nach einer erfolgreichen Welttournee 1985 erschien das Remixalbum "Wishful Thinking"
2010 gelang Propaganda mit einer erweiterten Form des Albums "A secret Wish" ein überraschender Charterfolg in den britischen Charts.
2019 performen Claudia Brücken und Susanne Freytag die Songs von Propaganda, die insbesondre durch ihre Stimmen Ihren Charakter und ihre Einzigartigkeit erhielten. Drei exklusive Shows gespielt in Clubs in Berlin, Bochum und Hamburg, versprechen eine erstklassige Unterhaltung auf musikalisch herausragendem Niveau. Die Interpretation der 80-ger Jahre Hits von Propaganda gesungen mit den einzigartigen Stimmen der ehemaligen Bandmitglieder Claudia Brücken und Susanne Freytag laden zu einer musikalischen Reise ein, in eine Zeit die in den späteren Jahren viele Interpreten beeinflusst und geprägt hat. Die Performance in Clubatmosphäre besticht mit einzigartiger intimer und familiärer Show, nah am Publikum, tanzbar, hörbar und genießbar.