---
Yuri Liberzon & Patrick O'Connell
---
Biographie Yuri Liberzon & Patrick O'Connell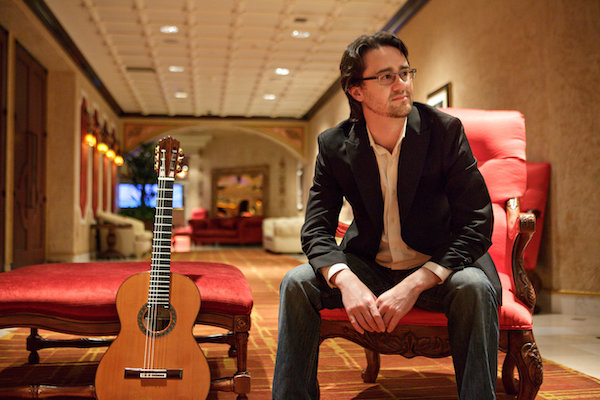 Yuri Liberzon
Internationally acclaimed concert classical guitarist and recording artist Yuri Liberzon was born in Novosibirsk, Russia and raised in Israel. He has given countless concerts across the US, alongside numerous appearances in international media.
Liberzon has released three albums in collaboration with GRAMMY-winning sound engineer and producer Nahuel Bronzini: Ascension (2015), ¡Acentuado! (2017, Soundset Recordings), and J.S. Bach – 3 Violin Sonatas (2020, Laudable Records). Liberzon has transcribed the music of Scarlatti and J.S. Bach for guitar, and these have been published in Soundboard Magazine and distributed in Europe by Bergmann Edition.
While in Israel, Liberzon studied with Yaron Hasson, and was the recipient of multiple America-Israel Cultural Foundation scholarships and grants. In 2000, Liberzon relocated to the US to study for his Bachelor of Music and Graduate Performance Diploma at the Peabody Conservatory with Manuel Barrueco, subsequently earning a Master of Music from Yale University with Benjamin Verdery, being awarded full scholarships at both institutions.
Patrick O'Connell
studied at the Peabody Conservatory of Music of the Johns Hopkins University with Manuel Barrueco and Ray Chester, and the San Francisco Conservatory of Music with David Tanenbaum, Dusan Bogdanovic and Marc Teicholz. While still a student at the latter he began his professional career with a debut solo performance at Carnegie Hall. After earning his master's degree in guitar performance he joined the San Francisco Guitar Quartet, appearing on the album Chasing Light, which features numerous new works dedicated to the ensemble as well as his own arrangements.
O'Connell has been a featured performer with the San Francisco Guitar Quartet at numerous festivals and concert series worldwide. Notable performances include La Guitarra California International Guitar Festival in San Luis Obispo, Second Sundays Classical Guitar Concert Series in New York City, the Monadnock Music Festival in New Hampshire, the San Francisco Jazz Festival, the Festival of Contemporary Music in San Francisco, California and Dresdner Gitarrenfest, and at the Legion of Honor in San Francisco.