---
Album Info
Album Veröffentlichung:
2019
HRA-Veröffentlichung:
01.11.2019
Das Album enthält Albumcover Booklet (PDF)
?
Formate & Preise
| | | | |
| --- | --- | --- | --- |
| Format | Preis | Im Warenkorb | Kaufen |
| FLAC 176.4 | $ 15,80 | | |
| FLAC 88.2 | $ 13,10 | | |
| DSD 64 | $ 15,80 | | |
| MQA | $ 16,50 | | |
Wolfgang Amadeus Mozart (1756 - 1791): Divertimento in E flat major KV 563:

1

Divertimento in E-flat major, K. 563: I. Allegro

08:38

2

Divertimento in E-flat major, K. 563: II. Adagio

10:34

3

Divertimento in E-flat major, K. 563: III. Menuetto Allegretto - Trio

05:03

4

Divertimento in E-flat major, K. 563: IV. Andante

07:01

5

Divertimento in E-flat major, K. 563: V. Menuetto Allegretto - Trio I - Trio II

05:27

6

Divertimento in E-flat major, K. 563: VI. Allegro

06:08

Total Runtime

42:51
Info zu MOZART Divertimento KV 563
After composing his three last symphonies in as many months in the summer of 1788, Mozart started out on another mammoth project – a trio for strings of truly symphonic proportions. This visionary work with its somewhat unpretentious title "Divertimento in E flat major" revealed itself to be the quintessence of everything Mozart stood for as composer, craftsman and dramaturge. With its six movements, a playing time of around 50 minutes and the grandeur of its musical lines it puts all earlier chamber music compositions in the shade – but was its greatness appreciated in Mozart's time?
TrioTaus:
Liv Hilde Klokk, violin
Ida Bryhn, viola
Torun Sæter Stavseng, cello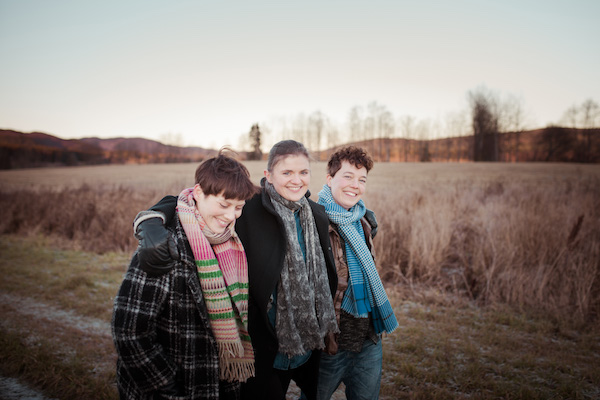 Liv Hilde Klokk
(b. 1984) is one of the foremost performers of the younger generation, and she has been described as a highly mature musician with a distinctive style. As a solo performer Liv Hilde has won awards and played with many of Norway's leading orchestras, as well as with orchestras abroad. Of her performance of Brahms' violin concerto with Trondheim Symphony Orchestra, one critic wrote: "There was something about Liv Hilde Klokk's concentration. Her stance revealed a decisiveness even before she began to play, and it truly manifested itself in her performance as well. We were not only listeners, but became a living part of the performance itself."
In 2006 Liv Hilde founded DuoTaus together with cellist Torun Stavseng. The duo won a national music competition and toured Scandinavia and southern Europe. In 2016 they joined forces with violist Ida Bryhn to form TrioTaus and have already appeared at several Norwegian festivals and toured extensively. In 2019 the will release their first recording: Mozarts Divertimento in E flat major.
In 2007 Liv Hilde Klokk joined Oslo String Quartet and in 2013 the group won a Spellemann award for best classical album for their recording "Schubert Connections". Both as a solo performer and with Oslo String Quartet Liv Hilde has played at most Norwegian classical music festivals, a great many festivals in Europe, and has played in prestigious concert series at Wigmore Hall, Carnegie Hall and Beaux-Arts Brussels with, among others, Lawrence Power, Torleif Thedéen, Lars Anders Tomter, and Anne Gastinelle. Liv Hilde is also a co-founder of the Oslo Quartet Series.
Liv Hilde has gained considerable experience throughout her career as a concertmaster and leader of various chamber and symphony orchestras across Scandinavia. She plays a Thomas Balestrieri from 1759 on loan from Sparebankstiftelsen DnBNOR, Dextra Musica.
Ida Bryhn
is from Oslo and received her first musical training at the Barratt Due Institute of Music. She plays solo viola with the Norwegian Chamber Orchestra and is invited regularly to perform solo with other European orchestras. She is currently performing as a solo viola player with the Philharmonia Orchestra in London under Chief Conductor Esa Pekka Salonen. Ida has toured the world with Philharmonia and held guest performances in most major concert halls in Europe and the U.S. Ida is a popular teacher and, apart from working as an instructor at the Barratt Due Institute of Music, she is also a professor at the Royal College of Music in London.
As a chamber music musician, she has performed at the leading Norwegian festivals and internationally renowned festivals like the Verbier in Switzerland, Schlesvig-Holstein Music Festival and Ravinia in Chicago.
She plays a viola made by the brothers G. and F. Grancino of Milan around the year 1665, made available to her by Dextra Musica.
Torun Stavseng
is a Norwegian cellist interested in a wide span of music and active as a soloist, chamber musician and principal cellist of Aurora Orchestra.
In 2010 she was awarded the Swedish Royal Academy of Music honorary prize performing Britten ́s Cello Symphony with the Royal Philharmonic Orchestra. In the same year she was awarded the Young Swedish soloist prize and offered the principal cellist position of the Helsingborg Symphony Orchestra where she worked until 2012. Other soloist appearances include Oslo Philharmonic orchestra, Helsingborg Symphony Orchestra and Oslo Camerata. Torun has performed at festivals such as Risor Chamber Music Festival, Ohai Music Festival, Open Chamber Music Prussia Cove, Festspillene i Elverum and Festspillene i Hardanger. Other prizes and awards include RWE Dea Kulturpreis, Oslo Camerata soloist competition, KMA Jernaaker stipend and Fegersten artist prize.
Together with violinist Liv Hilde Klokk and violist Ida Bryhn they form TrioTaus. As diverse chamber players and soloists, the trio programmes core classical and romantic trio repertoire with an inventive approach. In 2017 they release their debut album with music by Mozart and Schubert on 2L Lyd.
In 2008 Torun established her duo partnership with Swedish pianist Anna Christensson with whom she has since performed extensively across Scandinavia and Europe. Alongside performing the core repertoire for cello and piano, they have great emphasis on creating new works for the duo.
In 2012, alongside London-based cellists/composers Gregor Riddell and Colin Alexander, Torun formed Tre Voci, which explores music ranging from transcriptions of renaissance choral works to new commissions. In January 2014 the ensemble launched its debut album at Kings Place Out Hear Series and performed across the UK and Scandinavia. All members of Tre Voci are also active improvisers.
Torun has since 2013 been a member of the Oslo based contemporary music ensemble Cikada and Cicada String Quartet, with performances including Ultima Festival, Huddersfield Festival, Tage für Neue Musik Weingarten, Klangspuren Schwaz and Eclat Stuttgart.
Torun is founder and creative director of KRANTZ, a new chamber music series in Oslo taking place at Nynorskens Hus. It's co-founded with pianist Mathias Halvorsen. With KRANTZ they aim to create an arena for audience and artists to come together and enjoy great music, in an intimate and informal setting, creating a unique musical experiences both for the performers and the audience. They are currently building up a strong social program, consisting of school workshops and sponsored tickets to reach new audience.
Torun has worked as a principal and co-principal cellist of numerous orchestras, including Royal Opera Stockholm and Norwegian Chamber Orchestra. From 2010-2012 she was principal cellist of Helsingborg Symphony Orchestra. In 2014-16 Torun is also guesting as principal cellist of the Norwegian Broadcasting Orchestra in Oslo.
Torun has studied at Barratt Dues Music Institute, Oslo, Hochschule für Musik Stuttgart and Edsberg/Royal College of Music Stockholm with Bjørg Lewis, Jean- Guihen Queyras, Frans Helmerson and Torleif Thedéen.
Torun currently plays on a cello by Matteo Goffriller (1725) on generous loan from Dextra Musica Sparebankstiftelsen.


Booklet für MOZART Divertimento KV 563