---
Album Info
Album Veröffentlichung:
2020
HRA-Veröffentlichung:
12.06.2020
Das Album enthält Albumcover
1

After You've Gone

04:50

2

I Just Want to Be Horizontal

04:52

3

Trust in Me

02:54

4

I Cried for You

03:10

5

The Candy Man

03:02

6

Inch Worm

04:12

7

That's Life I Guess

04:04

8

Until the Real Thing Comes Along

04:56

9

Me, Myself and I

03:09

10

Our Love is Here to Stay

04:13

11

Kitchen Man

03:40

12

At Ebb Tide

03:47

13

Lover Come Back to Me

03:57

14

Easy to Love

03:54

15

He Ain't Got Rhythm

03:01

16

I Wished on the Moon

03:41

17

Someone Turned the Moon Upside Down

04:27

Total Runtime

01:05:49
Info zu I Just Want to Be Horizontal
Horizontal is the latest in a decade long collaboration between Jim Kweskin and Samoa Wilson. The range of offerings, from tender ballads and raunchy blues to swinging jazz standards, reflects the restless and discerning nature of their musical explorations. Kweskin has been celebrated in his storied career for his love of a good tune as well as for bending and exploding accepted genres. He mentored Wilson throughout her early years. Together they played and sang the songs of the Carter Family, Jimmy Rodgers, Bessie Smith, Mildred Bailey, Mississippi John Hurt, Fred Astaire, Grandpa Jones, and dozens more including many drawn from The Harry Smith Anthology of American Folk music and other sources of traditional folk music, blues and early jazz.
"He Ain't Got Rhythm" is another fun number, written by Irving Berlin, with some additional lyrics by Jim Kweskin. There is a delightful energy to this track, and in particular to Samoa's vocals. The album concludes with a couple of songs about the moon, the first being a bright rendition of "I Wished On The Moon," a song that Teddy Wilson And His Orchestra recorded in 1935 with Billie Holiday on vocals. "Wished on a star/And asked for a dream or two/I looked for every loveliness/It all came true/I wished on the moon for you." Then we get a beautiful rendition of "Someone Turned The Moon Upside Down," a song recorded by Tony Bennett in the 1950s. It is a song of heartache and of longing. "All the tales I hear round about/They nearly turn my heart inside out/I try so hard to smile/But nothing seems worthwhile." (michaelsmusiclog.blogspot.com)
Samoa Wilson, vocals
Jim Kweskin, vocals, fingerpicking, rhythm guitar
Titus Vollmer, lead and rhythm guitar, Hawaiian slide guitar, ukulele
Mike Davis, trumpet, cornet
Paloma Ohm, alto saxophone
Dennis Lichtman, clarinet, fiddle, mandolin, alto saxophone
Sonny Barbato, piano, accordion
Matthew Berlin, bass
Jeff Brown, drums
Sean Read, backup harmony on "At Ebb Tide"
Maddie Read Clarke, backup harmony on "At Ebb Tide"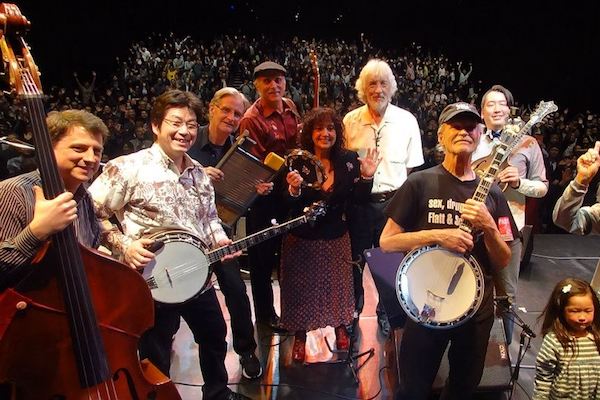 Jim Kweskin
ist der Gründer der legendären Jim Kweskin Jug Band, einer der bekanntesten und erfolgreichsten Folk Bands der 60er Jahre in den USA. Dort ist er heute quasi ein Nationalheiligtum. Für den Musikkritiker der New York Times, Ed Ward, zählten zu den wichtigsten Bands der frühen 60er: die Rolling Stones, die Beatles, die Byrds und die Jim Kweskin Jug Band. Jeder der diese Band kennt, weiß um ihren Platz in den Annalen der amerikanischen Musikgeschichte. Jim Kweskin tourt international. Im Laufe der letzten 50 Jahre hat er unzählige Schallplatten als Bandleader herausgebracht. Auf ihnen findet man das Who is Who der amerikanischen Folk- und Swing-Szene, wie z.B. Geoff Muldaur, Maria Muldaur, John Sebastian, David Grisman, Cindy Cashdollar. Seine neueste CD hat Jim im Juni 2018 in New York mit der fantastischen Sängerin Samoa Wilson und dem deutschen Filmkomponisten und hierzulande als einer der besten Bluesgitarristen gefeierten Titus Vollmer aufgenommen. Mit seinem enzyklopädischen Wissen über amerikanische Roots Musik hat Kweskin ein paar wunderschöne, teilweise obskure Schätze des Jazz- und Swing-Repertoires ausgegraben und mit erstklassigen Musikern der amerikanischen traditional Jazz- und Blues-Szene eine magische Studio Session hingelegt. Jim begeistert sein Publikum auf der Bühne weltweit mit seinem Charme, seinem Humor, seiner Raffinesse und seinem großen Talent. Seine liebenswerten und humorvollen Interpretationen machen jede Performance zu einem einzigartigen Erlebnis. Mit seinem umfangreichen Repertoire und seiner Leidenschaft für die Musik, zählt Jim Kweskin heutzutage zu den bedeutendsten Interpreten des "Great American Songbook" überhaupt.
Samoa Wilso
ist eine charismatische Ausnahmesängerin deren eindringliche, pure und ausdrucksstarke Stimme die magische Kraft besitzt ihr Publikum tief zu bewegen. Sie wuchs mit der Musik von Billy Holiday, Bessie Smith, Memphis Minnie, Ma Rainey und vielen anderen Sängerinnen dieser Generation auf und ist heute eine der wenigen authentischen Interpretinnen dieses Stils. Samoa kennt Jim von Kindheit an. Deshalb sind beide kongeniale Partner wenn es darum geht, ungehobene Schätze aus Blues, Swing und Jazz des frühen 20. Jahrhunderts in neuem Glanz erstrahlen zu lassen. Sie lebt und arbeitet in New York.
Titus Vollmer
ist Filmkomponist und hat die Musik zu über 200 Fernsehfilmen, Reihen- und Serienepisoden geschrieben. Wer schon einmal eine Folge "Mordkommission Istanbul", "Der Kroatien Krimi", "Der Alte" oder "Ein Fall für Zwei" gesehen hat seine Musik schon gehört. Er war jedoch immer auch leidenschaftlicher Gitarrenprofi und ist auf unzähligen Alben bekannter Künstler zu hören. So war und ist er langjähriger Studio- und Tourneegitarrist von Ludwig Seuss, Martin Schmitt, Claudia Koreck, Willy Astor und vielen mehr. Jim Kweskin und Samoa Wilson lernte er während seines Studiums in Boston, USA kennen. Verbunden durch ihre Leidenschaft für die grosse amerikanische Musiktradition nahmen Kweskin, Wilson und Vollmer im Lauf der Jahre drei gemeinsame Alben auf.


Dieses Album enthält kein Booklet