---
Album Info
Album Veröffentlichung:
2019
HRA-Veröffentlichung:
24.05.2019
Das Album enthält Albumcover
Entschuldigen Sie bitte!
Sehr geehrter HIGHRESAUDIO Besucher,
leider kann das Album zurzeit aufgrund von Länder- und Lizenzbeschränkungen nicht gekauft werden oder uns liegt der offizielle Veröffentlichungstermin für Ihr Land noch nicht vor. Wir aktualisieren unsere Veröffentlichungstermine ein- bis zweimal die Woche. Bitte schauen Sie ab und zu mal wieder rein.
Wir empfehlen Ihnen das Album auf Ihre Merkliste zu setzen.
Wir bedanken uns für Ihr Verständnis und Ihre Geduld.
Ihr, HIGHRESAUDIO
1

Morning Starship

03:29

2

Don't Interrupt the Sorrow

04:06

3

Only a Pawn in Their Game

03:46

4

Suffer the Little Children

03:31

5

Days of Decision

02:55

6

It's Over

02:52

7

Wedding Bell Blues

02:56

8

Loneliness Remembers What Happiness Forgets

02:09

9

Lady Willpower

03:07

10

When You Close Your Eyes

03:29

11

Lenny's Tune

03:30

12

Some Say I Got Devil

04:09

Total Runtime

39:59
Info zu California Son
Er zählt zu den ganz Großen der modernen Rockmusik: Am 24. Mai meldet sich Morrissey mit seinem neuem Album California Son zurück. Der Longplayer erscheint auf dem künstlereigenen Label Etienne via BMG und beinhaltet 12 sorgfältig ausgesuchte Coverversionen von Stücken aus den 60er und 70er Jahren.
Auf California Son spannt Morrissey seinen stimmlichen Bogen von Pop, über Glam Rock bis zum Folk und präsentiert sich sogar als Protestsänger auf den Spuren von Dylan und Phil Ochs. Mit seiner unverwechselbaren Baritonstimme macht er aus jedem Coversong seine ureigene Version, während er sich gleichzeitig klar am vorgegebenen Original orientiert. Auf dem Zenith seiner vokalen Fähigkeiten blickt der Brite heute zurück auf die Stücke, die ihn auf seinem künstlerischen Werdegang inspiriert und beeinflusst haben. Alle 12 Songs auf California Son wurden von Joe Chiccarelli produziert. Einen ersten Vorboten koppelt Morrissey dieser Tage mit seiner Coverversion von Roy Orbisons It´s Over aus, auf der er stimmliche Unterstützung von der amerikanischen Singer/ Songwriterin LP bekommt. Das Original wurde auf dem Höhepunkt von Roy Orbisons Popularität geschrieben und avancierte 1964 zum Top 1-Hit in den britischen Charts. Mit seinem erhabenen Falsettgesang und den gefühlvollen Lyrics ist der enorme Einfluss des Big O auf den jungen Morrissey damals und heute deutlich nachvollziehbar.
Auf dem Album sind noch Gäste wie Green Day-Frontmann Billie Joe Armstrong (auf dem Laura Nyro-Track Wedding Bell Blues ), Ed Droste, Ariel Engle, Sameer Gadhia und Lydia Night zu hören.
Im vergangenen Jahr konnte Morrissey sein 30. Jubiläum als unabhängiger Solokünstler feiern und auch 2019 erweist sich schon jetzt als aufregendes Jahr. Neben dem Release seines neuen Albums California Son wird Morrissey u.a. erstmalig seit gut zwanzig Jahren wieder auf Tour durch Kanada zu erleben sein.
Morrissey, Gesang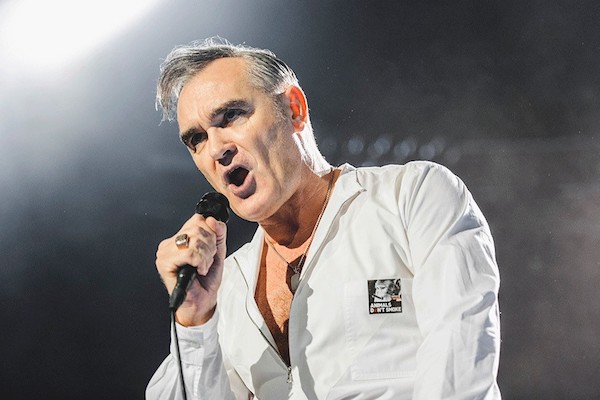 Morrissey
In the first phase of his career as the Smiths' singer, Morrissey's record sleeves featured portraits representing his personal icons: playwright Shelagh Delaney, actor Alain Delon, glamour girl Alexandra Bastedo, and so on. His solo records, on the other hand, virtually all feature images of the man himself.
Morrissey has become his own icon. His self-created persona as an effete but acid-tongued champion of outcasts, losers and misunderstood mopers is as important a part of his art as his actual music. His most potent work was created during his five years with the Smiths, but he remains a magnificently eccentric singer/lyricist, whose voice's leaps, trills, slurs and enunciations bring together an unlikely and very British set of inspirations: the prim young women of Swinging London who became pop idols in the Sixties, the glam-rockers of the Seventies and the outrageous camp-aesthete tradition that extends all the way back to Oscar Wilde. No one is more Morrissey-esque.
The son of a hospital porter and a librarian, Stephen Patrick Morrissey first expressed himself by writing. Unemployed in the late Seventies, he wrote a book on James Dean and another on the New York Dolls, whose English fan club he headed. He also played briefly in a band called the Nosebleeds. By 1982, he'd founded the Smiths with protean guitarist Johnny Marr, drummer Mike Joyce and bassist Andy Rourke.
It didn't take long after their first single, 1983's Hand In Glove, for The Smiths to make a huge splash in the U.K., where all four of their studio albums charted at No. 1 or No. 2. (In the U.S., they never made much headway with the mainstream, but all their records are still staples on alternative-rock radio.) From 1983 to 1987, they released a new single every few months; Marr, who wrote the band's music, was as much the star of the group as Morrissey, parrying the singer's wry, morbid lyrics with inventive riffs and an enormous range of technique.
The Smiths also caused a stir with Morrissey's stage presence: He tended to wear a garland of gladioli in tribute to Oscar Wilde, a hearing aid in homage to Fifties balladeer Johnnie Ray, and a ducktail haircut patterned after English rocker Billy Fury. He had a knack for pissing people off—his propensity for trash-talking other popular bands, habit of tossing off bon mots like "reggae is vile," and maybe-ironic-but-maybe-not embrace of racially charged nationalist imagery won him plenty of enemies. He preferred to phrase things the most provocative way possible. Not many vegetarian rock stars would go as far as calling an album Meat Is Murder (1985, #110). And, as guarded as Morrissey has always been about his personal life, even David Bowie didn't go nearly as far in bringing gay culture and iconography into rock.
By 1986, the Smiths were already hitting turbulence — Rourke was briefly fired from the group, and former Aztec Camera guitarist Craig Gannon joined for a pair of singles and a tour. In mid-1987, the group fell apart; Strangeways, Here We Come (Number 55, 1987) and the live Rank (Number 77, 1988) were released post break-up.
Less than six months after Strangeways, Morrissey released his first solo album, Viva Hate (Number 48, 1988; it eventually went gold in the U.S.). This time, he had a new set of musical collaborators: Stephen Street, who'd produced Strangeways, co-wrote all the new songs with him, and Street and the Durutti Column's Vini Reilly played guitar. He followed it with a string of non-album singles, subsequently collected as Bona Drag ("The Last of the Famous International Playboys" even featured Gannon, Rourke and Joyce), and Kill Uncle (Number 52, 1991), on which his chief collaborator and guitarist was Fairground Attraction's Mark E. Nevin.
With Your Arsenal (Number 21, 1992) he established his longest-lasting professional partnership: Guitarists Alain Whyte and Boz Boorer joined the band, and have worked with him ever since. Morrissey had always been fascinated with the early-Seventies glam-rock scene, but he plunged into it head-on here; David Bowie's former guitarist Mick Ronson even produced the album, and Bowie himself proceeded to cover "I Know It's Gonna Happen Someday." The simmering, doomy Vauxhall and I (Number 18, 1994) yielded Morrissey's one and only American chart single to date, "The More You Ignore Me, The Closer I Get" (a princely Number 46).
Both 1995's Southpaw Grammar (Number 66) — Morrissey's stab at art-rock, which began and ended with ten-minute-plus songs — and Maladjusted (Number 61, 1997) were met with a lukewarm response even in England, where he had still been a major star until recently. The Britpop scene was then in full swing, and he'd become something of a relic. The headlines weren't going his way, either. Rourke and Joyce sued Morrissey and Marr over the unequal distribution of Smiths money. Rourke settled out of court, but in 1998 Joyce won his case, with a British judge calling Morrissey "devious, truculent, and unreliable." [the quote comes from the 1995 ruline, which was appealed. The judgment was upheld in 1998, but without any clever quips].
After Maladjusted, Morrissey didn't release a new album for almost seven years—although his apropos-of-nothing 1999-2000 "Oye Esteban" [¡Oye Esteban!] tour was a major attraction, especially in Latin America, where he'd developed a loyal following. Finally, he returned in full prodigal-son style with You Are the Quarry (Number 11, 2004), for which he altered his basic approach not a scintilla: Co-songwriters Boorer and Whyte continued to provide meat-and-potatoes modern-rock settings that stayed out of the star's way, and "The World Is Full of Crashing Bores" and "How Can Anybody Possibly Know How I Feel?" are the archetypal Morrissey song titles.
Former Red Hot Chili Peppers [he was only in the band for a couple of months] guitarist Jesse Tobias joined the band (and the writing team) for Ringleader of the Tormentors (Number 27, 2006), produced by another former Bowie associate, Tony Visconti. Released shortly before Morrissey's fiftieth birthday, Years of Refusal (Number 11, 2009) continued his latter-day streak with dogged consistency. He remains a cult artist, with a cult as stable and devoted as any artist could ask for. Fans continue to hope for a Smiths reunion, although it's unlikely: Morrissey told "Uncut" magazine in 2006 that "I would rather eat my own testicles than reform the Smiths, and that's saying something for a vegetarian."


Dieses Album enthält kein Booklet