---
Album Info
Album Veröffentlichung:
2022
HRA-Veröffentlichung:
06.10.2022
Das Album enthält Albumcover
Lambert, Vince Pope (b. 1967): Concrete Clouds:

1

Lambert, Pope: Concrete Clouds

04:00

Dmitry Evgrafov (b. 1993), Vince Pope:

2

Evgrafov, Pope: Everything Matters

03:10

Stefano Guzzetti, Vince Pope:

3

Guzzetti, Pope: I Called Your Name

03:11

4

Guzzetti, Pope: Pause

04:37

Luca Longobardi (b. 1976), Vince Pope:

5

Longobardi, Pope: What Is Left

05:59

Tom Ashbrook (b. 1956), Vince Pope:

6

Ashbrook, Pope: Undertow

03:12

Goldbæk, Vince Pope:

7

Goldbæk, Pope: Time Goes Gently By

03:18

Hideyuki Hashimoto (b. 1986), Vince Pope:

8

Hashimoto, Pope: Touch

04:57

Stefan Hafsteinsson (b. 1993), Vince Pope:

9

Hafsteinsson, Pope: The View From Autumn

02:13

Piotr Wiese (b. 1989), Vince Pope:

10

Wiese, Pope: In A Way, Yes

02:43

Sharon Lynn Makarenko, Vince Pope:

11

Makarenko, Pope: Travelling Home

03:57

Nat Bartsch, Vince Pope:

12

Bartsch, Pope: Yellow Afternoons

03:11

Total Runtime

44:28
Info zu Together Apart
Together Apart is literally a coming together of artists from all over the world - I wanted to create something that had a kind of global feel in terms of the artist that I would collaborate with. It was important to me that I tried to work with people from as far afield as possible - because I think the idea that we can be connected by music - even though we are separated by great distance and culture is what is important. Divided by language, ideas, history, but united by the desire to create music.
From Australia, Germany, Iceland, Italy, Japan, Poland, Canada all the collaborations took place with only zoom calls, emails or telephone calls. The odd question as to whether this or that worked - what did I think of that? It is a strange and beautiful thing that music - possibly the most interactive and performative of the arts could be created like this. Together Apart. Music, the language that all of us understand and that needs no translation.
To accompany this album there will be a book with comments from each of the collaborators - also included are the notes that were the inspiration for each piece of music on the album . So yes you can play them too and see where they take you.
Together Apart is a beautiful anthology of ambient music. When listening to its twelve tracks the listener is transported not only around the world, but through the many differing styles of some of the globe's best contemporary composers. Together Apart is set to be released digitally as well as physically on vinyl. There will also be a book of sheet music available, the proceeds of which will be donated to Eden Reforestation a nonprofit NGO that works in developing countries to rebuild natural landscapes destroyed by deforestation.
"It was important to me to work with people from as far afield as possible – because I think the idea that we can be connected by music, even though we are separated by great distance and culture, is what is important. Lambert did so much to my original idea. When I first heard what he had done I stopped everything and had to remember its simple beginning. It was brilliant and I really had to fight the urge to put just one more idea in, to create one more melody or variation, because it was perfect." (Vince Pope)
Vince Pope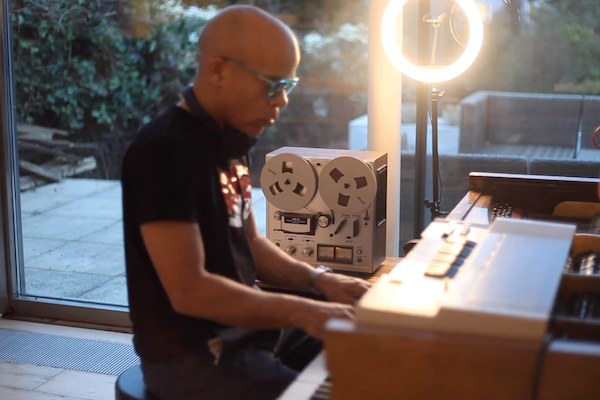 Vince Pope
"His music for the final episode of WALLANDER required a huge amount of subtlety and skill...... The music had to underline a heartbreaking emotional journey for Kenneth Branagh, which Vince managed with skill and poignancy, adding immeasurably to a heartbreaking episode." Francis Hopkinson, executive producer Wallander, Trauma.
Vince Pope is an RTS winning and BAFTA nominated composer based in central London who has made his name providing contemporary and cutting edge scores for series including No Offence, Undercover, Misfits and Black Mirror.
Having developed his interest in film whilst reading Maths at London University he left to pursue a musical career. Working on brand campaigns including Nike, BMW, Guinness, Honda, John Smiths and Walkers he won several prestigious industry awards.
In 2011 Vince was nominated for a Bafta and went on to win the RTS Award for Best Original Score for his work on the second series of C4's Misfits. The same year, Vince scored his first feature film, My Angel, starring Timothy Spall and Brenda Blethyn. He also scored the multi award-winning Wallander starring Kenneth Branagh.
In 2016, Vince delivered the score for new E4 comedy The Aliens, and the BBC1 ratings hit Undercover, starring Sophie Okonedo and Adrian Lester and written by Peter Moffat. More recently Vince scored the Mexican film Tigers are Not Afraid, a German feature Why We Took The Car, and series 2 of C4's hit series, No Offence. At present Vince is working on series 2 of Rebellion for Netflix, a drama depicting the role of women in the Easter uprising, and the third series of No Offence.


Dieses Album enthält kein Booklet