---
Album Info
Album Veröffentlichung:
2019
HRA-Veröffentlichung:
19.07.2019
Das Album enthält Albumcover
Entschuldigen Sie bitte!
Sehr geehrter HIGHRESAUDIO Besucher,
leider kann das Album zurzeit aufgrund von Länder- und Lizenzbeschränkungen nicht gekauft werden oder uns liegt der offizielle Veröffentlichungstermin für Ihr Land noch nicht vor. Wir aktualisieren unsere Veröffentlichungstermine ein- bis zweimal die Woche. Bitte schauen Sie ab und zu mal wieder rein.
Wir empfehlen Ihnen das Album auf Ihre Merkliste zu setzen.
Wir bedanken uns für Ihr Verständnis und Ihre Geduld.
Ihr, HIGHRESAUDIO
1

Intro

01:27

2

Sky Above

04:11

3

Bakumbe

04:09

4

Make Me Cry

03:52

5

Moon River

08:17

6

Feel

06:30

7

À Noite (Interlude)

02:24

8

Lua

07:02

9

I Heard You Singing

04:51

10

It Don't Matter

04:21

11

Here Comes The Sun

03:58

12

Dun Dun Ba Ba (Interlude)

01:55

13

Nebaluyo

05:17

14

Do You Feel Love

03:33

15

Outro

02:46

16

Time To Rest Your Weary Head

06:09

Total Runtime

01:10:42
Info zu Djesse Vol. 2
Multi-instrumentalist, singer, composer, producer and 2-time GRAMMY winner Jacob Collier has unveiled a new single, music video and the release date for the second volume of his highly ambitious new project. Djesse – Volume 2 will be released June 28 via Hajanga Records in exclusive license to Decca/Geffen. Djesse is a new work of 40+ new songs that is being released over 4 volumes of new music over the next several months.
Djesse – Volume 2 finds Jacob continuing his thrilling exploration of different musical worlds. Where Volume 1 (released in December) found Jacob delving into the limitlessness of orchestral music, Volume 2 focuses on the intimacy and closeness of acoustic music. Djesse - Volume 2 will feature a number of collaborators from across genres and generations. Jacob welcomed artists including Lianne La Havas, dodie, Oumou Sangaré, MARO, Sam Amidon, Kathryn Tickell, and Becca Stevens into his singular musical world, and more will be unveiled soon.
Today he's debuted "Make Me Cry," filmed at YouTube Space LA and co-directed by Collier with LA-based production studio Light Sail VR. The video brings Collier's musical world to life in typically otherworldly, whimsical and technologically boundary pushing fashion. It begins with a spotlight on just Jacob and a guitar, and builds to the entirety of the cosmos, a multitude of Jacob's and instruments swirling in the solar system. The video, made without any CGI, was designed to capture the feeling of a children's storybook, each scene built with a physical set that's moved on wheels by stagehands dressed in black to create a seamless story.
"Djesse Vol. 2 is the second part in the four-part musical journey I have embarked on creating this year. Whereas Vol. 1 embraced the space and breadth of orchestras and choirs, Vol. 2 focuses on smaller acoustic spaces – the worlds of songwriting, British folk music, African melodies and rhythms, rock, R&B, neo-soul, folk ballads...and many worlds between. With more than ten collaborators featured from all around the world – all the way from Portugal to Mali, who have each pioneered these worlds in their own right and are true heroes of mine, the album joins more of my musical dots and unifies a multitude of musical universes, concluding the first half of this year's musical journey." (Jacob Collier)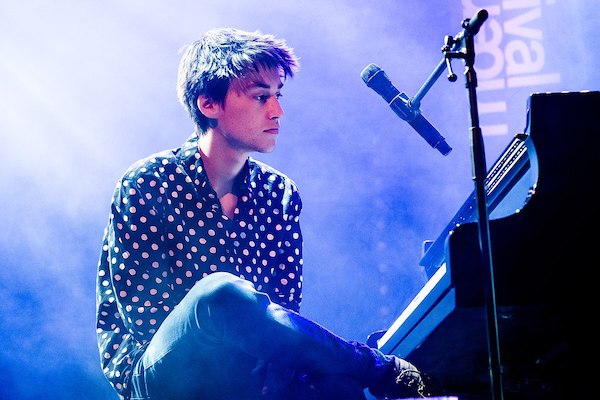 Jacob Collier
series of viral YouTube videos are what first made him a star, and caught the attention of Quincy Jones. On 2016's In My Room, which won 2 GRAMMYs and a Jazz FM Award, Collier sang, played, and produced everything himself. And he made it all in his childhood bedroom. In My Room led to collaborations with Herbie Hancock and Hans Zimmer, performances with the likes of Pharrell, a TED Talk, a BBC Proms concert and much more. After releasing that astonishing gambit, he decided he wanted to open the process up to the world, to allow the music and musicians that had influenced him to participate in the very songs he wrote.
On January 1, 2018, Jacob woke up in London and began something bold: He sat down and started composing for an orchestra for the first time, giving himself just four weeks to finish an entire album before flying to The Netherlands to record the songs with the Metropole Orkest. That was only the first day and first act of a year of new musical adventures for the British singer, multi-instrumentalist, and production wunderkind—the dawn of a profound period of musical dialogue and discovery that is now poised to dazzle the world.
That morning, Collier started making Djesse, a four-album cycle composed entirely during 2018 and featuring contributions from a global cast of his musical inspirations. It is one of the most audacious recording projects to emerge this decade from someone who has already established himself as one of music's most brazen and electrifying new minds. Djesse is a universal wonder.
"I never planned to record a four-album project, but it occurred to me that there was so much music I wanted to write at this point that I might as well just write it all," explains Collier, laughing. "I've always been a huge fan of going to the deepest waters of something I don't truly understand and making something happen. It's amazing to see how oftentimes when you just jump in and do the thing, something magical will happen."
Take, for instance, "Everlasting Motion," the ecstatic rhythmic centerpiece of Djesse's first volume. For years, the musically omnivorous Collier had studied gnawa, a spiritual and relentlessly percussive ancient sound rooted in Northern Africa. He loved its hypnotic rhythms and the way its vocals seemed to unfurl in endless ribbons. Collier wanted to collaborate with Hamid El Kasri, a modern Moroccan master of the form. He asked around, eventually obtained an email address, and sent a note explaining his backstory and project. Nearly three months passed. Collier had essentially given up on El Kasri, assuming that either the email address he had found was outdated or that one of Morocco's living legends simply had no interest in such a nebulous project.
But suddenly, an enthusiastic answer arrived: Come to Morocco, and make music. Collier booked a flight to and studio time in Casablanca, where he spent 24 hours recording with El Kasri and asking one of gnawa's current wellsprings about the history of the genre itself. He left with new information and a radiant piece of polyglot pop, where strings and horns and funky bass dance in jubilation. It is a magnificent moment of ignored borders and a positive affirmation of Collier's central vision for Djesse.
In one story and one song, this is the spirit of Djesse. (Pronounced "Jesse," the album's name is an extrapolation of Collier's initials, though he's not the character at the center of this epic.) In these four albums, all written and engineered and produced by Collier, he has taken the singular approach to arrangement and harmony that have earned him acclaim since he was a teenager on YouTube and paired it with the artists he treasures. In the process, he has traveled from Los Angeles to New York, Tokyo to Casablanca, Nashville to Abbey Road with a compact version of his home studio in tow. Documenting a year in Collier's life and of his musical loves, Djesse is a monumental testament to creative exploration and collaboration.
On the first volume, his key partner is the Metropole Orkest, the 70-year-old Dutch ensemble that programs and performs with the aplomb and energy of youth. Led by conductor Jules Buckley, the Metropole continues to reimagine how modern symphonies can sound and how they should play. Alongside Collier, they animate the voices of El Kasri, stunning a cappella group Take 6, and the rapturous soul singer Laura Mvula. You hear Collier wink awake through a gorgeous vocal aubade, then assert his distinctive voice as an arranger and orchestrator, where the ensemble becomes new limbs with which to create motion and harmony. "Keep in motion/Stay unspoken," he sings again and again. "If I'm broken/Keep me open." There are sweeping ballads, classical beauties, electric R&B tunes, and a cover of "All Night Long" that swings from South America to the American South in seven minutes that rush past in an instant.
And that's just the start. As the volumes are revealed, different textures and themes and sounds will be explored in equally astonishing ways. Jacob imagined Djesse as a grand journey through space and time, and the volumes follow his path. In addition, across the quartiles nearly two-dozen collaborators will be featured, from pop stars and folk songwriters to guitar wizards and soul singers. Collier stands bravely at the center of it all, the writer, producer, arranger, and singer putting himself in conversation with the musical world at large.
"I'm treating it as this great big puzzle. Piece by piece, it comes together," he says. "An idea like this can't come without obsession on every single plane ride, every single day, every single night, staying up to think about how it all fits together. Rather than being my four walls, this time my room is the Planet Earth. I have been able to call many rooms my room."
In times of political turmoil, the assumption is that the artistic response should be one of bile and vitriol, the raised fist of barbed punk or plaintive folk or urgent hip-hop instructing us how best to broadcast our anger and how best to organize it. Djesse isn't a disavowal of that idea so much as an alternative that stares into a darkness with an irrepressible light, a universal ecstasy. During these four volumes, Jacob Collier doesn't merely embrace globalism or give it the deference of lip service. He lives it, sings it, arranges for it through songs that fight for something—music and its power to remind us of the connections we all share, the joy, and pain and humanity of being alive at all.


Dieses Album enthält kein Booklet